Posted on
Thu, May 12, 2011 : 5:59 a.m.
Fuller Road Phase 1.1: Revised plan for transit center would accommodate trains in first phase
By Ryan J. Stanton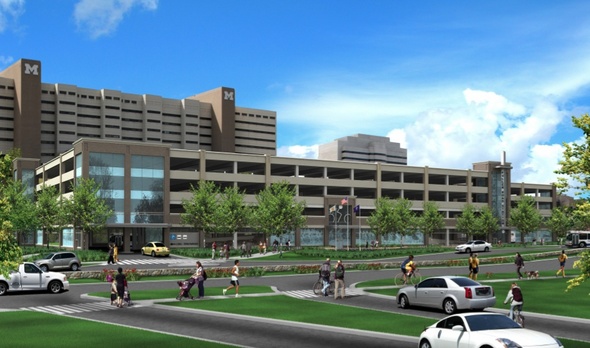 Redrawn plans for the proposed
Ann Arbor
Fuller Road transit center
now will accommodate commuter trains between the city and
Detroit
in its first phase of construction.
It's the latest sign — along with $2.8 million in federal funding awarded to the project this week — that dramatic changes could be in store for public transportation in Ann Arbor.
"We do have a set of plans now that would involve putting a commuter rail platform on the tracks," Mayor John Hieftje said.
City officials are calling the revised plan "Phase 1.1." The drawings were finished last week, and did not come in response to Monday's news of $2.8 million in federal grant money for work toward completing the Fuller Road Station, officials said.
Now, Ann Arbor officials say, it might not even be necessary to do the project in phases since the federal government appears to support funding a train station at Fuller Road. City officials are considering pushing forward with a bigger picture plan in one phase now.
"We're on a path to outline a Phase II project that supersedes this effort," said Eli Cooper, the city's transportation program manager. "Phase 1.1 may never get out of the starting blocks because the full project is going to be advanced."
In addition to a 300-foot rail platform, the revised drawings show waiting areas and restrooms integrated into the design of a parking structure to be built on the site.
The long-term plan
For the past several months, the project's first phase — which was approved by the Planning Commission in September and awaits City Council approval — has been criticized by some as being little more than a new parking structure for the University of Michigan.
However, the city's long-term vision for the area —along the south side of Fuller Road in front of the U-M medical campus — includes an intermodal transit center with accommodations for trains, bicycles, buses and pedestrians. It's been the plan up until now that a full-service train station would come in future phases.
The $43 million first phase, as approved by the Planning Commission, includes a five-level, 977-space parking structure with five built-in bus bays and 103 bicycle parking spaces.
The university has committed to paying for 78 percent of the costs and would have access to 78 percent of the parking spaces in the structure. Hieftje said the changes made to possibly accommodate trains in the first phase could add about $2 million in costs.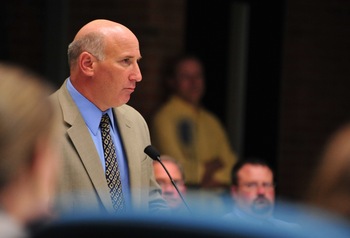 Ryan J. Stanton | AnnArbor.com
Cooper said a new train station is needed because Amtrak doesn't have the capacity at its current Ann Arbor location to meet the demand that will come in future years as high-speed rail takes off and passenger counts grow. The numbers
already are growing quickly
.
City officials estimate it could take another $20 million to $30 million to build a full-service train station along Fuller Road.
The $2.8 million grant announced Monday will fund a preliminary engineering and environmental study for the Fuller Road station.
Hieftje called that a "game changer." City officials consider the $2.8 million as seed money, and they remain confident the federal government is interested in funding future phases of the transit center project.
"It'll come in phases like that," Hieftje said. "And there's very good reason for us to expect that the larger phase, the total buildout, will be funded as well."
The announcement from the U.S. Department of Transportation also included $196.5 million for improvements of the railway between Dearborn and Kalamazoo that ultimately will allow speeds of up to 110 mph — up from the current 60 mph. Federal officials estimate that could reduce the travel time between Detroit and Chicago by at least 30 minutes.
Hieftje noted the $196.5 million to continue upgrades on the tracks between Detroit and Chicago comes on top of about $150 million awarded last fall. Unlike the latest award, the $150 million requires a match from the state, and local leaders are confident that'll happen.
Interim step vs. full-service station
Cooper stressed the new drawings showing an interim commuter rail platform at Fuller Road are solely part of the city's investigation regarding how to serve commuter trains.
If the city is able to move forward with a full-service train station and platforms to accommodate both Amtrak passenger trains and commuter trains, the renderings will not be implemented, Cooper said. The interim platform would only accommodate commuter rail between Detroit and Ann Arbor, not normal Amtrak passenger service from Detroit to Chicago, he said.
"What Amtrak needs in terms of rail platforms and stations is different from what a commuter service would offer, and that's a key distinction," Cooper said.
Cooper said the city's vision for Fuller Road remains building a full-service train station with a 900-foot-long rail platform. The interim platform would be about a third of that size.
But if it doesn't work for the city to move forward with a full-service train station right away, Ann Arbor officials say Phase 1.1 might be a good interim plan to accommodate future Ann Arbor-to-Detroit commuter rail service.
Carmine Palombo, director of transportation planning for the Southeast Michigan Council of Governments, said work continues on efforts to establish a commuter rail service between Ann Arbor and Detroit, with stops in Ypsilanti, at the Detroit Metro Airport and in Dearborn.
Palombo said the first two or three of potentially up to 24 used rail cars have been fully refurbished with the exception of seat restoration work. One of the reasons for the delay in getting a demonstration of the commuter rail service up and running, he said, is having to go through required testing and inspections, which is being done right now.
"We're hoping if everything works out with the cars, later this year we'll be offering event trains — like on the weekends to a Lions game or a Tigers game or the Henry Ford," he said.
Hieftje said many of the so-called high-speed rail improvements being funded by the federal government will help make commuter rail possible as well. But he said he tends to agree with those who say what's being proposed is not truly high-speed rail.
"I think some people are misled when we talk about high-speed rail," he said. "This isn't high-speed rail as in the European or Japanese high-speed rail, but 110-mph dependably is a whole lot faster than Amtrak has been going — on a smoothed-out track."
Ryan J. Stanton covers government and politics for AnnArbor.com. Reach him at ryanstanton@annarbor.com or 734-623-2529. You also can follow him on Twitter or subscribe to AnnArbor.com's e-mail newsletters.