Posted on
Mon, May 9, 2011 : 4:55 p.m.
Price of gas in Michigan drops closer to national average, but will it last?
By Kyle Feldscher
Yes, the price of gas has dropped considerably in the Ann Arbor area in the last few days.
But you might want to fill up your tank now, because the good times won't last long.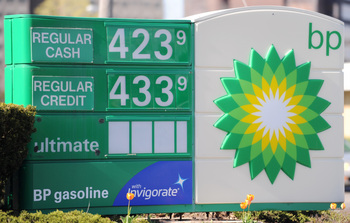 Melanie Maxwell | AnnArbor.com
Patrick DeHaan
, senior petroleum analyst for
GasBuddy.com
, said Michigan's average gas price may be about $4.09 per gallon and falling now but will probably shoot back up to last week's record levels by later in the week.
He said the wholesale price of gasoline dropped last week, causing the lower prices at the pump right now, but the wholesale price is back up — an increase of 28 cents per gallon — due to oil refineries in the region reporting problems in the past few days.
"It goes to show how quickly the market can change," DeHaan said. "This morning, the third refinery out of three reported a problem so we're not catching any breaks."
According to GasBuddy.com, the average gas price in Ann Arbor right now is about $4.13 per gallon, about four cents higher than the state average. The current national average for gas prices as of 3 p.m. Monday was about $3.93 per gallon.
Last week saw gas prices in Michigan hit a record high of about $4.26 per gallon, due to reported issues in refineries around the Great Lakes region and the fallout from tornadoes in the southern part of the country.
A Citgo refinery in Illinois reported a flaring event this morning, which is a burning of gasoline and oil, DeHaan said. The incident at the Citgo refinery came one day after a similar event at an Exxon refinery in Illinois, which also had a flaring event last week.
DeHaan said prices might rise as high as the record high prices reached last week, and could reach up to $4.29 per gallon.
There is the possibility that oil companies are manipulating gas prices, DeHaan said. He said all a refinery has to do is release a statement saying there was a flaring event and prices will rise accordingly. He said the rise in flaring events immediately after a drop in wholesale prices was suspicious at best.
"If I was a refinery, it pays to tell the market 'Hey we have a problem,'" he said. "All they have to do is release a statement and that makes prices go up."
Kyle Feldscher covers K-12 education for AnnArbor.com. He can be reached at kylefeldscher@annarbor.com or you can follow him on Twitter.