Posted on
Wed, May 4, 2011 : 6:24 p.m.
Michigan's gas prices set state record at $4.26 a gallon, nation's sixth-highest: But why here?
By Kyle Feldscher
Gasoline prices may be high around the country, but Michigan is feeling a special kind of pain this week, when the average number at the pump today set a state record of $4.26.
Why us?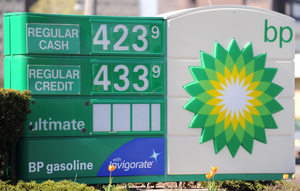 Melanie Maxwell | AnnArbor.com
An industry analyst said problems at Midwest oil refineries and a squeeze on supply nationwide are to blame for Michigan's high gas prices.
Patrick DeHaan, senior petroleum analyst for GasBuddy.com, said any state touching one of the Great Lakes is seeing its average gas price climb above the national average due to local refinery problems.
The Detroit News reported today that refineries in the Midwest and in the South have been temporarily shut down for maintenance.
The catastrophic tornadoes that swept through the southern United States last month also temporarily shut down power to some oil refineries in the Gulf Coast region.
Meanwhile, Michigan and other Midwest states are switching from wintertime fuels to summertime gas, a type of fuel that evaporates more slowly, according to the Detroit News report. The summer blend of fuel is more expensive to refine.
The refinery woes mean supply is decreasing right as the summer driving season gets rolling, forcing up demand, DeHaan said.
But relief is in sight, DeHaan said — at least a little.
"For the time being, prices will remain high for another week to three weeks," DeHaan said. "Once the refinery issues are sorted out, we should see prices come back down to the national average, which is $3.96 (per gallon)."
Michigan currently has the sixth-highest average gas price in the country, sitting just under $4.25 per gallon, according to GasBuddy.com. According to reports, prices in some areas were as high as $4.26 per gallon earlier today, a state record.
This afternoon at Ann Arbor gas stations, prices ranged from $4.19 to $4.36 for a gallon of regular, according to GasBuddy.com.
The price jump comes as some Ann Arbor area commuters are already strapping on bike helmets for the getDowntown Commuter Challenge. Pedal power, as always, remains free.
Kyle Feldscher covers K-12 education for AnnArbor.com. He can be reached at kylefeldscher@annarbor.com or you can follow him on Twitter.