Posted on
Mon, May 23, 2011 : 10:55 a.m.
Girl Scouts from Ann Arbor on ABC World News Tonight
By Juliana Keeping
Ann Arbor Girl Scouts campaigning to get palm oil out of cookies like Thin Mints got a chance to spread their message on a national platform Sunday evening in a segment on "ABC World News Tonight."
Rhiannon Tomtishen and Madison Vorva, who are sophomores at Greenhills School in Ann Arbor, stopped selling Girl Scout cookies in 2007 after they began working on a public service project to bring attention to the plight of endangered orangutans in Borneo. The animals live in the rainforests that the cultivation of palm oil destroys.
They won a Bronze Award from the Girl Scouts for the orangutan project. But they didn't stop there.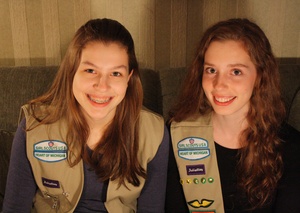 They've waged a campaign to get Girl Scouts leadership to remove the palm oil from the cookies since that time.
In a Sunday evening segment, they said they have a meeting with leadership from Girl Scouts USA Tuesday to discuss the removal of palm oil from the cookies.
Girl Scouts USA started using palm oil about five years ago as a healthier alternative to trans fats.