Posted on
Tue, Jun 19, 2012 : 5:11 p.m.
Gov. Snyder signs ban on K2, other similar drugs; law to take effect July 1
By Amy Biolchini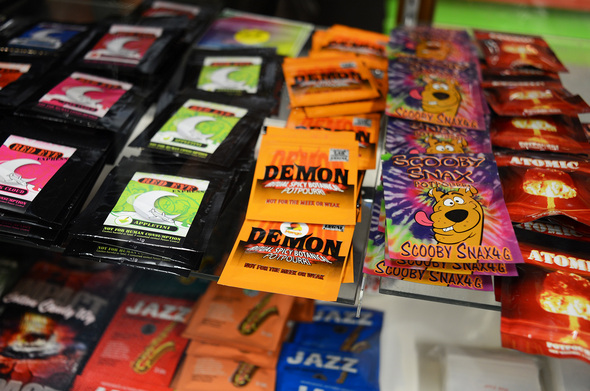 Melanie Maxwell I AnnArbor.com
Gov.
Rick Snyder
signed a ban on products like
K2
and
bath salts
into law Tuesday afternoon after about a
month of heightened awareness and publicity on the synthetic designer drugs
.
Beginning July 1, synthetic cannabinoids — like the brands K2 and Spice — and synthetic cathinones — like bath salts — will be illegal in the state.
The Michigan State Police have released a toll-free tip line to report businesses that continue to sell K2 and other like products: 855-642-4847.
Washtenaw County officials launched a decal program June 8, when they asked local businesses to stop selling the drugs immediately.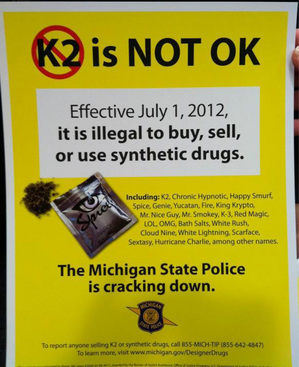 If the health department received a complaint about a business that was still selling, they would take more
aggressive action in prosecuting the business
.
As of Monday, the health department had received only two complaints and seven requests for decals, said Susan Ringler-Cerniglia, public information officer for the health department. When the businesses were investigated, the drugs in question were not found.
The Washtenaw County Sheriff's Office has been distributing the decals, Ringler-Cerniglia said.
Synthetic cannabinoids are chemically engineered substances similar to tetrahydrocannabinol ("THC"), the active ingredient in marijuana.
Products are referred to as incense, herbal and potpourri, and are known by several brand names -- of which K2 and Spice are the most common. They're commonly sold in smoke shops, party stores and gas stations.
Physical side effects from smoking the drugs include loss of control, seizures, hallucinations, vomiting and elevated heart rate and blood pressure.
Synthetic cathinones are synthetic derivatives of a substance that comes from the shrub "khat."
Three weeks ago, synthetic cannabinoids could be easily found in several downtown Ann Arbor businesses - though business owners were wary about talking because of the negative buzz surrounding the products.
Employees at Ethnospot at 340 ½ State St. and Bongz 'n' Thongz at 119 W. Liberty St. said they stopped selling synthetic cannabinoids two weeks ago.
Michael Gilbert, owner of the herbal shop Ethnospot, said the ban on K2 and other like products — which sell for about $10 to $20 — won't put a damper on his business.
Gilbert said he stopped ordering new shipments of synthetic cannabinoids a while ago because he anticipated they would soon become illegal, though he was under the impression it would happen in October.
Ethnospot opened about two ½ ago, Gilbert said, and has been selling synthetic cannabinoid products for more than a year.
Scott Antworth, co-owner of the smoke shop Foggy Bottom Bayou at 213 S. State St., said the business stopped selling synthetic cannabinoids in 2010 when the state outlawed the sale of specific chemicals used to make K2.
"It doesn't interest us to sell something that's not a part of the long-term picture," Antworth said, calling tightening restrictions on K2 a "cat-and-mouse chase."
Since then, manufacturers have changed the chemical formula of the products slightly — allowing the products to remain on store shelves.
When Foggy Bottom Bayou opened four years ago, Antworth said selling K2 and other like products helped launch the business.
"It made money for us," Antworth said. "It was useful in getting us a jump start."
Calling the synthetic cannabinoids things like "potpourri" and "incense" were tricks to get the "fad" drugs onto store shelves, Antworth said.
"We knew it would be a matter of time before a stronger law came out."
Amy Biolchini covers Washtenaw County, health and environmental issues for AnnArbor.com. Reach her at (734) 623-2552, amybiolchini@annarbor.com or on Twitter.