With poll:

State of the State: Gov. Jennifer Granholm says no more education cuts, vows to restore merit scholarships

Posted on Wed, Feb 3, 2010 : 9:40 p.m.
In her eighth and final State of the State address, Gov. Jennifer Granholm delivered a farewell to Michigan's manufacturing-based economy and said an educated workforce is the future.
"We cannot turn back," she said. "Diversifying our economy, educating our people, and protecting them along the way - this is the path forward."
The governor said she was drawing the line on further education cuts this year. She also promised to restore a popular Michigan Promise scholarship program, as part of her proposed state budget plan for fiscal year 2011 that she will unveil on Feb. 11.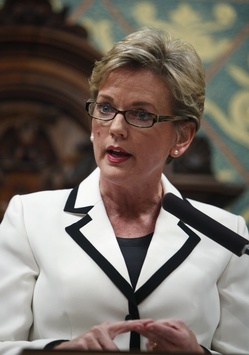 AP Photo | Al Goldis
Granholm, who can't run for re-election in 2010 due to term limits, delivered the agenda for her last year in office Wednesday before a joint session of the Michigan Senate and House of Representatives in Lansing. She did not give many specifics on how her budget plan will address a $1.6 billion deficit the state is facing.
During the hour-long address, she briefly touched on streamlining the government by retiring 46,000 senior state workers and teachers, raising pension and health care costs to those who remain and eliminating lifetime healthcare benefits for lawmakers. Those goals are part of a 29-part reform plan she revealed in January that she said would save $450 million annually.
Seventy eight percent of auto industry jobs disappeared in the last decade, she said, contributing to the loss of a million Michigan jobs.
"Our world has changed utterly," she said. "The old Michigan economy is gone. Anyone who believed that Michigan would naturally rebound without making deep and lasting change had a rendezvous with reality in 2009."
Granholm took her audience on a verbal tour of economic development success stories in the state, mentioning Google in Ann Arbor and A123 Systems - the winner of $249 million in federal energy grants to develop technology with connections to the University of Michigan - among others statewide.
Initiatives that she said would help take Michigan from "the rust belt to the green belt," included:
Investing in tourism and the Pure Michigan ad campaign. 
Coming up with state funds for a federal matching program for roads, which she said would created 10,000 jobs. 
Investing in education by restoring the merit-based Michigan Promise Scholarship, which provided up to $4,000 for college until it was slashed to save $140 million this fiscal year. She said the focus would be on keeping graduates in Michigan. She said she will draw the line against any more education cuts in the year ahead, but gave no details. 
Campaigning for federal funds for a number of projects, including Project Phoenix, a project to give abandoned auto factories "a new life," and funds to connect the entire state of Michigan to wireless Internet. 
Spurring small business development by investing in small business incubators via the Michigan Economic Development Corporation. • Tax credits for venture capitalists. 
The opening of 10 new learning labs in Detroit for No Worker Left Behind, a Granholm initiative aimed at providing worker retraining and money for two years for college for those who qualify.
Stu Dowty, chairman of the Washtenaw County Democratic Party, said he questions in general the political impact of these types of speeches, but said it gave the governor an opportunity to set the tone for the year.
"It was basically an upbeat message that 'We can do this,' Dowty said. "And she gave us a view of what kinds of things people are doing, and what can be done. In that sense, it's to her credit, that instead of coming in and complaining, she used the opportunity to try and put the light on something positive in terms of building a new economy, something different."
Republican gubernatorial contender and Ann Arbor venture capitalist Rick Snyder agreed Granholm's speech was upbeat, but said it lacked a realistic plan of action. Snyder, who was at the Capitol to hear the address, said the governor talked about a number of companies brought into the state due to tax incentives, but she didn't mention that those incentives cost money.
"We should be using fewer incentives and fixing our tax system so we're truly competitive," Snyder said. "She's on the right topic but took the opposite approach to the economic reality and looking at the solution."
More State of the State coverage: