Posted on
Sat, Nov 21, 2009 : 6:04 p.m.
In RichRod we trust, Michigan football fans say
By James Dickson
Year two of the Rich Rodriguez era didn't end the way Wolverine faithful might have hoped, but Michigan football fans are overwhelmingly patient with coach Rodriguez.
Michigan fans interviewed by AnnArbor.com cited two factors that have hindered the RichRod experiment: the installation of a spread-option system that requires different players than the pro-style offense preferred by his predecessor, Lloyd Carr, and the lack of talent left behind after Carr left.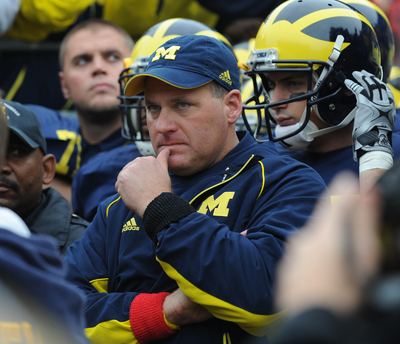 Lon Horwedel | AnnArbor.com
While the struggles of the Michigan football program over the last several years have taken some of the luster off of the biggest rivalry in college football, even Ohio State fans believe that the football program is heading in the right direction.
Michigan lost the 2009 edition of the Big Game 21-10, bringing its losing streak against Ohio State to six games.
Buckeye fan Jeremiah Johnson, 26, who serves as the mayor of Sugarcreek, Ohio, said that while that the Big Game isn't what it used to be, Rich Rodriguez's potential is worth taking a step backward for the moment.
"Michigan can move the ball on anybody. Get those players a year older and add some talent on defense and (the Michigan-Ohio State rivalry) should be back to what it was," Johnson said.
Another streak perpetuated in today's loss to the Buckeyes is Michigan's second straight year without a postseason bowl berth. Prior to RIch Rodriguez's arrival in Ann Arbor, Michigan football had gone to 33 straight bowl games. A win over Ohio State would've given Michigan the sixth win needed to quality for a postseason game, and the month of extra practices that comes with it. But it was not to be, as the team's efforts were marred by the offensive lapses and defensive breakdowns that have typified the season.
James Dickson | AnnArbor.com
Common among the dozens of Michigan football fans interviewed by AnnArbor.com was the belief that the cupboard was left bare when Rodriguez took the Michigan job — particularly on the defensive side of the ball.
Michelle King of Ann Arbor said that Rodriguez takes an unfair share of the blame for the Ohio State losing streak. Michigan fans want to end that streak but haven't been patient in giving Rodriguez the time to build a winning program, King said.
"Everyone's concerned with the 'W' on Saturday," King said. "But change takes time. A lot of people who want coach Rodriguez gone were unsupportive from the beginning."
And speculation that Michigan might reach out to former Michigan quarterback and Stanford head coach Jim Harbaugh won't make it any easier for Michigan to recruit the talent it needs to win, King said: "We've got to stick with the guy we've got."
Take our poll:
Factor in the near-misses against Michigan State, Iowa and Purdue — and the relative youth of the Michigan team — and the program might not be far from turning the corner, said Aaron Neeve of Toronto.
Neeve became a Michigan football fan in the early part of the decade when a co-worker hooked him up with tickets to a Michigan-Penn State game.
"Seventy percent of our team are freshmen or sophomores," Neeve said. "Most teams are able to go two-deep with scholarship players; we've got two walk-ons starting on defense."
All of those issues will take time to fix, Neeve said.
That Rodriguez is the guy for the job was a common belief, even among Ohio State fans who look forward to the resurgence of Michigan football.
Lifelong Ohio State fan Chris Holzoffel hadn't been back to Ann Arbor since he was at Michigan Stadium to witness the 1969 upset of the Michigan football team over the heavily-favored, #1 ranked Ohio State Buckeyes. The 1969 team was coach Bo Schembechler's first at Michigan.
Today didn't bring back any memories of that historic effort, but Holzoffel did see a Michigan team headed in the right direction.
"There's a difference between winning a championship and winning 9, 10 games a season," Holzoffel said. "Rodriguez is building a winner."
Frank DiMaggio, of UMTailgate.com, said that two years is too small a window to judge Rodriguez, especially given his niche system that requires niche players. A 5-7 finish isn't what he expected for a team that started 4-0, but DiMaggio said that Rodriguez needs at least another year at the helm before straining the patience of Michigan fans.
"Let's be real — the cupboard was left bare when (Rodriguez) got here. Lloyd Carr wouldn't have been able to win with some of our talent," DiMaggio argued. "Once Rodriguez has got the pieces he needs, we're going to be able to win the biggest games and hopefully bring home a championship."
Michigan will resume its rivalry against Ohio State next season on Nov. 27, 2010, in Columbus.
Michigan fans who argued for patience today might be singing a different tune if there's nothing more than bowl eligibility on the line next time the two rivals take the field.
James David Dickson reports human interest stories for AnnArbor.com. He can be reached at JamesDickson@AnnArbor.com.