Posted on
Tue, Feb 19, 2013 : 2:59 p.m.
Group protests Eastern Michigan University's use of Huron logo
By Kellie Woodhouse
As Eastern Michigan University's Board of Regents met on the third floor of the Ypsilanti school's administration building Tuesday, 25 to 30 people —several Native Americans among them— protested the school's recent usage of its former Huron mascot.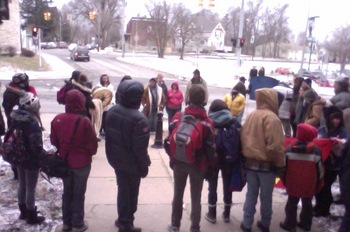 The school incorporated the Huron logo, which it abandoned in 1991 for the current Eagles mascot, in new band uniforms it debuted last fall.
"I just don't approve of my ancestors being used as a mascot," said protester Jesse Rosas.
Added fellow protestor Karen Schaumann: "I saw generations of native students here assaulted and victimized work to remove that logo."
The protest came prior to a 1:30 p.m. public Board of Regents meeting Tuesday.
In a statement, EMU officials asserted that the Huron logo isn't being placed on any other uniforms. The school also noted the Huron logo on the band uniforms isn't publicly visible during performances.
"Eastern Michigan University's mascot and logo has been the Eagles for more than 20 years and we are not changing," the school stated.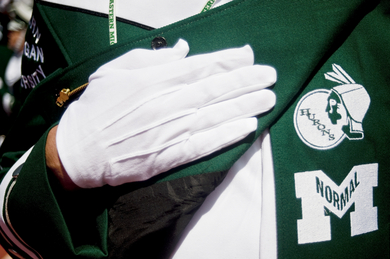 EMU President Susan Martin has said using the Huron logo is a way to embrace EMU's past.
Protester Linda Cypret-Kilbourne said that EMU did not consult local Native American groups prior to incorporating the Huron logo on the uniforms.
"They went about it in a very secretive way," she said. "They just showed up on the field with this on their uniforms.
"The logo was retired, it should stay retired."
Cypret-Kilbourne said she believed the logo was being used to boost donations from older alumni. She said she mailed a request to speak at the Tuesday meeting on Feb. 14, but because the school didn't receive her request 24 hours prior to the meeting, she was not allowed to give public comment.
The school first adopted the Huron mascot in 1929. In 1991, it abandoned the Huron logo for a more politically correct mascot, the Eagles. However, some alumni have long been asking the school to return to the Huron logo or begin incorporating it again.
"I didn't support the university after they went to the Eagles, because I graduated as a Huron," John Evans, who graduated from EMU 21 years ago, told AnnArbor.com in September. At the time, Evans was under the impression that Native Americans "didn't have a problem with the university using the mascot."
Kellie Woodhouse covers higher education for AnnArbor.com. Reach her at kelliewoodhouse@annarbor.com or 734-623-4602 and follow her on twitter.