Posted on
Fri, Mar 26, 2010 : 6 a.m.
Gubernatorial candidate Rick Snyder tells Ann Arbor crowd Michigan needs a nerd
By Ryan J. Stanton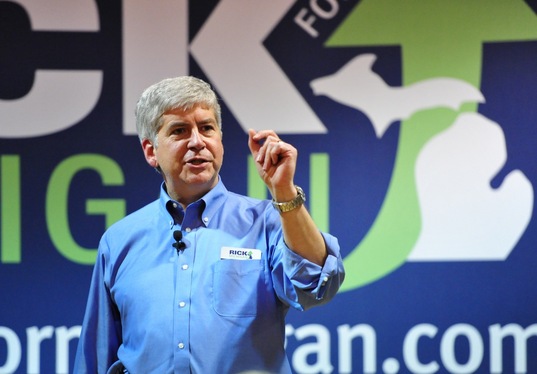 Ryan J. Stanton | AnnArbor.com
Ann Arbor businessman Rick Snyder said other kids — and even parents — laughed at him when they heard about his educational plan as a teenager.
What did he do about it?
"I started in community college," he said. "Then I came up to the university here and I got my bachelor's when I was 19, my MBA when I was 20, my law degree when I was 23, and I was an adjunct assistant professor of accounting in Michigan's MBA program when I was 24. Now if that's not a nerd, I don't know how you define that."
Just as he appealed to voters in a Super Bowl ad last month, the former president of Gateway Computers played the "nerd" card Thursday evening as he asked an Ann Arbor crowd to support him in his bid for Michigan governor.
Making his fourth town hall appearance in recent weeks, Snyder shared his 10-point plan to reinvent Michigan with a standing-room-only audience of more than 200 people who turned out for the free event at Cobblestone Farm in Ann Arbor.
"Our government is broken. Bureaucracy needs to go," Snyder said, getting a round of applause. "The role of government should be to treat you the citizens as the customer - look at life through your eyes and say, 'How do we help you be more successful and how do we get out of your way?'"
Snyder called himself a "proud Republican," but said his campaign is focused on moving beyond partisan lines.
Based on the tone of the questions asked, Thursday's crowd appeared mostly conservative. But one Ann Arbor resident, Dylan Goings, a self-described young, educated liberal, asked Snyder how he planned to appeal to voters like him.
Snyder said he will work to unite Republicans and Democrats, a goal that has led some to question whether Snyder isn't more of an independent.
"It's not about partisanship," he said. "Why in the world would I go out of my way to make negative statements about anyone in the Democratic party when I want to work with them? That's just dumb. That just shows how messed up our system is."
A man who identified himself as a devout Catholic asked Snyder his opinion on when life begins. Snyder responded social issues are not on his agenda, but acknowledged he is pro-life and pro-family.
Another person asked Snyder to give examples of leaders he admired. Snyder cited former Michigan governors William Milliken and George Romney.
Snyder, who calls himself a "good green Republican," said Milliken worked to frame an important discussion about the environment.
He said he admired Romney for his background as a businessman and for helping to get Michigan back on the right track. He said he plans to do the same if elected.
"We are at a defining moment in Michigan's history. We are at an all-time low point," Snyder said. "Sometimes people want to argue and bring up the Depression. We had 47 other states with us on that one, folks. We're on this one on our own. And unfortunately, if we don't change, we're still going downhill."
Snyder, a virtual unknown in Michigan's political circles before last summer, is now tied for first place in the Republican primary race with U.S. Rep. Pete Hoekstra and Attorney General Mike Cox, according to a recent poll. At Thursday's forum, he billed himself as the alternative to "career politicians."
"If you believe our government works right today, if you like how our political system operates, I'll tell you flat out you should vote for one of those people," he said. "If you believe our government system is broken, our political system is broken, I am running to provide us that alternative."
Before Snyder's speech, Mark Boonstra, chairman of the Washtenaw County Republican Committee, warmed up the crowd by asking, "Is anybody here as sick of politicians as I am?" The crowd cheered as Boonstra went on to say Lansing could use someone like Snyder with business sense.
Snyder said Michigan has seen a fundamental lack of leadership that has led to the shutdown of state government in two of the last three years. He said state officials haven't structurally balanced a budget in seven or eight years, only appearing to do so by using accounting gimmicks, federal dollars and rainy day funds.
He hammered on the first point in his plan to reinvent Michigan, which includes creating more and better jobs. He said it's not the role of government to create jobs but to create an environment where free enterprise works and jobs flourish.
He said he wants to eliminate the Michigan Business Tax entirely and replace it with a flat corporate income tax of 6 percent, amounting to a $1.5 billion tax reduction on Michigan businesses.
"People are getting angry about government," Snyder said. "And if you look at what's the underlying driver of that, largely my belief is there's a perception that when you write a tax check or you send in your money, you think you might as well be dropping it in the fireplace."
Snyder called Michigan's road system a "travesty" and said the state needs to find an additional $1 billion to $1.5 billion to keep up with basic maintenance. He drew a gasp from the audience when he pointed out the reason why road crews have been putting up plywood underneath bridges around Detroit: "To keep the crumbling concrete from falling on your vehicle."
He cited the East Stadium Boulevard bridge spans in Ann Arbor as examples of a failed funding system. The city has reduced traffic to two lanes and removed parts of the bridge that are starting to crumble.
"While we have two lanes shut down on one of the critical arteries of our city, at US-23 and Plymouth, the world's nicest park-and-ride lot is going in," Sndyer said. "So you've got pavement, trees, lights, shelter going in while we have a crumbling bridge. What's wrong with this picture?"
Ryan J. Stanton covers government for AnnArbor.com. Reach him at ryanstanton@annarbor.com or 723-623-2529.