Posted on
Mon, Feb 8, 2010 : 6 a.m.
Rick Snyder, in Super Bowl ad, asks voters to embrace 'one tough nerd'
By Nathan Bomey
Ann Arbor venture capitalist Rick Snyder hopes voters will embrace "one tough nerd" for Michigan's governorship.
Republican gubernatorial candidate Snyder, former president of computer maker Gateway Inc. and former executive chairman of the Michigan Economic Development Corp., aired his first TV ad on Sunday night. The ad calls for voters to elect Snyder, calling him "one tough nerd" and a "bright entrepreneur."

The ad, a 60-second spot featuring the Ann Arbor SPARK founder as a jobs creator and whiz kid of sorts, aired before the Super Bowl in some TV markets and during the game in others, the AP reported.
Deriding so-called "career politicians," the biographical ad traces Snyder's entrepreneurial roots back to his days as an undergraduate, business and law student at the University of Michigan.
"As president, he grew Gateway Computers," the narrator says. "He's nurtured innovative companies to grand success and has grown thousands of jobs in Michigan and across America. His 10-point plan to reinvent Michigan is so detailed that - well, it's likely no politician could even understand it."
Snyder is the first gubernatorial candidate to air ads - a move political experts attributed to his lack of name recognition. Some 80 percent of Republican voters didn't recognize Snyder's name, according to a recent poll.
But Snyder raised $3.2 million in campaign financing in 2009 - the highest of his top competitors. That list includes Attorney General Mike Cox, U.S. Rep. Peter Hoekstra and Oakland County Sheriff Michael Bouchard.
Of that amount, some $2.6 million was Snyder's own money.
John Weaver
, Snyder's chief campaign strategist, told reporters Monday morning that the ad aims to "cut through the clutter of standard political advertising."
"It's self-deprecating about our candidate in an honest and fair way and it also deals with the problems facing Michigan and confronts those head on," Weaver said. "We believe this ad will resonate."
Snyder spokesman Jake Suski told the AP the campaign expects to spend about $1 million to feature the biographical ad on TV in Michigan markets throughout the next few weeks.
Snyder, CEO of Ann Arbor-based venture capital firm Ardesta, is campaigning almost exclusively on an economic platform. He wants to restructure the MEDC and reconfigure Michigan's tax system to support small businesses and eliminate a system that favors costly tax incentives.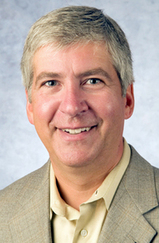 Snyder hopes voters will embrace him as a solution to Michigan's unemployment crisis.
But he's likely to run into criticism that he shipped jobs overseas while at Gateway.
Snyder's campaign has argued he created jobs at Gateway while president from 1991 to 1997 and it was years later, while Snyder was still on the Board of Directors, that the company turned to outsourcing.
More coverage of Snyder's Super Bowl ad from other news sources:
Contact AnnArbor.com's Nathan Bomey at (734) 623-2587 or nathanbomey@annarbor.com. You can also follow him on Twitter.