Posted on
Sat, Jul 24, 2010 : 9:42 p.m.
Harvey Drouillard pulls off nude photo shoot at Hill Auditorium - with a surprise participant
By Pete Cunningham
Disrobing in the basement of Antelope Antiques with a steady crowd of art fair patrons peeking around a corner, previously uber-confident Derian Kuneman was hit by a sudden wave of self-consciousness.
It wasn't just that the petite 20-year-old with straight auburn hair was completely nude in front of any civilian on East Liberty Street who needed a break from the heat. And it wasn't that she was about to do the same in front of hundreds outside Hill Auditorium, or that pictures of her in the buff would soon be immortalized on postcards.
Her apprehension came after Ann Arbor nude photographer Harvey Drouillard told Kuneman the Chuck Taylors she was so adamant about wearing - along with her old-school Ray-Bans, "Blues Brothers style" - were slowing down her strip-to-redress too much.
She would have to go bottomless for the shoot.
That is, without shoes or socks.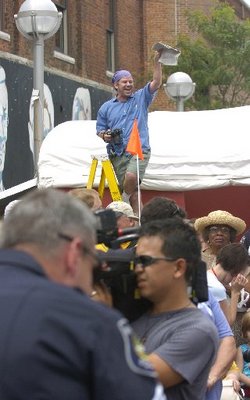 "I didn't paint my toenails," Kuneman said, embarrassingly covering up her exposed cuticles. "I always have my toenails painted."
No matter. Harvey is a very free-spirited guy - as one would assume of most artists whose calling card is getting shots of nude models in front of city landmarks. But he's very fastidious about training his models.
"Before we shoot, everyone needs to be able to go from ready position, which is what we call the position they're in right before getting completely nude, to fully nude and back in under 10 seconds before we go to shoot," Harvey said. "We need to get it down before we get out there because the last thing we need is for things to go wrong before, during or after the actual shot."
Matt Lerner, Derian's friend, had an odd hang up of his own. He said he's just not comfortable "wearing shorts without my belt."
"I feel like my shorts would just fall down," Lerner said.
Isn't that kind of the point?
"It's all about whatever makes people comfortable, and this whole process is about being comfortable," Harvey said.
Well, maybe not completely.
"People always tell me that the rush they get, the self-confidence is incredible, and before a shoot I feel it too," Harvey said. "Because the fact is the cops could come and break it up, it hasn't happened often," three times to be exact, "but it has happened, and you're nude and there's always going to be that stigma attached to that."
Harvey hoped to beat his record of 19 models in his shot on Saturday, but only Lerner, Kuneman and her older sister showed up.
Attrition from the initial sign-up is nothing unusual, Harvey said, and he assumed the early morning storms didn't help. But he aimed to make the most of what he got.
"It's fine, it'll still be great, it always is," Harvey said. "Beating the record at the art fair would be nice, but it's not a big deal.
Kuneman's older sister, six years her senior and equally petite with curly red hair, was clearly the most nervous of the three.
She was fine saying she's Derian's 26-year-old sister, but declined to have her name printed. "Those who really want to connect the dots can," she rationalized.
With a nervous smile and a glass of white wine in hand - none for the underage Lerner, 19, or Derian, 20 - one moment she questioned aloud what she was about to do and the next minute appeared exhilarated.
"This is something I can say I did before I die," she said during a brief moment of self-assurance. "I'll be able to look back and see the postcards and say 'that's me, I did it.'"
Derian signed up to take the shot earlier in the week and was featured in an article on AnnArbor.com Friday. Coincidentally, her older sister bought a postcard from Harvey during the art fair and had the article sent to her from their former violin teacher.
Though it was admittedly out of character, she wanted to join her younger sister.
"She was actually the one I was nervous about telling," Kuneman said. "I thought she'd scold me."
The trio was clearly nervous and, though Harvey didn't say it, I got the sense three people was a bit of a disappointment, so I decided to join the party.
I had already asked every question I could possibly ask Harvey and his subjects before the "10 seconds or less" practice. There was nothing left to do but sit around and watch them strip and reclothe for two hours.
Not exactly a bad racquet, but it made me feel a bit creepy.
Lerner and the Kuneman sisters had been more than cooperative with interviews, despite being visibly nervous. When they asked me to join in, I couldn't think of a good excuse to say no. And with the weather the way it's been, there was practically no risk of a cold breeze.
I was in ... and at risk of vomiting. At least it wouldn't get on Derian's shoes.

"That's great, now we can have it look like two couples," Harvey said, the ideas racing through his head.
After we all got over our respective moments of self-doubt, the crew - which included Harvey, four "models" (yes, I'm calling myself a model) and a significant "security" detail - headed to Hill Auditorium, where the sisters had occasional violin recitals growing up, which they found rather amusing.
The presence of children delayed the shoot for several minutes, which felt more like hours. In hindsight, Harvey admitted planning the shot near a tent passing out free chocolate milk less than 100 yards away was a bit of an oversight.
Harvey called an audible last minute, and instead of ducking behind tents, Kuneman and I stripped down in a relatively wide open area. Lerner and Derian's older sister positioned themselves behind an art fair booth and met us in the middle at a director's chair that had conspicuously appeared in the middle of the sidewalk.
Kuneman took a seat, Lerner and her sister asked for directions, I stared off into space and Harvey got his shot.
"Got it," he screamed and we scattered.
Harvey wasn't lying about the rush. Kuneman was ready to go again.
"I want to do more," she said on the walk back. Her sister felt a similar wave of confidence, and the duo did one more sisters-only shot as I cashed in my chips and bid adieu.
In my defense, I had a story to write and a deadline to meet.
"It's great isn't it!" Harvey exclaimed at the basement rendezvous point, clearly excited about the safe getaway - but more so because he thought it was successful shoot.
Harvey's old school, he only shoots with 35 millimeter black and white film, so there's no way to tell immediately whether the pictures actually turned out. But after hundreds of shots over 16 years at cities around the country, he's learned to trust his gut.
And he was ecstatic to see the confidence brimming from his most recent subjects.
"That rush they're describing is exactly what everybody says," Harvey said. "That it just overtakes them and the adrenaline is like nothing they've ever felt."
The rush is undeniable but, in the end, like a lot of other first-time experiences in the flesh: a ton of build-up, followed by momentary exhilaration…and quicker than expected.
Pete Cunningham usually covers high school sports (fully clothed) for AnnArbor.com. He can be reached by e-mail at petercunningham@annarbor.com, or by phone at 734-623-2561. Follow him on Twitter @petcunningham.