Posted on
Tue, Jun 8, 2010 : 6:03 a.m.
Heritage Row project vote delayed two more weeks by Ann Arbor City Council
By Ryan J. Stanton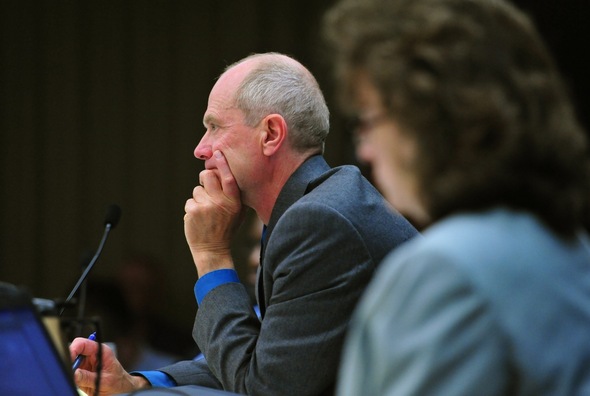 Ryan J. Stanton | AnnArbor.com
A much-anticipated vote on the Heritage Row apartments project was delayed Monday night at the Ann Arbor City Council's first meeting of the month.
Due to a communication snafu between the city clerk's office and The Detroit News, the city failed to publish required notices of Monday's public hearings for Heritage Row in a newspaper of general circulation one week in advance.
Despite Mayor John Hieftje's assurances the vote would be postponed as a result, more than a dozen residents on both sides of the issue took to the podium and spoke for more than 30 minutes.
After the public hearings, the council unanimously postponed a final vote on the site plan and required rezoning until June 21.
Developer Alex de Parry, who sat quietly on the sidelines Monday, has spent three years revising plans for the project, formerly known as City Place. He has appeased city staff with his latest plans, but his attempts to strike a compromise with residents still aren't widely accepted among members of the surrounding Germantown neighborhood.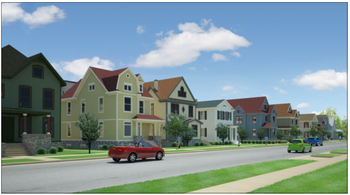 Several residents said Monday night they think the project is out of scale with the neighborhood and represents a leaking of dense housing outside of the downtown boundaries into a near-downtown residential neighborhood.
Click here to download an elevation drawing.
It appears based on interviews during a break in the meeting that de Parry could have a hard time convincing the council the project offers enough benefit to grant a deviation from existing zoning and allow a special Planned Unit Development zoning district.
"While I think this is an improvement over what was proposed before, I'm going to be supporting the historic district for this area, so I don't really believe this will fit in very well with that," Hieftje said. "It'll take some convincing for me to believe that this really is what's needed in that area, and that it meets the PUD standard."
The proposed site plan calls for 79 apartments with 154 bedrooms on a 1.23-acre site on South Fifth Avenue, just south of William Street.
De Parry points out that represents only 10 more bedrooms than allowed under the existing R4C zoning, which would let him have 24 six-bedroom apartments.
The project calls for historic renovations to seven houses on Fifth Avenue and construction of three new apartment buildings behind those houses.
The site plan shows 12 efficiency apartments, 9 one-bedroom, 43 two-bedroom, 14 three-bedroom and 1 five-bedroom.
In an earlier version of the project, de Parry proposed demolishing the seven homes on the site. But neighbors protested and the city pushed forward with an effort to create a historic district to consider saving the century-old homes. That effort is still in the works, despite de Parry's change in plans to save and restore the homes.
Approval of a historic district would force de Parry to take his project before the city's Historic District Commission, which he and his partners appear likely to challenge.
Newcombe Clark and Jeff Helminski, two other development partners behind the project, wrote in a recent e-mail that they think efforts to create a historic district are specifically targeted at preventing Heritage Row.
"The process to create a historic district has been hastily administered and flawed at its core and there is no fact-based justification for it, but nonetheless, it is still a possibility if council votes for it," they wrote in an e-mail to supporters.
Members of the Germantown Neighborhood Association expect the resolution to establish the historic district to come before the City Council for first reading on June 21. There would be a public hearing at the proposal's second reading in July.
The association claims Heritage Row doesn't meet the high standards of public benefit required for a PUD, is inconsistent with the city's master plan, and would be a detriment to neighboring properties — particularly those that would be shaded from the sun by the proposed four-story buildings.
Tom Petiet of Petiet Enterprises LLC, which owns a house at 432 S. Fourth Ave., spoke out against Heritage Row at Monday's meeting. He said the Germantown neighborhood has a century of history behind it that should be preserved.
"It is important enough that others who are alarmed at the destruction of the character of Ann Arbor have joined us in the call for an end to this constant menace," he said of Heritage Row. "Although the outward appearance of the Fifth Avenue houses will now apparently remain, the project will still change the character of the street completely. Nothing will be able to hide the huge buildings that loom up behind the houses."
Joan Lowenstein, a former City Council member, was one of multiple people who spoke in support of Heritage Row. She said leaving the properties along Fifth Avenue in the condition they're in today does nothing to improve Ann Arbor.
"When this project first came up in one of its iterations, I was on the Planning Commission and I voted against it because it would have torn down these houses," she said. "But the project as it now stands will actually restore these houses. It will make them better. It will take down some of the really ugly additions that have been made over the years, such as the rickety wooden fire escapes, and will actually make them better."
The developers are asking the City Council to approve rezoning 1.23 acres from R4C (multiple-family dwelling) for the property at 407-437 S. Fifth Ave. The rezoning would combine seven parcels into one PUD district.
The site plan shows the seven houses would contain a maximum of 38 units (an increase from 21) with 65 bedrooms. And the three new buildings would contain a maximum of 44 units with 98 bedrooms. Eighteen percent of the units would be affordable housing.
The project also would feature 60 parking spaces in one underground parking structure located behind the existing houses, as well as 152 bicycle parking spaces.
The developers say there would be a design competition to create a sculpture to be placed in the public plaza area of the site. Local artists would be encouraged to participate.
The city's planning staff and Planning Commission support the project, saying the city's master plan recommends multiple-family residential uses for the site.
But multiple council members say they likely won't be supporting it.
"It would be quite the exception," said Council Member Sabra Briere, D-1st Ward, who cites a 2004 report from the city's Downtown Residential Task Force as one of her many reasons for being hesitant about approving the project.
"One of the deciding issues for Alex has been the half-mile perimeter around the DDA and how that's the area where dense development in residential areas could happen," Briere said. "He's been telling me that since City Place was originally designed, so I went back to the original documentation and it doesn't seem, in my view, to support that. It does have that half-mile perimeter on the maps, but it says all through the document that near-downtown residential neighborhoods have to be respected — that it's not appropriate to put dense development in near-downtown neighborhoods."
Outside of the core downtown, Briere said dense development belongs along North Main Street, in the South University district and in commercial zones like Packard and State Street — but not in residential areas like Germantown.
"I simply couldn't find anything that would support putting this kind of dense development anywhere in an R4 neighborhood," she said, again referring to the 2004 report. "Indeed where it talked about rezoning, it said leave R4 neighborhoods alone."
Ryan J. Stanton covers government for AnnArbor.com. Reach him at ryanstanton@annarbor.com or 734-623-2529.