Posted on
Thu, Nov 10, 2011 : 10:22 a.m.
Herman Cain addresses sexual harassment allegations during stop in Ypsilanti Township
By Ryan J. Stanton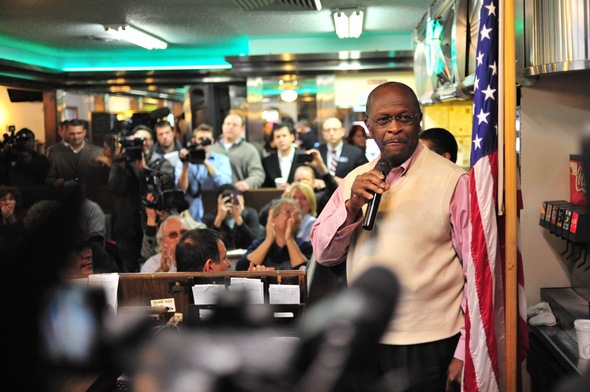 Ryan J. Stanton | AnnArbor.com
Republican presidential candidate Herman Cain was greeted with roaring cheers from a crowd of several dozen supporters today at the Big Sky Diner in Ypsilanti Township.
"You know, I thought I was just going to sit down with a couple of people and have some bacon and eggs — I'm glad you all are here," he told the crowd in his usual folksy tone.
Dennis Moore, director and founder of the Willow Run Tea Party Caucus, said before the event he expected an elbow-to-elbow crowd, and that proved to be true. The crowd spilled out the door and into the parking lot where speakers were set up.
Cain was all smiles and only briefly mentioned the sexual harassment allegations against him to assure the crowd he wasn't letting it get him down.
"As you can tell, they're starting to come after me," he said. "They're starting to attack me any and every way they can. Since they can't kill the ideas, they're trying to attack my integrity and my character, but the American people are not buying that — they are sick of gutter politics."
Melanie Maxwell | AnnArbor.com
He called the 2012 presidential election the most important in history, one that will impact generations to come. He said the United States can't afford to continue on the path of too much government, too much legislation and too much regulation.
"I'm not running for fame or fortune," Cain said. "I'm running because I care about the future of this country and I've got three grandkids."
He criticized Washington for what he called "foggy foreign policy" and said it's unfortunate the United States has seen its respect in the world weakened.
He said America needs less government and less taxes, and he said the first step to getting the economy going is to throw out the current tax code and implement his 9-9-9 tax plan.
"The people love 9-9-9," he said. "We put a bold solution on the table."
Following his speech, Cain greeted people inside and outside the diner. Members of a group called Union Conservatives sat in a corner booth inside the diner. They said they're conservative yet pro-union and they particularly like Cain's 9-9-9 tax plan.
"He's the first real black candidate that we've had and I think he's going to break the restraints put on by the liberals that are stopping businesses from going full-fledged forward," said Ypsilanti resident David Raaflaub, one of the group members.
As Cain pushed through the crowd toward a back exit, he was overheard telling one supporter: "How do you beat Obama? Beat him with a Cain!" The crowd cheered at Cain's comments.
When a reporter asked him to clarify what he meant by the remark, Cain said: "Cain. Herman Cain, C-A-I-N. Do I have to connect all the dots for you?"
From Ypsilanti, Cain was expected to move on to Kalamazoo, Grand Rapids and Traverse City in a whistle stop tour of the state of Michigan.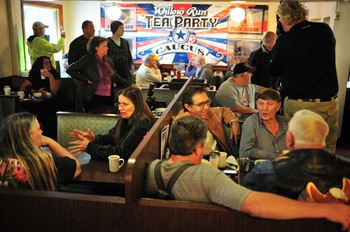 Ryan J. Stanton | AnnArbor.com
The
Willow Run Tea Party Caucus has endorsed Cain
for the GOP nomination, and leaders of the organization recently reaffirmed that endorsement in the face of accusations of sexual harassment against Cain. Moore said he believes the allegations are false.
Ann Arbor native Karen Kraushaar is one of the women accusing Cain of sexual harassment. She filed a formal complaint against Cain in 1999 when he was head of the National Restaurant Association. Cain has denied all the allegations against him.
Cain, former chief executive of Godfather's Pizza, continued to talk up his business experience today. He also ran the National Restaurant Association from 1996 to 1999.
"This economy is on life support," Cain said, criticizing what he called a deficiency of leadership in Washington. He said his 9-9-9 tax plan is the first step to changing that.
Cain's 9-9-9 tax plan would eliminate the current individual income tax, corporate income tax, payroll tax, and estate and gift tax and substitute three taxes imposed at a 9 percent rate: a national sales tax, a business flat tax an individual flat tax.
According to an independent analysis by the Tax Policy Center, the plan would raise taxes on 84 percent of U.S. households, hitting low- and middle-income families the hardest.
Timothy King, a longtime Republican and state delegate, said he appreciated Cain coming to Ypsilanti Township. He said he doesn't believe the sexual harassment allegations.
"Herman Cain has the endorsement of Dr. Alveda King and that tells it all right here. His integrity is impeccable," he said. "And all of these charges are trumped up. Herman Cain is a man of the people and he's honest and the people know the difference."
Ryan J. Stanton covers government and politics for AnnArbor.com. Reach him at ryanstanton@annarbor.com or 734-623-2529. You also can follow him on Twitter or subscribe to AnnArbor.com's e-mail newsletters.