Posted on
Sun, Jul 3, 2011 : 5:59 a.m.
Hey, Ann Arbor - put your dog on a leash. A short one.
By Juliana Keeping
(Editor's note: This column has been revised to remove a sentence that did not clearly convey the meaning that the writer intended. We recognize that many people who read the column understandably misinterpreted the sentence as a threat against pets, and in recognition of that, we have agreed to strike the sentence from the column. A misspelling also has been corrected. We appreciate the feedback we received on this issue and we will always seek to be responsive to the concerns of the community.)
Hey, you there.
You, with your meandering dog running through the park. You, assigning your 70-pound child to walk your 100-pound brute. You, with your vicious, unchained pet sitting on the porch, eyeing passers-by.
Yeah, you. You know who you are.
Your dog — it's not cute. I don't trust it. It scares me. Put it on a leash. Control that thing. I don't like your animal.
It's something I've been wanting to tell you for a long time. Hmm, let's see. Ever since I moved to Ann Arbor.
We live in a town with at least 2,074 licensed dogs but no animal control officer. Not since 2008.
In prior years, an animal control officer or two patrolled parks and responded to calls to enforce our city's leash law and other aspects of the city code governing animal owners in town. The laws are aimed at keeping people and animals safe and vicious pets and those who own them in check. Police now do the best they can, with less. Even less than last month, thanks to recent layoffs.
That's right. We have a leash law, citizens! It states your animal has to be under reasonable control. If it's not, you're subject to a $120 fine under the civil infraction. You should keep your animal under reasonable control if it's on a leash, too.
Tales of dog owner incompetence run deep in this town.
I've got my own beef with clueless dog owners who flout the idea their precious animal dare be subjected to "reasonable control."
First, there was that neighbor's dog. West side. Duplex. What kind was that giant gray beast, besides obviously five times too big for its dwelling?
There, it waited. Hungrily. For passers by. Like, the 8-months-pregnant me. Who it charged. Off of its leash, as usual. It looked menacing and bared its teeth and barked. And then it charged me again. Off its leash. As I carried a 3-month-old infant in from the car.
Finally, I talked to the owners.
"Hey," I said. "I'm sure you're dog's real sweet and all," I lied, "but, it scares me. And I have a baby now. Could you keep it on a leash?"
"Yeah, sorry," the neighbor said.
They did.
But I was left wondering, "Why did I have to ask? "
They heeded our wish, but still let Rover roam the city parkland down the street, scaring all the parents of tiny children near by.
Hey, you. Yeah you. Your dog's a menace to society.
I moved out of the neighborhood.
But I couldn't escape inconsiderate dog owners.
Enter "Faith" the German shepherd.
I wasn't there, that time.
My husband was. Walking our 1-year-old daughter. That's when "Faith" galloped toward the both of them. My husband put himself in between the dog and the baby, bracing for the unknown.
"Oh! Oh Faith," cried the owner. "Not everyone wants kisses!"
Wrong. No one wants sloppy kisses from your pet. Keep it away from my child. And put it on a leash.
Don't get me started on the Hoyt G. Post Trail.
That's the boardwalk through a delicate portion of the Huron River watershed ecology in Washtenaw County's Parker Mill Park. The path is clearly marked "No dogs."
Some dog-owner scofflaw actually took the time to spray red paint across the "No dogs" portion of the sign.

Oh, here's an idea! How about you find some of the other dozens and dozens of miles of trails to walk on in this county. And let me have one place to walk without running into your Labrapugoodle. Or whatever it is.
Might I remind all of you of Ato the Akita?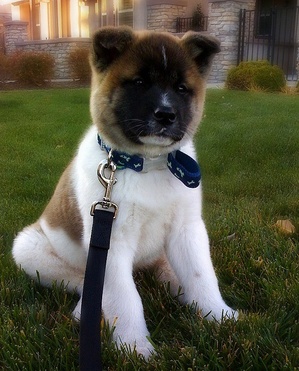 Photo by Flickr user nhat.le
Ato may have fallen from the public consciousness, but the dog lives on in city attorney's office folklore.
Over there, they tell me a story about a newspaper carrier who placed a paper inside a resident's screen door about a dozen years ago. Ato, the sleeping beast, awakened as the screen door slammed. The dog busted through the door and mauled the newsboy. The boy's doctor said it was the worst dog bite case he'd ever seen. The paper carrier needed reconstructive surgery.
Police went after the owner under a criminal charge for possessing a vicious animal. For the only time in recent history, a judge ordered the owners to terminate the animal.
While Ato awaited execution, dog-nappers broke into the Humane Society of Huron Valley and liberated him. The owners spent thousands on multiple attorneys to fight the criminal charge before a jury acquitted them.
It gets even worse.
A pit bull on an Ann Arbor porch a decade or so ago ran from its stoop to charge an elderly passer by. The dog knocked the woman over, breaking her hip. She died 90 days later of complications.
Oh, whoops. There goes the big bad media again, tarnishing the image of the sacred "pit." If you want to complain, tell my husband's childhood friend. She had half of her scalp ripped off of her head by a pit bull in Chicago at 2 years old. When was the last time you heard a story about a golden retriever pulling off that move? My bad. I'm sure these were just isolated incidents.
Except an Ann Arbor city attorney told me that the majority of animal bite incident cases handled by the office involve pit bulls.
News flash, dog owners: your best friend bites.
Dog bites have picked up since May 1, Washtenaw County Public Health Department officials told me. They've investigated 12 since then.
Within the last month, sources tell me a dog attacked a certain circuit court judge as the judge strolled by Kilwin's on East Liberty Street. The leashed pet bit the judge on the hand.
Bad move, dog owner.
I'm sure many more bites go unreported. Because no one seems to want to offend a dog owner, no matter how reckless or inconsiderate they are with their pet. Hopefully, I've offended all of them, for all of us. I'll bear the hate mail to wake up the inconsiderate minority. So now it's up to you, leash law scofflaws. And us, offended citizens. Start following the rules and reporting flagrant violations.
Get a clue, dog owners of Ann Arbor. You're out of control.
Put a copy of Chapter 107 of the city code up on your fridge, right by your kid's report card.
Put your dog on a leash.
A short one.
Juliana Keeping covers general assignment and health and the environment for AnnArbor.com. Reach her at julianakeeping@annarbor.com or 734-623-2528. Follow Juliana Keeping on Twitter