Posted on
Thu, Jun 30, 2011 : 7:05 p.m.
20 positions eliminated in Ann Arbor police and fire departments as city budget cuts take effect
By Ryan J. Stanton
A total of 20 positions in Ann Arbor's police and fire departments are effectively eliminated today as the city begins its 2011-12 fiscal year.
Seven active employees in police — including four officers, two dispatchers and one service specialist — are now laid off as part of city budget cuts taking effect.
Additionally, six other vacant positions in police — including two officer openings — are not being filled. Seven vacant firefighter positions also are being removed from the budget.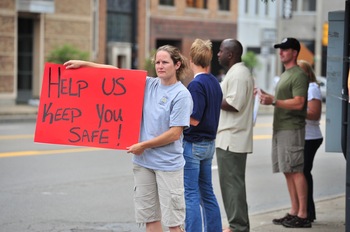 Ryan J. Stanton | AnnArbor.com
"We had some additional retirements in fire, so we will not have any layoffs in fire," noted CFO
Tom Crawford
, Ann Arbor's interim city administrator.
Outside of public safety, the city is trimming another 10 vacant positions, bringing the city's total employee count down from 736 to 706 — about 30 percent less than a decade ago. The police department is the only area of the city where actual layoffs are occurring.
The cuts leave Ann Arbor in a precarious situation: The city would need to more than double staffing levels in police to meet national standards at this point.
Meanwhile, the fire department is seeing its ranks decrease from 89 to 82 full-time career firefighters, leaving the city with 0.72 firefighters per 1,000 residents.
According to the National Fire Protection Association, the average full-time career fire department in the U.S. has about 1.72 firefighters per 1,000 residents.
"Frankly, we just disagree with this. It's not the right thing to do," said Matt Schroeder, president of the firefighters union. "But the city's made the decision to do this. Certainly they have not based their decision on any kind of research or data-driven material."
Crawford expressed disappointment that the police and fire unions wouldn't agree to health care concessions to save some of the positions being cut. He said two positions in fire and four in police could have been spared had the unions stepped up.
The city has been asking the unions for months to switch over to a lower-cost health care plan similar to the one afforded to the city's nonunion employees.
The police officers union voted 76-31 this week to reject a four-year contract that included health care concessions. Police union officials have said they don't want to budge on health care because of concerns related to years of exposure to radon and asbestos in city hall.
Jamie Adkins, the union's vice president of bargaining, issued a statement today accusing city officials of taking "the easy way out" in cutting the budget.
"These reductions, along with the other 69 sworn personnel we have lost over the past 10 years have put the Ann Arbor Police Department at a distinct disadvantage," she said. "We have transitioned from a proactive police force, serving the community to prevent crime, to a reactive police force."
Contrary to what city officials have stated, Adkins said there has been an impact on police service levels already, and the latest cuts only make matters worse.
Adkins said city officials have "done a disservice to the professionals who help to bring order to the out-of-control situations. And they have done a tremendous disservice to the citizens of Ann Arbor in reducing the number of professionals who protect them day and night."
Each of the officers being laid off had more than five years on the job, while the police service specialist had 13 years. One of the dispatchers had been on the job three and a half years, while the other had been on the job a year and a half.
Crawford said there may be opportunities for some of the police department employees to bump into other vacancies within the city.
"Where we have vacancies in other parts of the organization, some of the people may move to one of those positions," he said. "So whether they are gone or not — gone-gone — I don't know. But I know they're out of the safety services."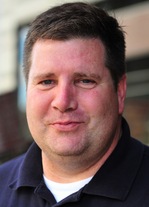 Crawford sounded confident in Police Chief Barnett Jones' ability to make sure the police department maintains a proactive presence on the streets of Ann Arbor.
"What the chief of police has done is maintain the staffing on patrol, so he has done this in a way that he's not reducing the staffing on the street," Crawford said.
With fewer firefighters on the job, Fire Chief Chuck Hubbard said he plans on temporarily taking one of the two downtown fire trucks out of service if daily staffing levels fall too low.
He said that will allow the department to end the practice of closing one of the city's five fire stations on a rotating basis, which the union says has increased response times.
"We'll have to see what happens," Hubbard said. "We're still going to perform professionally and responsibly and do our jobs, and time will tell how things are going to play out."
Schroeder said it's still a bad situation.
"The tower is a crucial part of our operation downtown, and not being able to use that puts us at a disadvantage," he said, adding it could prove dangerous not having use of the truck in case of a fire in a high-rise. "We don't support the decision in any way, shape or form."
Hubbard said two of the seven firefighter retirements, which spared layoffs, came this month. Three more firefighters are going to retire in the next week, saving the other remaining jobs.
Ryan J. Stanton covers government and politics for AnnArbor.com. Reach him at ryanstanton@annarbor.com or 734-623-2529. You also can follow him on Twitter or subscribe to AnnArbor.com's e-mail newsletters.