Posted on
Wed, Feb 6, 2013 : 8:02 a.m.
Hideaway Lane: Ann Arbor Planning Commission postpones vote on proposal to build 19 homes
By Brienne Prusak
The Ann Arbor Planning Commission decided Tuesday to postpone the vote on the construction of 19 single-family units at Hideaway Lane that was proposed by Trowbridge Homes of Hideaway Lane LLC.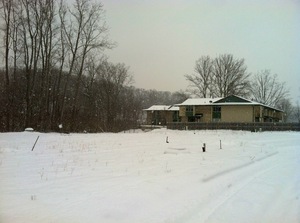 Lizzy Alfs | AnnArbor.com
The commission said they will schedule this decision for a vote as soon as they have more details about the property and plans. No date was set.
The proposal states that the natural features of the grassy property at 2000 Traver Road will not be disturbed by this construction, and the creek that runs behind the houses will remain as it is. The driveway already on the property will also remain unchanged.
The property — which is near the Leslie Science and Nature Center — was once a natural reserve. However, the wetlands have since been filled.
This land has been considered for new housing many times, but due to the state's economic troubles, companies have failed to complete their construction plans.