Posted on
Mon, May 7, 2012 : 5:48 p.m.
Michigan business leaders: Net impact of dwindling state higher education funding 'undeniable'
By Kellie Woodhouse
When Domino's Pizza CEO J. Patrick Doyle attended the University of Michigan the total cost was roughly $6,000 a year.
Three decades later, it costs a Michigan native $26,000 a year to attend U-M. And while Doyle, now a multi-millionare, may be able to stomach the expense, he says many middle- and lower-class families "have been through an extraordinary economic challenge" in recent years and are slowly losing the ability to send their kids to college without becoming saddled in debt.
Doyle, other Michigan business leaders, university and college system presidents and higher education experts convened in Lansing on Monday to discuss the state of higher education in Michigan and brainstorm ways the state can remain competitive and affordable despite long-term funding losses.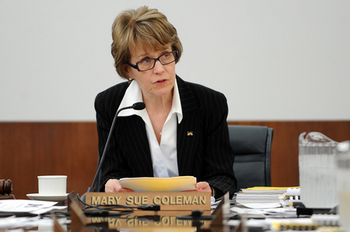 Conference leaders acknowledged that nation-wide, most states are disinvesting in their public universities but warned that Michigan is one of the states hit hardest by the trend.
"The changes here were more dramatic than in most states," Doyle said. "Between 2005 and 2010 Michigan experienced the third-largest decline in the nation for state support in higher education."
"The net impact is undeniable: The decline in state support for public universities has shifted the cost" of education to families, he continued.
In fact, from 2002 to 2011 state appropriations for Michigan's 15 public universities, when adjusted for inflation, declined $4,000 per student as tuition increased $3,500 per student, according to a Business Leaders for Michigan analysis.
Gov. Rick Sndyer's 2012-13 budget proposal allots $1.4 billion of the state's $48.2 billion fiscal 2012-13 budget to higher education, up $36 million, or 3 percent, from the $1.34 billion fiscal 2011-12 allotment. The governor proposes that the $36 million increase be tied to a formula that recognizes universities for increasing graduation rates, the number of degrees awarded in critical skill areas, the number of Pell Grants awarded to enrolled students and tuition restraint.
U-M is slated to receive roughly $272.7 million in appropriations next year, down from the $368 million in state appropriations in 2002. That year $1.85 billion was allotted to higher education.
Grand Valley University President Thomas Hass told conference attendees that largely because of dwindling state support "there's no doubt about it," many lower- and middle-class families have been "priced out of education."
What U.S. President Barack Obama called "skyrocketing tuition" when he visited U-M in January to give a speech on college affordability must end if Michigan expects its economy to fully recover from a decade of auto industry and manufacturing decline, conference facilitators said.
"We need a long-term commitment to investing in this critical economic asset," Doyle said, explaining that companies will remain in Michigan only if the workforce remains talented. "Every company wants access to the very best talent. And when those jobs come they also create jobs for people without degrees."
Photo courtesy of Domino's
U-M President Mary Sue Coleman noted that many of the 70,000-plus job openings in Michigan require an advanced degree and many "are going begging" because there's not enough qualified graduates to fill the spots.
"We need to acknowledge the economic pain that people are dealing with," Coleman said. "Until the last decade or so you could go out of high school and get a job. (Now) that's not possible."
Michigan State University, Wayne State University and U-M spend $1.9 billion annually on research. A BLM analysis found that Michigan's 15 public universities contribute $40 billion to the state's economy and roughly 12 percent to the state's GDP.
So what keeps industry in Michigan? BLM leaders say it's the talented researchers and innovative leaders produced by local universities.
"There's many other places for Dow and other companies to go build plants," said William Weideman, chief financial officer of Dow Chemical Company. "What will keep manufacturing here in the United States is the innovation, is the technology."
If that output stops, Michigan can expect the exodus of Industry the state has experienced in the past few decades to continue, Wiedeman said.
Hunter Rawlings III, president of the Association of American Universities, said colleges "are in some ways very wealthy institutions" and "it's not surprising when people sometimes get upset when they see the imbalance between their situation and these universities."
"We have to get past this kind of antipathy we see," he said. "The real enemy is not within the states. It's other states and countries that are competing with us."
Coleman agreed, saying the U.S. risks losing its place as a leader in higher education.
"Governments are pouring billions and billions of dollars into their education systems," she said. "They are absolutely committed to catching up."
Kellie Woodhouse covers higher education for AnnArbor.com. Reach her at kelliewoodhouse@annarbor.com or 734-623-4602 and follow her on twitter.