Posted on
Tue, Oct 25, 2011 : 5:58 a.m.
Proposal to stop City Place fails in council vote against another historic district study
By Ryan J. Stanton

A last-ditch effort by
Mike Anglin
to stop the controversial
City Place apartments
project died a slow death Monday night at a
special meeting of the Ann Arbor City Council
.
Following a 25-minute closed session where council members were advised by the city's attorneys, the council engaged in a lengthy debate about whether to go along with Anglin's proposal to create a new committee to study a potential historic district.
The council already went through the process of creating a historic district study committee two years ago for the Germantown neighborhood and then voted 6-4 in July 2010 against granting historic district status, which could have helped save the homes on South Fifth Avenue.
"I just don't think we need to go down this road again," Mayor John Hieftje said Monday night, arguing against another historic district study.
Hieftje voted in favor of the historic district last year.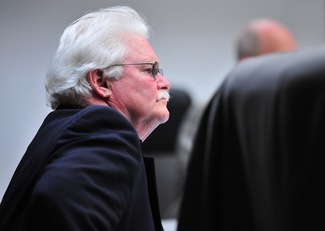 File photo | AnnArbor.com
The vote to appoint a new study committee Monday night fell 7-4 with only Council Members
Stephen Kunselman
,
Sabra Briere
and
Christopher Taylor
supporting Anglin's proposal.
Council Member Tony Derezinski, D-2nd Ward, was among the most vocal in speaking out against another historic district study.
"What is the tone that we're sending out by reconsidering and reconsidering and reconsidering something that we've already given apparent finality to?" he said. "What tone does that send out in those that are interested in coming to Ann Arbor and to help it develop and grow into the future? I think it sends out the wrong tone."
Derezinski added that the council needs to be careful about when to reconsider a particular issue "because we don't want to become a joke."
Council Member Margie Teall, D-4th Ward, argued the council already has become a joke for how it's handled the City Place saga over the last few years.
"I, too, feel disappointed about losing these houses," she said. "I don't like the idea of those houses being destroyed, but I do think that was a decision that we made a year and a half ago, and I don't want to try to rehash all of this over and over and over again."
If the historic district study proposal had passed, Anglin planned to bring forward another resolution calling for an emergency six-month moratorium on all construction and demolition in the area, but he ended up withdrawing that resolution.
Developer Jeff Helminski is leading City Place, a by-right project begrudgingly approved by the council two years ago despite concerns about aesthetics and whether the project fits the character of the neighborhood. The approved plans include constructing two box-like apartment buildings containing 24 units with 144 beds and a 36-space surface parking lot.
Until now, it's been uncertain whether the project would go forward, but Helminski has made it clear in recent weeks his team is anxious to get started. He briefly engaged in talks with city officials about the possibility of going forward with Heritage Row — an alternate development proposal for the site that would include preserving the seven homes and building new apartments behind them — but he told city officials last week that wasn't viable.
Helminski has not returned phone calls from AnnArbor.com seeking comment, but he offered a written statement via e-mail Sunday night.
"I am tremendously disappointed we aren't able to move forward with Heritage Row," he said. "Changing direction from City Place at the last minute was going to be an enormous challenge, as we all knew when we started this evaluation, and in the end it turned out to be one we couldn't overcome, particularly in such a short time frame after so much having already been invested in City Place."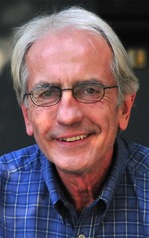 Ann Arbor developer
Alex de Parry
spent more than a year trying to reach a compromise with the city to build Heritage Row instead of City Place, but after failing to win over a super majority of council, he sold his interests recently and turned the project over to Helminski.
Helminski did not attend Monday's meeting, but de Parry and his wife Betsy did. Asked whether he had any regrets about how things turned out, de Parry said he has mixed emotions.
He recalled his original proposal four years ago to build brownstone-style condos, an iteration of City Place that council rejected before the by-right project came along.
"Since the brownstone didn't go through, we put a lot of time and energy and effort into a compromise, which was Heritage Row," de Parry said, agreeing with a statement made by Council Member Taylor Monday night: "This is a failure of reasonable compromise."
Betsy de Parry said the blame rests with the council members who originally blocked Heritage Row's approval — namely Briere, Anglin and Carsten Hohnke. She didn't mention Kunselman, who also was one of the four who kept Heritage Row from achieving eight votes.
"One thing I think people don't really think through is, once we had City Place approved, we could have stopped," Betsy de Parry said. "We could have built it. We spent countless thousands of dollars trying to make Heritage Row happen.
"I did everything I could to try to let them know this wasn't a game, and I think Sabra, Mike, and Carsten played a game with the city's valuable assets, and they lost, and nobody could be happy about that. We're not. They can't be. This is a lose-lose for everybody."
A historic fight
Several residents addressed council at the start of Monday's meeting, speaking passionately about what the seven homes mean to Ann Arbor. They urged council members to pass both the historic district study committee and the moratorium proposed by Anglin.
"The Fifth Avenue houses have stood as witnesses to change in our city," said resident Rita Mitchell. "If you allow them to be removed and replaced with a boxy, out-of-place structure, you will have contributed to the erosion of our sense of time, place and community."
Mitchell said she feared City Place will transform a "unique neighborhood near downtown" into a "bland landscape that is indistinguishable from suburban shopping malls."
"What a shame it will be if our mayor and City Council allow a developer — motivated only by profit — to dismantle a block that is a wonderful place to live," said resident Kathy Boris. "The seven big, beautiful, historical houses sit on big lots with big trees on South Fifth Avenue. They embody Ann Arbor's heritage."
Kunselman, D-3rd Ward, asked Monday night for reconsideration of recent amendments to the City Place site plan that were approved by the City Council last week.
Council Members Stephen Rapundalo, Sandi Smith and Derezinski tried to block discussion of the reconsideration from taking place, but a majority of council members agreed to let Kunselman bring the site plan changes — including revised elevations and flexibility on landscaping and screening requirements — back up for discussion.
After Kunselman had asked several questions of staff, he joined the rest of council in unanimously approving the site plan changes for a second time.

A majority of council members opposed a historic district proposal last year for three reasons. Some didn't think it met the criteria and that it was a stretch to call the neighborhood historic just because it's old. Some thought the city could be sued by the developer for what appeared to be an obvious attempt to block his otherwise lawful right to develop the property. And some thought it was too permanent a restriction on development rights for the area.
Anglin said there's been much indecision from council and he was hoping some of those who voted against the historic district last year would have a change of heart.
"Keep in mind this is intended for a specific area of the town that some people have even said to me they just assumed it was a historic district," he said.
He recalled how the city's Old West Side historic district was created years ago at a time when development was threatening the area's charm.
"It was established in a crisis situation," he said. "Buildings were starting to be torn down and people started to realize that their neighborhood was changing pretty radically."
Anglin argued the same concern should be shown for the Germantown neighborhood, which is just south of East William Street and downtown Ann Arbor.
"This area, because of its adjacent position to the downtown, plays a unique role in our town," he said. "There's an affinity, for some reason, to this area, and people will write about. Out-of-towners will send us messages about how beautiful that block looks."
Hohnke, D-5th Ward, said he appreciated Anglin's comments, but it seemed clear from advice offered by the city attorney's office that it wouldn't be in the city's best interest to go forward with a historic district study and a moratorium to stop City Place.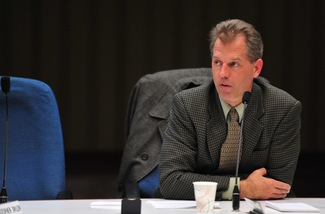 File photo | AnnArbor.com
Kunselman said he's been waiting for a report from a council-appointed advisory committee that was formed two years ago to study the
R4C and R2A residential zoning districts
.
If there are no recommendations from the committee soon, Kunselman said he'll bring forward a resolution to put maximum lot sizes into near-downtown neighborhoods like the R4C area where City Place is planned to be built. He said that could help prevent future aggregations of parcels to make what he called "mega projects."
He acknowledged that would still allow houses that don't have historic protections to be torn down and rebuilt, but he said that's OK.
"That's how you keep your neighborhoods vibrant and maintained over the centuries, so to speak," he said. "We have to allow for rebuilding. There's no doubt about that."
Derezinski, who has led the charge on the R4C and R2A zoning district study, said the committee has met consistently over the past two years and will hold its final meeting Nov. 9.
"It's been a long and hard process, because it's a very controversial area, but we hope to have a report from the committee in November and then that will be brought to City Council for its action and what it wants to do," he said. "We look forward to coming to some conclusion."
Ryan J. Stanton covers government and politics for AnnArbor.com. Reach him at ryanstanton@annarbor.com or 734-623-2529. You also can follow him on Twitter or subscribe to AnnArbor.com's e-mail newsletters.