Posted on
Fri, Mar 30, 2012 : 11:51 a.m.
House committee threatens to withhold funding to University of Michigan over stem cell disagreement
By Kellie Woodhouse
Michigan's two flagship public universities face the loss of millions of dollars in state funding if they do not acquiesce to the state Legislature on key social issues.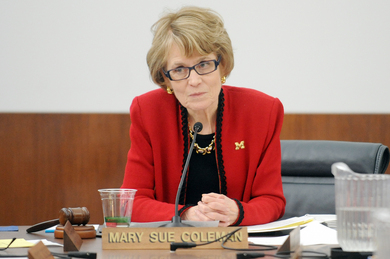 Melanie Maxwell I AnnArbor.com
A Michigan House subcommittee on higher education is threatening to withhold
up to $7 million
in 2012-2013 budget funds from the
University of Michigan
and
Michigan State University
due to disagreements on embryonic stem cell research, mandated health insurance and student protests.
The subcommittee agreed in a party-line vote Friday morning to tie $36 million in government funds to a performance formula proposed by Gov. Rick Synder, but added additional metrics related to the social issues despite oppositions from Snyder.
The subcommittee, meeting in Lansing, approved a $1.4 billion education budget, a 3 percent increase from last year. The budget will now go before the House Committee on Appropriations for approval, after which it will be headed for the house floor.
Snyder's proposed formula, which has been criticized by several public university presidents as unbalanced, distributes a 3 percent increase in state funds based on tuition restraint, improvement in graduate rates, critical skill degree offerings and the number of pell grants a university receives.
The subcommittee, however, added additional strings to the performance funds, proposing that the universities be financially punished if they do not report the number of embryonic stem cells they use in research, if they require students to purchase health insurance and if they allow students to intern at nonprofits that encourage them to protest local businesses.
Rep. Joan Bauer (D-Lansing) said the additional requirements "use performance funding... in the wrong way."
The stem cell condition originates from a disagreement between the committee and the University of Michigan —the only university in the state to conduct research using embryonic stem cells— on how U-M should be required to report on their research. The subcommittee wants U-M to provide the exact amount of stem cells it's using for research purposes, but U-M says its projects are too comprehensive for unfiltered data to accurately portray its stem cell research enterprise.
"Even though we were asked specific questions we don't collect the data in this way and we think that focus on these issues, these specific little issues, were trivializing the complexity" of stem cell research, U-M President Mary Sue Coleman said recently. "I want to continue to put this in context.... We are doing this according to the strict regulations of the federal government."
During the subcommittee meeting Friday, Bauer said the higher education budget is not the place to play-out the stem cell debate.
"The citizens of Michigan were extremely clear when they voted a few years ago" to allow embryonic stem cell research, she said, referring to a 2008 ballot measure.
The health care language was added in response to a provision passed by Michigan State University that requires incoming students partake in health insurance. The protest language was added in response to a handful of U-M students protesting a local business in Detroit with a nonprofit they interned with.
"They're punitive," Bauer said of the three additional imperatives added and supported by subcommittee Republicans. "This is yet another attempt to micromanage our public universities who, by the way, according to the last time I read the state constitution, are autonomous."
Subcommittee chair Bob Genetski (R-Saugatuck) reminded the committee that "no university will lose any base funding that they had last year" if they fail to comply with performance funding regulations. They will lose out on funding increases ranging from .09 percent to 7.4 percent.
This year's higher education budget allots universities $836 per standard bachelors degree cost per year. The $1.4 billion higher education allotment is a 3 percent increase from the 2011-2012 budget but still more than 10 percent less than universities were awarded in 2010-2011.
During the subcommittee meeting, Genetski said he would like to offer more money to public universities but that doing so currently is not a fiscally responsible move.
Kellie Woodhouse covers higher education for AnnArbor.com. Reach her at kelliewoodhouse@annarbor.com or 734-623-4602 and follow her on twitter.