Posted on
Sun, Apr 14, 2013 : 1:30 p.m.
House Democrats plan to announce middle-class tax relief plan
By Ryan J. Stanton
Washtenaw County's four state representatives are planning to hold a press conference Monday morning to announce a tax relief plan for middle-class workers and senior citizens.
House Democrats are unveiling the plan as many Michiganders are finishing their 2012 tax returns and realizing they're being hit hard by Gov. Rick Snyder's tax increases.
"The plan would eliminate the unfair tax burden placed on middle-class families and seniors," the Democrats stated in a news release. "Last session, Republicans cut taxes for large corporations by close to $1.8 billion, and forced Michigan's middle-class workers, families and seniors to foot the bill."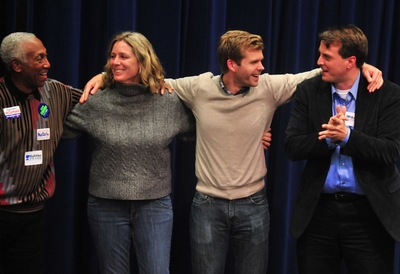 Ryan J. Stanton | AnnArbor.com
Snyder has defended his tax reforms, saying a right-sizing of business and personal taxes was overdue when he took office and Michigan's tax system is now fairer and more efficient.
He also has said there no doubt would be some short-term pain felt, but the result is a state budget that is fiscally sound, and that's going to be attractive to businesses.
Among those expected to attend the 11 a.m. event at the Washtenaw Intermediate School District, 1819 S. Wagner Road, are state Reps. Gretchen Driskell, D-Saline; Jeff Irwin, D-Ann Arbor; David Rutledge, D-Superior Township; and Adam Zemke, D-Ann Arbor.
They're expected to be joined by fellow state Reps. Fred Durhal Jr., D-Detroit; Douglas Geiss, D-Taylor; and Bill LaVoy, D-Monroe.
The event is free and open to the public.
Washtenaw County's four state representatives held another press conference recently to report on the response they received during their statewide "Real State of Our State" listening tour. Driskell relayed concerns about financial challenges facing schools and an increase in the poverty rate.
During listening tour stops held around the state, the Democrats said, citizens called for middle-class tax relief, restoring and protecting funds to public education, eliminating barriers to health care for women, and working cooperatively to find solutions for fixing roads and bridges.
They said legislative priorities for the House Democrats will include repealing the tax on seniors' retirement income, restoring the per-child tax deduction, restoring the Earned Income Tax Credit to 11 percent and restoring the Homestead Property Tax Credit.
Also on their agenda is ensuring the School Aid Fund is only available for use in funding K-12 education and increasing per-pupil funding for schools by $320.
"Gathering as Washtenaw legislators to hear the concerns of our fellow residents about the ways state government has hurt working families during the last two years made it starkly clear that Michigan is simply going in the wrong direction," Rutledge said.
Irwin said Republican priorities have left families facing higher taxes and schools struggling to keep good teachers in the classroom.
Ryan J. Stanton covers government and politics for AnnArbor.com. Reach him at ryanstanton@annarbor.com or 734-623-2529. You also can follow him on Twitter or subscribe to AnnArbor.com's email newsletters.