Posted on
Wed, Oct 19, 2011 : 9:13 p.m.
Humane Society, overwhelmed with homeless pets, offers free, reduced-price cat and dog adoptions
By Cindy Heflin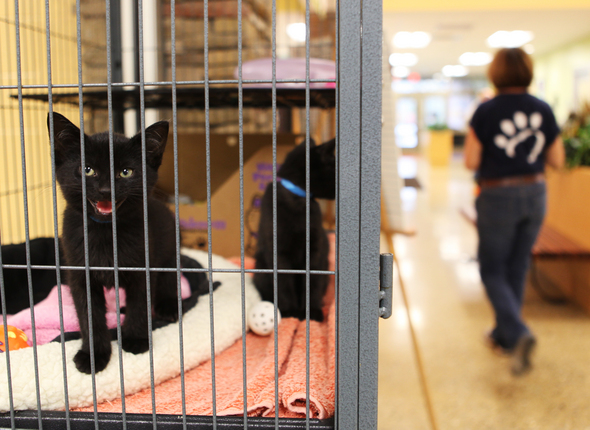 Jeff Sainlar | AnnArbor.com
The
Humane Society of Huron Valley
is overflowing with cats and dogs.
Shelter officials say the facility at 3100 Cherry Hill Road in Ann Arbor Township is "bursting at the seams." Animals are in cages in the hallways and foster home volunteers have taken in nearly all the animals they can. They're encouraging Washtenaw County residents who want a pet to adopt an animal from the shelter.
Jeff Sainlar | AnnArbor.com
Two recent cat-hoarding cases that brought nearly 40 adult cats to the facility contributed to the over-population, but the shelter was already near capacity before that, said marketing director Deb Kern.
To encourage adoption and reduce the population, the shelter is offering several adoption specials until further notice. They are:
Adopt any kitten and get the second one free. The kittens must go to the same home.
Any cat over 7 months old is eligible for a free adoption Friday through Sunday.
Every dog is eligible for $25 off the original adoption fee.
All animals are spayed or neutered, up-to-date on vaccinations and come with microchip identification. Also, prospective owners will be subject to the Humane Society's normal screening rules.
Jeff Sainlar | AnnArbor.com
Humane society officials said the shelter has continued to see large numbers of kittens coming in even though it's past what they call the spring and summer "kitten season."
"HSHV has litters of kittens ready for adoption every single week with no end in sight," the agency said in a news release.
Dog lovers can also find many pets from which to choose at the shelter. Kern said several puppies will be ready for adoption by Thursday and shelter officials said more than 30 puppies will be back from foster home care at the end of October and ready for adoption.
Anyone looking for a pet can see pictures and information about animals available for adoption on the organization's website.
Though the overpopulation problem comes as a budget crunch has Washtenaw County officials considering cutting the facility's appropriation by 50 percent, Kern said it's a complete coincidence. She said the overpopulation problem is one that happens from time to time, but this is the most serious this year and possibly since the Humane Society opened in its new shelter in 2009.
Among other reasons for the increase in numbers at the shelter is that some people have given up their pets because they can't afford to keep them after losing a job, Kern said.
"We don't want to turn any animals away," she said. "With the numbers that we have we just want to remind people to please think of adoption first."
Even people looking to adopt purebred animals can sometimes find them at the shelter, she said. If they're willing to work with us we can help them find the match that they're looking for."