Posted on
Thu, Apr 14, 2011 : 2:52 p.m.
Hundreds honor Vada Murray at University of Michigan campus ceremony
By Juliana Keeping
Angela J. Cesere | AnnArbor.com
If love could have kept Vada Murray alive, he would have lived forever, his wife told a crowd of hundreds of mourners Thursday at Cliff Keen Arena in Ann Arbor.
Murray, 43, a police officer in Ann Arbor for two decades and a former defensive back for the Michigan football team, died April 6 two-and-half years after a lung cancer diagnosis. Neither Vada, nor his parents, ever smoked.
"Vada's cancer was like a roller coaster," Sarah Murray said. "We wanted to get off, and we couldn't figure out how. And it was going way too fast."
There is not enough attention or funding for lung cancer research, she said, and not enough public information available about the environmental causes of the disease. She vowed to change that, and said she'd have more details to announce soon.


Angela J. Cesere | AnnArbor.com
Former teammates, family, close friends and police and fire personnel from Ann Arbor and other local agencies were among hundreds who attended the campus memorial service Thursday morning.
Sarah Murray described her husband as strong and quiet, straightforward and a fantastic father to his son, Deric, and daughters Kendall and Harper.
And he loved being a cop.
"He was always on duty," she said. "At the grocery store, at weddings, at barbecues," she added, drawing laughs.
Ann Arbor Police honored Murray with the same ceremony they would afford to an officer killed in the line of duty, including a solemn procession of more than 100 uniformed officers at Cliff Keen prior to speeches from Ann Arbor Police Chief Barnett Jones, former teammate Warde Manuel and Sarah Murray.
The service was followed by a funeral procession that included dozens of Ann Arbor Police vehicles and a private burial service at Forest Hill Cemetery in Ann Arbor.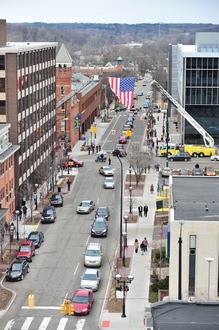 Ryan J. Stanton | AnnArbor.com
Murray played from 1986 to 1990 under Bo Schembechler, who took the Wolverines to the Rose Bowl in 1987, 1989 and 1990.
Manuel, who played defensive end for the Wolverines with Murray, was also his freshman year roommate at U-M. He remembered Murray as a man who never minced words and always had a cop show on the TV.
A number of their former teammates attended the memorial Thursday to pay their respects. Together, Manuel called on them to stand and recite "The Law of the Jungle," a Rudyard Kipling poem written on the wall of the defensive meeting room during their playing days.
It was a good reminder of what it was to be a team then, he said. And a reminder that now was the time to stay strong as a team to support Murray's family.
"For the strength of the Pack is the Wolf, and the strength of the Wolf is the Pack," the teammates said.
Back at the Ann Arbor Police Department, there is a photo on Lt. Angella Abrams desk. It captures the 6-foot-3-inch, 200-pound Vada Murray outstretched and soaring, 5 feet above a mass of players at the Big House in the No. 27 jersey. In the photo he bats a football down, blocking a Michigan State kicker's attempt at a field goal.
Abrams doesn't know when the photo was taken. She's not even a football fan. But she considered Murray, her son's godfather, her most loyal friend.
And, she, like many others, will miss him.
Juliana Keeping covers general assignment and health and the environment for AnnArbor.com. Reach her at julianakeeping@annarbor.com or 734-623-2528. Follow Juliana Keeping on Twitter