Posted on
Sun, Mar 10, 2013 : 1 p.m.
Huron Valley Ambulance accepting nominations for Life Saving and Heart Safe Awards
By Kody Klein
When a life is on the line, emergency responders rush to the scene in hopes of saving it. But before the sirens start blaring, there are ordinary people who go above and beyond the golden rule and react in what many would find to be an extremely difficult situation.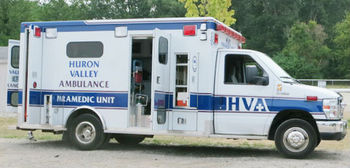 Huron Valley Amublance
wants to recognize those people with its annual
Life Saving Award
program.
"They're part of that chain of survival as well," said Joyce Williams, public affairs manager for HVA. "They're often the ones who call 911, they're often the ones who start the care."
The program began in 2005 and is intended to honor anyone who has saved or attempted to save a life under extraordinary or unusual circumstances.
Many factors are taken in to consideration when evaluating what constitutes an extraordinary or unusual circumstance. Williams said many past recipients were distinguished because they risked their own well-being in order to save another person.
Though the program's aim is to recognize laymen heroes, Williams said emergency responders, including firefighters, police officers, and even HVA employees, are eligible for any act that went beyond the call of duty.
Nominees must live in the area serviced by HVA, which includes all of Washtenaw County, and must not have received any previous award for their heroic deeds.
Recipients will be announced at a ceremony dinner on May 21 at Washtenaw Community College. They will be recognized during the ceremony and presented with a certificate.
"It's some recognition just to let them know that things they've done were very much appreciated," Williams said.
Williams said HVA usually tries to use the ceremony to reunite the recipients with the people they saved. She said it tends to be pretty emotional.
The ceremony also will recognize organizations receiving HVA Heart Safe Awards.
HVA distributes the awards to organizations who have automated external defibrillators in all buildings and a staff trained to use them, as well as a staff trained to perform CPR. These groups also must have cardiac emergency response plans that are practiced during routine drills.
"We wanted to recognize the business or organizations that took this seriously," Williams said.
Recipient organizations will receive a plaque distinguishing them as "heart safe" establishments.
Williams said past recipients have included South Lyon Community Schools, Dexter Community Schools and Lincoln Consolidated Schools.
Both the Heart Safe and Life Saving Awards programs are non-competitive. Applications can be found online and are due by April 19.