Posted on
Wed, Apr 13, 2011 : 5:59 a.m.
Improved 'urban gateway into the city' in mind as Ann Arbor studies State Street corridor
By Ryan J. Stanton
Ann Arbor officials are looking to hire a consultant to help develop a comprehensive corridor plan for South State Street, and part of the thinking is State Street's relationship with I-94 presents opportunities for an improved "urban gateway into the city."
The Planning Commission met Tuesday night and discussed a draft request for proposals the city plans to send out soon to attract a consultant to take on the one-year study project. City Planner Jill Thacher said she hopes to have a consultant selected by May.
The study area is defined as the 2.15-mile stretch of State Street from Stimson south to Ellsworth, an automobile-oriented thoroughfare with mixed office, retail, research and limited industrial uses, as well as a small number of residential properties.
"It's a pretty unique corridor because it doesn't have a lot of cross streets, so it doesn't have very good circulation, but it is a major employment corridor," Thacher said. "There are lots of office uses, light industrial and research, and this is a mix that's not found in any other corridor in the city. It also has several interesting anchors like Briarwood Mall, U of M has a large piece of property for its tennis center, and Edwards Brothers is a very large employer."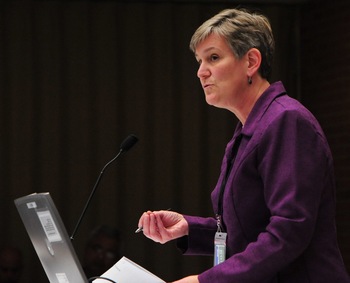 Ryan J. Stanton | AnnArbor.com
The RFP also mentions the research park between I-94 and Ellsworth.
Planning Manager Wendy Rampson said about $160,000 in funding was set aside for the corridor study in a previous budget, about $150,000 of which remains available to spend. She'll be asking the City Council to carry those funds over into next fiscal year.
City planning officials say a master plan for the corridor is needed to address a range of issues, including future growth demands and the ability of the corridor to accommodate that growth, as well as the merits of introducing land uses not currently found along the corridor.
"We are seeking a creative firm to go beyond formulaic planning processes in addressing this corridor's vast future potential," the draft RFP states, noting the corridor serves a key role in connecting downtown and the University of Michigan to I-94 and Pittsfield Township.
Officials say recent area, height and placement amendments to the city's zoning ordinance allow new opportunities to expand or redevelop at higher densities.
According to the RFP, most development along the corridor has taken place in the last 50 years, and the existing and desired balance of land uses has not been assessed in many years.
Thacher said it's unique that the city is studying a corridor with only a handful of residential uses. Whether additional residential developments are introduced along the corridor, and under what circumstances, is expected to be a component of the study.
The proposed planning process would include dialogue with various stakeholders and the public in order to develop a shared vision of the corridor's future. Two to four public meetings, plus up to 25 targeted individual or small group interviews, would be used to gather public opinion.
The process also would include a market study to identify demand and redevelopment potential. The selected consultant would work with city staff and the Planning Commission, which would serve as the ultimate decision-making authority for the corridor planning process.
Planning commissioners wondered Tuesday night whether it might be a good idea to establish a corridor improvement authority, like the one being considered for Washtenaw Avenue, to use tax-increment financing to incentivize redevelopment along the corridor.
City officials say there are a number of transportation opportunities and challenges along State Street, so transit and congestion issues also are expected to be examined. Thacher said State Street has one of the highest public bus riderships of all the corridors in Ann Arbor.
Ryan J. Stanton covers government and politics for AnnArbor.com. Reach him at ryanstanton@annarbor.com or 734-623-2529. You also can follow him on Twitter or subscribe to AnnArbor.com's e-mail newsletters.