Posted on
Wed, Jan 4, 2012 : 2:13 p.m.
Increases in downtown parking rates win unanimous approval from Ann Arbor DDA
By Ryan J. Stanton
The cost of parking in downtown Ann Arbor is going up following action taken Wednesday by the Downtown Development Authority.
In a meeting that lasted a half hour, the DDA's governing board voted unanimously on a series of rate hikes that have been talked about for several months.
Some of the changes — including increases in the cost of parking in some structures and lots — take effect Jan. 21.
Other changes won't happen until Sept. 1, which is when on-street parking meter rates go up to $1.50 an hour. The rates already jumped to $1.40 from $1.20 an hour four months ago.
What's not being enacted yet is an extension of parking meter enforcement hours past 6 p.m., though DDA officials sound confident that'll come eventually.
Here's a look at changes taking effect Jan. 21:
Meter bag fees will increase by $5/day to $20/day
Premium parking will increase by $5/month to $180/month
Entry fees into Ann & Ashley after 4 p.m. and all day Saturday will increase by $1/entry to
$3/entry
Entry fees into Liberty Square after 3 p.m. and all day Saturday will increase by $1/entry to $3/entry
Entry fees to the 415 W. Washington lot will increase by $1/entry to $4/entry
Permits at the 415 W. Washington lot will increase by $10/month to $90/month
Permits at the First and William lot will increase by $10/month to $115/month
All hourly parking rates will be charged by one-hour increments
Art Fair parking rates will increase by $2/entry to $12/entry
Meter bag requests for Sundays and holidays will incur an installation fee of $160 for up to 100 bags and $320 for more than 100 bags
Here's a look at changes taking effect Sept. 1:
Parking structure hourly rates will increase by $.10/hour to $1.20/hour
Attended parking lot hourly rates will increase by $.10/hour to $1.40/hour for the first three hours and $1.60/hour thereafter
Parking meter hourly rates will increase by $.10/hour to $1.50/hour
Parking structure monthly permit rate will increase by $5/month to $145/month
A number of business owners have expressed concerns in recent months that further rate hikes could hurt downtown, but there were no protests at Wednesday's meeting.
DDA officials said the increases are needed to keep up with maintenance costs and an increasing financial obligation to the city. Under a new agreement, the DDA is required to transfer 17 percent of parking revenues to help augment the city's general fund.
Revenue from the rate increases also is being used to help finance a $50 million underground parking structure the city and DDA are building on Fifth Avenue downtown.
The DDA has been drawing from its fund balances to pay for the project. Despite seeing increased parking demand downtown and raising parking rates, the DDA is now on the verge of running a deficit in its parking fund, an auditor told DDA officials in November.
DDA officials remain confident the parking fund balance will build back up to a healthier level in the coming years, and they say they're watching it closely.
DDA board member Roger Hewitt said all four downtown business associations are now in support of the rate increases, which were presented to the City Council in November. The DDA also held a public hearing that spanned two board meetings.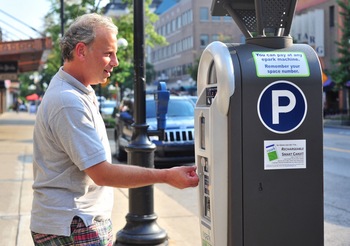 Ryan J. Stanton | AnnArbor.com
The changes don't require City Council approval. Under the new parking agreement, the DDA has unilateral authority to set parking rates and enforcement hours.
Hewitt said it's encouraging that demand in the parking system and revenues continue to be strong, even in an economy that's not booming. There were nearly 450,000 more visits to downtown parking lots and structures this past year compared with five years ago.
"So clearly, despite the recession, despite the sluggish economy, there are a lot more people coming downtown and parking downtown, as well as using the go!pass, which has also seen significant increase," Hewitt said. "So there's a lot more activity."
DDA board member John Splitt gave an update on the 700-space underground parking structure, which is expected to open in time for the Ann Arbor Art Fair in July.
"The permanent electrical line will be hooked up sometime this month, so the permanent power of the deck will be in place," he said. "And over the winter months, they will continue to pour concrete and the walls, a few columns, etc."
Sandi Smith, co-chair of the DDA's Partnerships and Economic Development Committee, gave an update on the DDA's Midtown Discovery project, a master planning effort for five city-owned properties in a concentrated area of the downtown.
"They have now gone through the groundwork of assembling all of the different plans from the downtown to make sure that we're on track, so we're not recreating anything," she said. "We're just putting it all in one spot so that the Calthorpe and A2D2 — and all of these efforts done in the past — are brought together, and that is where we are."
Smith said one of the next steps is to engage the public. She called the Ann Arbor District Library and the Ann Arbor Transportation Authority strong partners in the Midtown area.
The AATA is about to demolish and rebuild the Blake Transit Center, which sits across from the Library Lot and next door to the Y Lot, two of the city-owned properties being looked at.
Smith said the AATA is keeping an eye on the potential for a neighboring development of some kind on the Y Lot, and the new Blake Transit Center is going to be built to anticipate "something being next to and perhaps over" the transit center building.
"So they're very much aware of the needs there," Smith said.
Ryan J. Stanton covers government and politics for AnnArbor.com. Reach him at ryanstanton@annarbor.com or 734-623-2529. You also can follow him on Twitter or subscribe to AnnArbor.com's email newsletters.