Posted on
Wed, Jun 1, 2011 : 2:28 p.m.
Downtown Ann Arbor parking rates and enforcement hours likely to change with DDA in power
By Ryan J. Stanton
Visitors to downtown Ann Arbor should prepare to see increases in parking rates and enforcement hours now that the Downtown Development Authority has the sole power to call the shots.
DDA Chairwoman Joan Lowenstein and board member Roger Hewitt described the planned changes Tuesday night as the Ann Arbor City Council approved an agreement that turned all parking management over to the DDA through at least 2022.
Under the new agreement approved unanimously, council members no longer can veto those types of decisions about the city's public parking system.
The reason the DDA sought the change, Hewitt said, is that the current method of allowing council to veto DDA decisions worked well when there were only three rates: one for on-street parking, one for parking lots, and one for parking structures.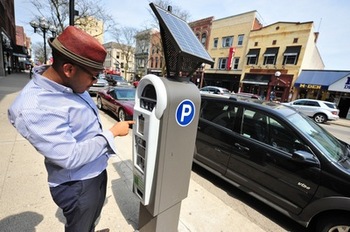 But the rates are about to get "extremely complex" as the DDA starts a
new demand management strategy
that could include restructuring parking rates and hours of enforcement, Hewitt said.
"We're going to be moving to a parking demand management system where there will be multiple rates based on geography, time of day, a number of different factors," he said.
For example, the core of downtown probably will have higher meter rates than the fringes of downtown, Hewitt said. Also, there may be higher rates during prime parking hours in the middle of the day and lower rates in the evening, as well as discounted rates for parking spots on the tops of parking structures, with more expensive spots at the lower levels.
"So we're going to a much more complex system, and the system is going to be very integrated and very dependent on every part of the system," Hewitt said.
Multiple council members expressed concerns Tuesday night about relinquishing parking decision-making power to the DDA, an unelected body appointed by the mayor.
But ultimately they decided the city had little choice — the DDA sought those terms as part of a new contract that includes transferring 17 percent of parking revenues to the city for at least 11 years. That amounts to nearly $2.7 million next year, and as some council members observed, the city needs that money to maintain basic services like police and fire.
"A good negotiation should leave both sides feeling like they've been beaten up pretty well, and I think this one did that," said Council Member Carsten Hohnke, D-5th Ward (download the agreement).
Hohnke noted the DDA was under no obligation to share an additional dime with the city after the city tapped dry — five years early — the $10 million in parking revenue the previous contract running through 2015 called for. The fact that the DDA went from a contractual obligation of zero to 17 percent is "very significant," he said.
The DDA put out a comprehensive plan for managing the downtown parking system last spring that discussed extending the hours of enforcement to 9 p.m., with the tradeoff of a free hour of parking from 8 a.m. to 9 a.m. But the idea never gained political support from council members who, unlike DDA board members, have to answer to voters for their decisions.
Council Member Sandi Smith, D-1st Ward and a DDA board member, said she liked the transfer of powers to the DDA because it helps ensure election year politics don't drive decisions about the city's parking system.
Under the new agreement, the city maintains responsibility for enforcement of parking regulations and collection of fines. The city will alter or extend the hours of parking enforcement at the DDA's request — but only within the limits determined by labor contracts, available staffing and other applicable contractual or mutual aid agreements.
Hewitt noted the new agreement mandates a joint working session of the DDA and City Council every fall where decisions about the parking system will be discussed. He said the DDA also will regularly seek public input and won't push forward with any changes that hurt downtown.
"We're here to help downtown," Hewitt said. "And if everyone is telling us this is something that's really bad for downtown, we'd be really stupid not to listen."
Lowenstein said the next step is to hold a joint working session in October. She said there already are parking rate increases voted on previously that will take effect in the future, but other changes geared toward activating the downtown will be discussed then.
"There probably won't be much that people will notice that's different because everything we do will be very gradual," she said, adding the DDA likely will launch a pilot project sometime after Jan. 1 to see how evening enforcement of meters works before it's fully implemented.
"There's gong to be a lot more consultation with the public than there has been in the past," she added. "So I think it'll be something the public knows about before it happens."
Council Member Sabra Briere, D-1st Ward, proposed an amendment to the parking agreement Tuesday night that would have required all decisions about parking rates and hours to come before the City Council for approval, but it didn't win support.
Council Member Stephen Kunselman, D-3rd Ward, intended to bring forward a proposal of his own to take control of the parking system away from the DDA altogether, but realizing it didn't have support, he didn't bring it up.
It costs $1.20 an hour to park at a metered spot downtown between 8 a.m. and 6 p.m. Monday through Saturday. Parking is free on evenings, Sundays and all federal holidays.
Ryan J. Stanton covers government and politics for AnnArbor.com. Reach him at ryanstanton@annarbor.com or 734-623-2529. You also can follow him on Twitter or subscribe to AnnArbor.com's e-mail newsletters.