WITH VIDEO:

'It makes me feel small': Crowds gather to watch rare transit of Venus across the sun

Posted on Tue, Jun 5, 2012 : 8:43 p.m.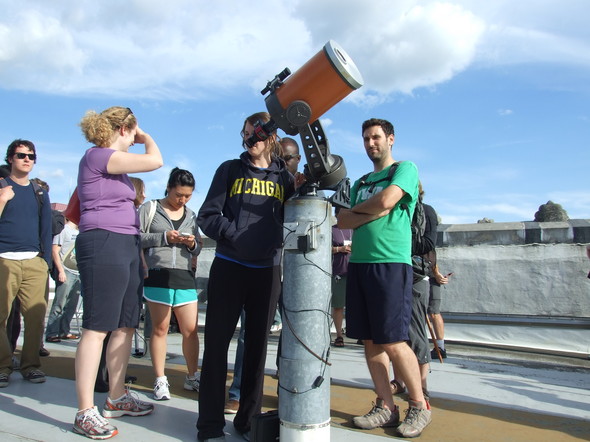 Kellie Woodhouse | AnnArbor.com
Previous story: Watch Venus pass across the sun Tuesday evening or wait 105 years
University of Michigan sociology doctoral student Nell Compernolle stood on the roof of Angell Hall peering through a telescope as a small black disk transited the edge of the sun.
"It makes me feel small," she said afterward. "It only happens every hundred or so years and we're alive for it."
Compernolle was witnessing a rare phenomenon: Venus, the brightest planet visible from Earth, was passing between our planet and the sun. Normally on separate planes in the solar system, Earth and Venus were tilted at just the right angles so the transit was visible from Earth.
"At first it was hard to see.... All you see is a big red ball and there was a little black spot at the edge," 11-year-old John Harrison said after looking through a telescope.
The clouds parted in the slightly overcast Tuesday evening sky just in time for Harrison and his seven-year-old sister, Lily, to watch the transit begin shortly after 6 p.m.
Venus, the little black spot, crosses between the sun - the big red ball - and Earth every 564 days, but the transit is visible from Earth less than twice a century. It occurs in pairs roughly eight years apart; after the second transit, 105 years go by before the next one.
Venus was last seen transiting the sun in 2004. Before that the last visible passes took place in 1882 and 1874 and scientists predict the next transit will occur in 2117.
Hundreds of people gathered on the roof of Angell Hall and the lawn of U-M's Detroit Observatory to watch the transit Tuesday evening. The U-M Department of Astronomy had telescopes and goggles with special filters available so onlookers could witness the transit. A crowd also watched the transit live from Hawaii in an Angell Hall auditorium.
"It's amazing because you've never seen it before, and to be here with the kids and know they'll never see it again...," began John's mother Sandra Harrison, before being interrupted by her son.
"Hey you don't know that," he exclaimed. "Life expectancy goes up every century."
With a laugh, Harrison played along with her son.
"We don't have that to do everyday in our backyard," she amended.
Ian Mays, a manager at Zingerman's Deli, said several aspects of the transit took him by surprise.
"It was smaller than I expected," he said of Venus' size, adding: "It was faster than I thought... I didn't expect it to move as much as it did."
According to an astronomer on site, Venus moved the width of its diameter every 12 minutes. The transit takes seven hours and, from Earth, Venus appears as a disk one-thirtieth the width of the sun.
Added U-M student Ajay Varadharajan:"I am never going to see it again. I just want to be part of the phenomenon... part of the generation that has watched Venus cross the sun."
Video Submitted by Ann Arbor resident Kai Petainen