Posted on
Wed, Jun 13, 2012 : 2:59 p.m.
It's official: Beer will be served at Michigan Stadium during 2013 Winter Classic
By Kellie Woodhouse
It's official: Red Wings and Maple Leafs fans can enjoy a beer at the 2013 Winter Classic.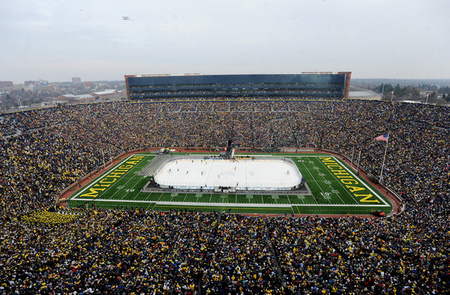 Michigan Stadium
is normally bone dry, with alcohol sale and consumption strictly forbidden. In fact, the
University of Michigan
bans purses from the stadium partly to dissuade fans from trying to sneak in liquor.
But for one day, beer will be on tap at stadium concessionaires. A bill allowing the National Hockey League to utilize a temporary 30-day liquor license for the Jan. 1, 2013, match passed the Michigan Senate Wednesday and the House of Representatives on May 24.
The U-M Board of Regents agreed in February to host the Winter Classic match between the Detroit and Toronto teams for a $3 million payment from the NHL. Regents also condoned the sale of alcohol at Michigan Stadium for the event.
"The fact that there will be liquor served is no problem whatsoever," Regent S. Martin Taylor said in February. "This in a non-university event. We are truly just leasing the facilities."
University officials say that this is a one-time allowance and that the athletic department has no intention of selling alcohol at U-M-sponsored athletic events. Officials originally intended to use one of 12 special one-day liquor licenses U-M is granted each year, but school officials discovered the temporary licenses aren't applicable to large crowds like the one expected at the Winter Classic. In response, state lawmakers proposed HB 5611.
The NHL is trying to break the world record for hockey attendance, which was set at the Big Chill in 2010 when U-M faced Michigan State University at Michigan Stadium to a crowd of 104,173.
U-M Athletic Director Dave Brandon said in February that securing a liquor license is key to hosting the event at Michigan Stadium. He suspects the event will bring more than $15 million in business to area hotels, restaurants and merchants.
"The NHL views it as an important element to the success of the event," said Rep. Mark Ouimet, R-Scio Township, who introduced the temporary liquor license bill in May. "From an economic development standpoint, the amount of people this will bring to southeastern Michigan for the events leading up to the game and the game is going to be a real boon to the area."
Kellie Woodhouse covers higher education for AnnArbor.com. Reach her at kelliewoodhouse@annarbor.com or 734-623-4602 and follow her on twitter.