Posted on
Tue, Jul 19, 2011 : 6 a.m.
Jerusalem Garden and Earthen Jar owners say they're unhappy with lack of assistance from city, DDA
By Ryan J. Stanton
The owners of two downtown restaurants — Earthen Jar and Jerusalem Garden — appeared before the Ann Arbor City Council Monday night to air concerns over the massive underground parking garage being constructed next to them on Fifth Avenue.
Both said business is hurting because of the project, especially with Fifth Avenue closed, and they think they deserve some form of compensation from the city or the Downtown Development Authority. The DDA is funding the $50 million garage, which will be owned by the city, and the project is expected to continue into next spring.
"Our sales have gone 50 percent down," said Pushpinder Sethi, owner of Earthen Jar, a vegetarian Indian food establishment at 311 S. Fifth Ave. He said he'd welcome a tax abatement or any other form of compensation deemed appropriate to offset the losses.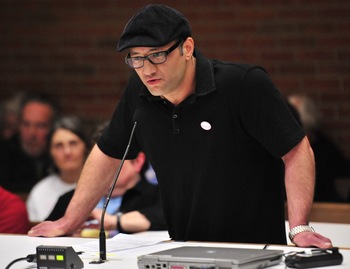 File photo | AnnArbor.com
"I'm losing six grand every month right now," he said. "And that is very hard for us to survive in this situation."
Ali Ramlawi, owner of Jerusalem Garden, 307 S. Fifth Ave., told council members he asked the DDA for help last year — including help with taxes and maybe putting some money in a fund to do marketing for area businesses — but his requests were denied.
He said he was told it was an ordinary improvement project and that his business, like other businesses, would just have to weather the storm.
"I would like to argue that this is not an ordinary project," Ramlawi said. "This is an extraordinary project. The road's been closed now for one year."
DDA officials held a groundbreaking event that ceremonially kicked off the 700-space project in September 2009, though it was some months later before major work was under way. Fifth Avenue closed to traffic in front of Jerusalem Garden and Earthen Jar in September 2010.
Noting that the project isn't expected to be finished for at least another six months, likely continuing into the spring, Ramlawi said he'd challenge any city official to come up with another construction project that has lasted two and a half years.
"One thing I want to rest assure is we're not going to go out of business," Ramlawi said. "But that is not because of the support from the DDA. It's because of the University of Michigan and the dedicated following of the folks of Ann Arbor and the surrounding areas."
DDA Executive Director Susan Pollay could not be reached for comment.
Mayor John Hieftje, who serves on the DDA board and appoints its members, said he's sympathetic to the situation Jerusalem Garden and Earthen Jar find themselves in and he's going to see if there's possibly more the city can do to help out. He agreed there at least could be better signage to point passersby to both restaurants, but he said tax abatements would be unusual and he's not sure it even would be legal.
He noted Fifth Avenue is expected to reopen by Dec. 31.
Council Member Mike Anglin, D-5th Ward, said the council should take seriously the concerns raised by Earthen Jar and Jerusalem Garden, which are in his ward.
"Here we're in a situation where we're doing some damage to long-standing businesses," he said, encouraging the owners to follow up and contact council members after the meeting.
"These gentlemen have been putting up with something for quite a long time, including if you remember the collapses and the cave-ins and the sinkholes that have taken place," he added, calling that "pretty dramatic" for a business to go through so much.
Anglin said he's hopeful something practical can be done along Fifth Avenue, "so when you go down there you don't think you're going to a big construction site."
Ramlawi used part of his public commentary time to talk about the role of the DDA as it relates to the city and its future. He noted the City Council recently gave the DDA unilateral authority to set parking meter enforcement hours and parking rates, while also allowing the DDA more influence on the development of downtown city-owned properties.
"I think now is the time to take a step back and take a minute and pause right now before we go ahead and continue to give the DDA even more power," he said. "I think these things should be reserved for City Council — our elected officials."
Council Member Stephen Kunselman, D-3rd Ward, also chimed in during Monday's meeting to say it's taken some time but he finally has his hands on DDA financial reports going back several years and he's alarmed at what the numbers show.
He said the reports show the DDA ran a deficit of about $138,000 for fiscal year 2007-08, followed by a deficit of nearly $2 million in 2008-09, and another deficit of $3.8 million in 2009-10. DDA officials have acknowledged they're purposely running deficit budgets due to costs related to the underground parking structure and other capital projects.
Kunselman noted fiscal year 2010-11 just ended June 30 and the DDA is estimating it ended the year with another $3.9 million in deficit spending. He said it's anticipated by the end of fiscal year 2011-12 the DDA will have about $2.9 million left in its fund balance.
"I just think these are very telling numbers — four years, possibly five years, of deficit spending by the DDA is fiscally irresponsible in my opinion," Kunselman said.
Hieftje fired back at Kunselman, defending the DDA.
"If you felt that way, you probably shouldn't have voted to approve their budget," Hieftje said, noting the deficits were planned and included in the budget. "The DDA has been planning on some very large expenditures related to projects and I think that's what you're seeing reflected in their numbers, and they are maintaining a positive fund balance."
Ryan J. Stanton covers government and politics for AnnArbor.com. Reach him at ryanstanton@annarbor.com or 734-623-2529. You also can follow him on Twitter or subscribe to AnnArbor.com's e-mail newsletters.