Posted on
Sun, Jan 10, 2010 : 1:32 p.m.
Ypsilanti firefighters union fighting back against plan to lay off 6
By Art Aisner
Ypsilanti firefighters are gripping tight.
Faced with a $1.4 million budget gap, City Manager Ed Koryzno will propose cutting six positions from the 18-member fire department during a special session with the City Council Monday. The public meeting starts at 6 p.m. in city council chambers.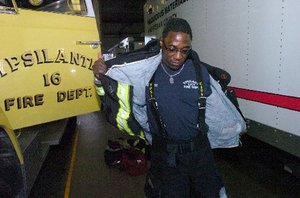 The layoffs would occur in March to save roughly $430,000 this year, Koryzno said.
The City Council announced plans to trim the budget by $1.4 million last month, with 80 percent of the cuts in public safety and 20 percent from other city departments.
But firefighters said going to 12 - with an average age of the firefighters approaching 50 - will fundamentally change what they're trained to do and what the public expects them to do when buildings burn. The department once numbered 30 firefighters.
"That will drastically change how we do business," said Richard Barnabo, who has spent more than a decade with the department. "We'll become a defensive fire department, and not an aggressive one."
Federal standards dictate a firefighter must be accompanied by at least one other firefighter into a burning building. Two more and a supervisor also should be outside, ready to coordinate and perform any rescue.
The two-in, two-out rule is among several arguments the firefighters plan to make over the next several weeks in a campaign to rally public support to save jobs, said union president Ken Hobbs.
But Koryzno said the proposal won't compromise public safety, and the federal requirement can still be met - provided firefighters agree to change from three shifts with five firefighters to two shifts of six.
The two sides have been negotiating in mediation for months without any significant progress.
"It's important to recognize that we have serious budget and financial issues and we're making every attempt to meet those financial obligations while keeping the public safe," he said.
Hobbs said the union has made considerable concession offers that were rejected by the city. He also points out residents and proprietors stand to lose even more money because the city's insurance rating would inevitably rise, while annual compensation from the state for providing services to Eastern Michigan University would decrease.
The city has working agreements with surrounding communities to assist with fire emergencies, but the ranks are also thinning at neighboring departments.
Ann Arbor officials planned to lay off 14 firefighters this month, but a tentative deal was reached with the union that's expected to postpone the layoffs. The Ypsilanti Township firefighters union was expected to vote on possible buyout proposals Friday.
"We're at a tipping point," Ypsilanti Fire Chief Jon Ichesco said. "It just takes a certain number of people to the job the right way. We're going to have to decide are we going after the fire or say let's take care of the property and premises as best we can."
Koryzno said the positions are funded through July, but layoffs in March would save more money.
The fire department's operating budget is $2.7 million, and the police department's budget is $4.7 million, city documents show.
The police department will eliminate a lieutenant's position with Amy Walker's recent appointment to chief, and five additional positions are expected to be axed. Drug forfeiture money will be used to pay for two officers working with the Livingston and Washtenaw Narcotics Enforcement Team.
Two part-time positions in the city's finance department are expected to be eliminated. And all non-union employees in other city departments will be required to take 13 unpaid furlough days each year under the proposal.
Art Aisner is a freelance reporter for AnnArbor.com. Reach the news desk at news@annarbor.com or 734-623-2530.