Posted on
Fri, May 7, 2010 : 5:01 p.m.
John Floyd is first and only Republican to file to run for Ann Arbor City Council
By Ryan J. Stanton
John Floyd filed nominating petitions on Thursday to run in the 5th Ward race for the Ann Arbor City Council.
If elected, Floyd would be the first Republican council member since 2005. He argues one-party rule has not served Ann Arbor well.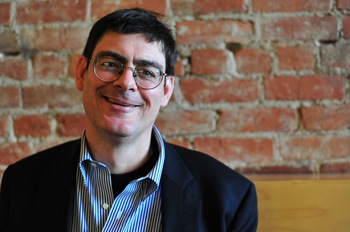 Ryan J. Stanton | AnnArbor.com
"We need more voices," he said. "I am committed to serving the 5th Ward and the city at large, and am ready and willing to take on the challenges our city faces."
Floyd currently faces no opponent in the Aug. 3 primary and will move on to the November general election if no other Republican files by Tuesday's deadline.
On the Democratic ticket, multiple challengers are lining up against incumbent Carsten Hohnke. His most serious opponent is Lou Glorie. Allen Licari and Newcombe Clark also have pulled nominating petitions — both independent and Democratic — and are considering running.
Floyd said city government often makes important decisions with little serious public debate or input and he wants to change that.
"A couple years ago, council made the political promise to take a citizen vote before transferring parkland to non-park uses by non-city entities," he said. "The recent decision to build a parking structure for the university in Fuller Park is such a transfer. Citizens' taxes pay for the parks; citizens should make these decisions, not City Council."
He said the city also delays dealing with important issues rather than taking a proactive approach.
"The recent decision to transfer $2 million from the DDA back to the city's general fund could have been made months ago — even last summer," he said. "Waiting to approve the transfer at last minute created artificial budget drama, and demoralized city staff with the threat of widespread layoffs."
Floyd's background is in financial and accounting services. In addition to teaching political economy at De Paul University, he has been a budget analyst for the state of Illinois and a financial control professional for business and nonprofit organizations.
He also has served internships with the Michigan House of Representatives and the Congressional Budget Office.
He said he sees Ann Arbor's current budget difficulties as a challenge that he is equipped to overcome. Fiscal responsibility is a key focus of his platform, and he says the city needs to focus on five critical service areas: police, fire, water, sanitation and streets.
Born and raised in Ann Arbor, Floyd is a graduate of Huron High School. A widower, his two sons attend Ann Arbor Public Schools.
He is a supporter of Ele's Place, a center for grieving children. He has a bachelor's degree in economics from Oberlin College in Oberlin, Ohio., master's degrees in public policy from the University of Michigan and in accounting from DePaul University in Chicago.
A self-described outdoorsman, Floyd belongs to Anglers of the Au Sable and participates in efforts to restore and protect the Au Sable River. He also is treasurer of the First Baptist Church of Ann Arbor and leads his son's Cub Scout den.
Ryan J. Stanton covers government for AnnArbor.com. Reach him at ryanstanton@annarbor.com or 734-623-2529.