Posted on
Thu, Jun 27, 2013 : 5:58 a.m.
Bullies will be bullies, but cops can have a little fun, too
By Rich Kinsey
A lecturer in a police course once said that the public sees the police department as a "public department of retribution." Justice actually is the mission of the entire criminal justice system working together to give people who violate the law what they deserve, which, in extreme cases, is a prison cell. The police do, however, have an opportunity every now and then to get a little comeuppance on those who victimize society.
John was a bully. There were no two ways about it.
He thought he was quite a tough guy with the homeless and other street people he coexisted with in downtown Ann Arbor back in the early 1990s.
John stood about 6 feet 2 inches, had wild and curly brown hair, a medium build, crazy eyes and changed his facial hair quite often depending on his current relationship with a razor. John's facial hair usually consisted of a mustache and either a few days' growth, a full beard, a goatee or he was clean-shaven. In short, he was a scary and intimidating guy and preyed on those who had little in life and who would seldom call the police for help.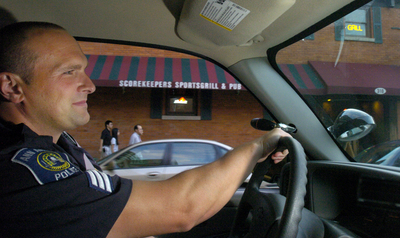 File photo
One autumn night I found John hitchhiking inbound on West Liberty a little west of South Maple. At the time I was the sergeant assigned to the Ann Arbor Police Department's Special Investigations Unit, which was a plainclothes undercover and surveillance unit. We were assigned to identify and apprehend some burglars who were breaking into businesses in the West Stadium corridor.
To do this we had five officers in different unmarked and unremarkable cars in the area. At any given moment, four of the cars were inconspicuously parked, with an officer way down in the seat scanning the area for anyone — especially those in pairs — walking or cruising the area who might be looking for a target of crime.
From experience, burglars who work in pairs or teams will drive past a business several times before they break in. They are looking for other people outside or inside the intended target, where to park without being noticed, what window or door to break in order to enter and sometimes, as we overheard on one occasion, arguing over what target to hit.
The fifth car was always moving. We took turns as the fifth car and roamed the area. This was to keep a fresh eye out and to allow an officer to pick up food or go to the bathroom. It also was to relieve the mind-numbing boredom of waiting and watching. It also expanded our search area for the would-be burglars.
Local cops know local criminals. If a known criminal was spotted and was a burglar or thief, the surveillance would change from a stationary or static surveillance, to a moving or dynamic surveillance watching a target. The target became the known criminal predator in the area.
On this cool — but unfortunately not rainy, windy or snowy, as it would make the circumstances even more perfect — evening I was the roaming car in the area and I spotted "John the Bully," and decided to have a little fun at John's expense.
John was hitchhiking, so I decided to use the old hitchhiker tease prank, worthy of a Messin' With Sasquatch commercial for Jack Link's Beef Jerky. Ironically John the Bully had poor posture and a slightly stooped-over gait, so he might have been mistaken for a Bigfoot in the woods, had he not just been a bully and a jerk in downtown Ann Arbor.
I pulled to a stop about a 100 feet from John and motioned for him to climb aboard. John broke into a jog and headed for my car. When he almost got to the door, I acted terrified and sped off. Well in my world that was funny and served this predator right. I was on a roll — a bit of a sadistic roll I will grant, perhaps sophomoric, but a comedic roll nonetheless — so I radioed the other surveillance crew members to join in the fun.
John did not get much exercise aside from threatening the unfortunate who were down on their luck, so we decided to give him some. How long would it take for him to figure out the gag?
The answer was seven times. I got him to run after my car a second time, but when Buster stopped for him a second time, poor old John was huffing, puffing and bent over when he motioned Buster to keep going.
We ran John from Liberty and Maple past Liberty and Virginia. Now for you joggers reading this, I am sure you are thinking it's no big deal, but John was not in top physical condition, so it was quite a workout for him. Furthermore, he walked the rest of the way to the Diag and no longer tried to hitch a ride, nor did we hear any disturbance calls caused by John that evening.
I am not sure whatever happened to John, but as I have said before, sometimes the streets are self-sweeping. Bullies who terrorize innocent people long enough finally come up against someone bigger and badder, or the once-intimidated band together and force the bully out of the area. Either way, as author Kinky Friedman writes, "Justice rides a slow horse, but it always overtakes."
Sometimes the police feel powerless within the law to help. Sometimes, however, the stars align themselves just right and at least a small modicum of justice presents itself to those who play by the rules and are patient. John the Bully never knew how so many cars would all pull the same stunt, but I hope somewhere in the back of his mind that night, he was thinking about karma — hey, cops can dream too, can't they?
Lock it up, don't leave it unattended, be aware and watch out for your neighbor.
Rich Kinsey is a retired Ann Arbor police detective sergeant who now blogs about crime and safety for AnnArbor.com.