Posted on
Wed, Nov 14, 2012 : 5:57 a.m.
Q & A with Jordan Miller: University of Michigan's social media director talks about giving the school a voice
By Kellie Woodhouse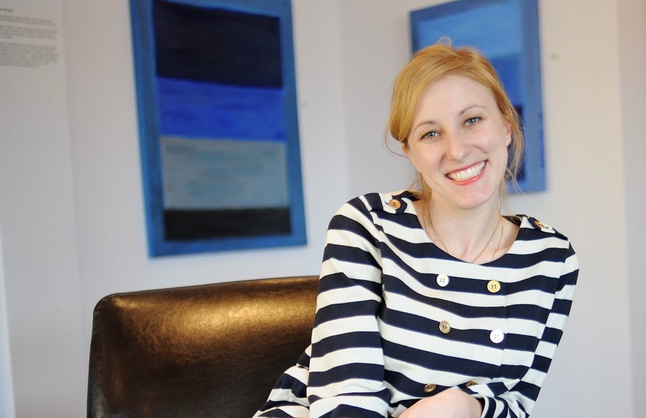 Melanie Maxwell | AnnArbor.com
Universities can be slow to change.
Yet with a quickly growing communications landscape, change — more specifically fast-paced change — is crucial if a college doesn't want to fall out of touch with its demographic and fall behind its competition.
University of Michigan hired a new social media director in February to help harness the university's hundreds of Twitter, Facebook, Tumblr, Pinterest, YouTube and Instagram accounts and create a cohesive strategy for an ever-changing social media landscape.
AnnArbor.com sat down with Jordan Miller and discussed social media's role in higher education and its future at the university.
AnnArbor.com: Overall, how do you feel social media fits into U-M's global communications perspective and push for the future?
Jordan Miller: It is an integral part of all of our marketing and communications. Whether it's brand marketing or internal communication or communicating with outside communities, wherever we are communicating social media should be there in some way, shape or form. It's very important for us to be cognizant of that and make sure that social media is included in all of our planning and all of our strategy because it's globally integral.
AnnArbor.com: What does that look like in practice?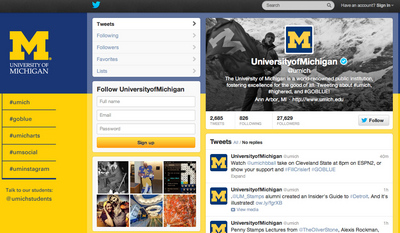 Miller:
It looks like a lot of things. We make sure to include social media in all of our communication plans. Whether we're communicating events or making an announcement or planing for an ... emergency, we have in writing exactly what we're going to do for social media, the same way we have in writing exactly what we're going to do for news media and any other outlets. It also means that we are cognizant of the ways in which social media is different from other forms of communication.
A lot of this is my role. I'm thinking about what the people who follow us and like us would want to hear and know and what they would want to share.
AnnArbor.com: In what ways since you've come here is the university harnessing social media that's different and new from before?
Miller: There's a lot. A big goal of mine, and one that I think we have already come relatively far in achieving, is taking the voice of the institution and deinstitutionalizing that. Giving a voice to students and giving a voice to faculty and giving people outside our community a way to communicate with us — that's huge.
I think the @UMichStudents Twitter account is a really great example of that. The students run that, that is theirs and it's really a very important tool we have to show the rest of the world what it's like to be a student here. ....
Including social media in our planning is a really new thing and I think it's worked out very well. President Mary Sue Coleman's trip to Brazil: we really implemented a lot of social media in the planning for that trip and in the communication for that trip and it turned out really well.
The other part of it is creating a content strategy, so gathering content from across the university and figuring out how to share that has been a big part of what this office has been doing. Instagram and Pinterest and Tumblr are really great examples of that because that is where social media is going is images and very short (posts).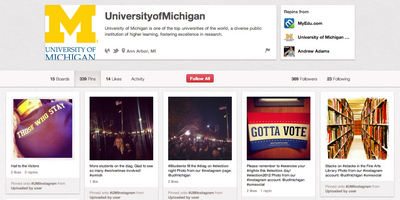 AnnArbor.com:
Do you see an increase in the U-M Pinterest, Instragram, Facebook and Twitter followers and interactions?
Miller: Yes. Definitely. I can tell you that this day in November last year we had 2,400 Twitter followers and today we have 27,000 Twitter followers. It's really exploding.
Instagram is new for us; we just launched that a few months ago, and we already have right around 2,000 followers and a ton of interaction. Our engagement on Twitter for example is 46 percent, which is just absolutely insane.
The university is a very high-affinity entity, in that when people like us or they follow us it's because they really care, which is really nice. I've had this really wonderful opportunity to take that and to morph it into an expansion. I didn't think we would expand so quickly.
We've been adding on average about 10,000 likes a month on Facebook, which is pretty good. Although recently we've been hit like everybody else has with changes in algorithm. Pinterest is another one that is new since I got here. It's a very different demographic but we're still doing very well, our followers for every one of our pages are in the hundreds. Instagram and Tumblr are the ones that have really taken off and been exciting.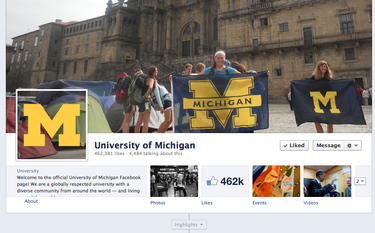 AnnArbor.com
: The university account on Facebook and Twitter will sometimes ask people to send pictures— are you seeing that generate more engagement?
Miller: We've been using the Facebook header space in a very strategic way. Creative look and feel is really important and it's something that, just because of resources, they hadn't been able to get to. We tried to help give all of the different departments tools to create a more unified look and feel. In the process we started to ask people to submit their photos for a Facebook header and then we take the best of those photos and we blow them up big and we use them across our platforms.
On Twitter and Facebook we're actually using user-generated content as our imagery, which is great for us because it's a really authentic way of getting our content and it's also great for the people in our community because they feel like they're a part of things.
AnnArbor.com: The different university social media accounts have an increased level of personality this year. Is that something that you're doing strategically?
Miller: Yes. Very much so, especially with Twitter. It took me a little while to get my sea legs because when you manage a brand you can't just jump in and speak for that brand until you know what it's about. I actually spent the first several months that I was here just traveling from department to department and building to building and seeing the whole campus and meeting as many people as I could. From that I tried to develop a voice for Michigan that feels authentic and celebratory and is trustworthy but fun.
We do post things like —on Halloween we posted 'Wherever you go, go Boo,'— and just silly puns and stuff like that because people like it and it's fun. But when we have to be serious then we're serious. Empathy is such a key part of good social media strategy. Being empathetic toward our audience —and whether that's somebody who just got into Michigan and helping them celebrate or mourning the loss of a member of our community— it's a matter of understanding the tone and being conversational as opposed to just talking.
AnnArbor.com: People are still learning to understand the impact that social media can have on maintaining a relationship with students, alumni and the community. Do you think people at the university and in the Ann Arbor community are beginning to understand the importance of social media and incorporate it more in their day-to-day activities?
Miller: I think so. I've been thrilled by the fact that there are people who reach out to me every single day from across the university because they want help or they want me to look at something or they want advice. .... People here at the university, they get that it's important. They don't always know exactly what they want to do with it, but they know that it's something that should be on their radar. ....
One of the most important benefits of social media for us is the opportunity to build one-on-one relationships. That is very hard for such a large institution to do, whether you're talking about the local community or the global community. The fact that we have the opportunity to create one-on-one relationships and have meaningful conversations with people is incredibly important and I think people here understand that and they value that.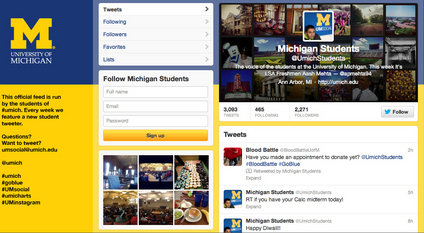 AnnArbor.com:
When the @UmichStudents account was first launched there were some people who were concerned that there could be misuse, but you really did stick up for the account and for the students. Why is the account important and how can you trust the students to handle it correctly?
Miller: The account is incredibly important. I want our students to feel like they play an important role in how we communicate their experience. If we are going to communicate the student experience, what better way to do it than let the students do it? One of the things that I said before, but I'll say it again, is that we say our students are leaders and best and if you're leaders and best than you are trustworthy. That has been the case. I haven't had problems with anyone.
We've had tweeters with very different styles and very different views on the world and instead of that being an issue it has been a really positive thing because it has really shown a cross-representation of our student body. The students who have done it have really enjoyed doing it. The feed is really fun, it's really dynamic. More than anything else we're doing in social media, it really gives you a feeling for what it's like to be here and that's vital.
AnnArbor.com: What's next for social media at the university?
Miller: Some of it is more internal because we have had a lot of external-facing changes so far: Twitter, Instagram, Pinterest. Some of that is helping spread best practices across the university community: that's a big piece on my plate. We are also in the process of completely overhauling our YouTube channel. That will be happening in the next six months, we'll be getting a brand new, shiny, amazing YouTube channel. We are putting more focus on our visual content, so continuing to expand places like Tumblr and Instagram. We have a new Tumblr.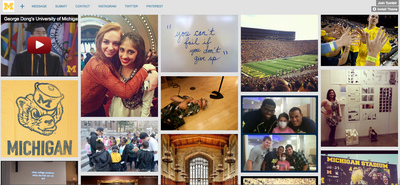 My biggest goal right now is to get everyone on this campus who needs information or wants help, to get them all in a place where they feel comfortable and they feel ownership of what they're doing in social media.
We're also looking at social media globally, the same way we're growing globally as a university. As an example, we are now ranked as the No. 1 Western university on Weibo, the Chinese version of Twitter.
AnnArbor.com: More and more university presidents are using Twitter (for example Ohio State University President E. Gordon Gee and University of Maryland President Wallace Loh). Have you talked to Coleman about using Twitter?
Miller: I haven't talked to her personally about using Twitter. We do have several of our executive officers who use Twitter. Lisa Rudgers is a great example, she is incredibly dynamic on Twitter. President Coleman is incredibly busy and she also is, at least by our community, really beloved. I will stand behind whatever choice she makes, whether she wants to use Twitter or not use Twitter because I think she, as a president, is doing pretty well either way.
Kellie Woodhouse covers higher education for AnnArbor.com. Reach her at kelliewoodhouse@annarbor.com or 734-623-4602 and follow her on twitter.