Posted on
Mon, Feb 27, 2012 : 2:58 p.m.
University of Michigan social media director hired at $100K per year
By Kellie Woodhouse
When Global Communications Director Lisa Rudgers announced the University of Michigan was hiring its first social media director, dozens of applications began pouring in.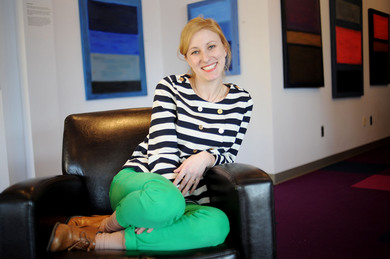 Melanie Maxwell | AnnArbor.com
The pool included
a rather unique appeal
by 22-year-old
Lindsay Blackwell
, who created a
website
and online campaign to nab the job, which was advertised as paying between $90,000 and $110,000.
Five months and a lot of hype later, Blackwell did get a job she's "thrilled with." Just not the U-M job.
Who hooked that one?
Jordan Miller, a 31-year-old former advertising copywriter, social media strategist, journalist with the Ann Arbor News and contributor for AnnArbor.com.
Miller was hired at a $100,000 yearly salary.
"I saw this position and I thought, 'Oh my gosh. This is an opportunity to do (social media) on an even bigger scale,'" Miller said in an interview. "It's going to be an amazing challenge and it's going to be a lot of work.
"It's just such a ground-breaking role."
Miller starts March 1. Among her top priorities, she said, are creating a unique "voice and personality" for the Michigan brand on social media, putting together a seminar on social media strategies for university leaders and making the school's various Twitter and Facebook handles more cohesive.
Miller also hopes to create a "conversation" on social media outlets where followers comment to U-M postings and U-M circles back with a response. That's different than the "loudspeaker" approach the university, for the most part, currently uses, Miller said.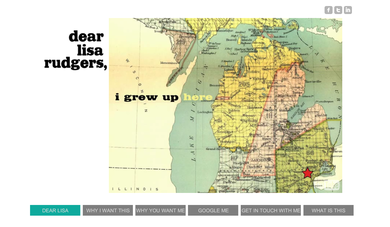 "Giving people information on what's going on is a good thing," Miller offered. "But right now the conversation is very one way and frankly that's been a resource issue."
Resources won't be a problem for long, Miller predicts. She'll begin her post at U-M as a one-woman show but hopes to eventually have a team of people working on U-M's social media message and community engagement.
What did Miller have to say of fellow applicant Lindsay Blackwell and her social media campaign?
"It showed a lot of moxie," she said.
Another opportunity
So, exactly what job did Blackwell get?
The former U-M student recently updated her website —which is pushing 20,000 unique visitors, she said— to let her followers know.
"After my interview with Lisa Rudgers I never heard back," she wrote in a video. "But an even better opportunity came my way."
Blackwell did receive an e-mail Friday , Feb. 24, letting her know she wasn't chosen for the U-M job.
On Wednesday, Blackwell began as the social media director for Ingenex Digital Marketing Agency, located on downtown Ann Arbor's Main Street.
"I was disappointed. It was a dream of mine to work at U-M but when I encountered (Ingenex) I think U-M completely disappeared into the backspace of my mind," she said in an interview. "I'm having the time of my life so far. It's so fun being in the agency landscape."
Since creating the website in October, Blackwell said the buzz around her campaign has been thrilling. She's conducted more than 20 interviews with media outlets and spoken at a handful of U-M classes about her application experience and social media strategies.
"It's been a wild ride," she said.
Kellie Woodhouse covers higher education for AnnArbor.com. Reach her at kelliewoodhouse@annarbor.com or 734-623-4602 and follow her on twitter.