Posted on
Wed, Jun 29, 2011 : 1:22 p.m.
Judge denies Andrew Shirvell's request to seal video deposition in Chris Armstrong lawsuit
By Cindy Heflin
A federal judge has denied a request from former assistant Michigan Attorney General Andrew Shirvell to seal his videotaped deposition in a lawsuit filed by former University of Michigan student body president Chris Armstrong, The Detroit News reports.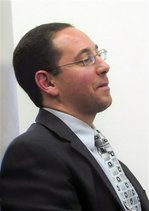 Marissa McClain | The Michigan Daily
Shirvell was seeking to seal his deposition in a
lawsuit Armstrong filed against him alleging Shirvell stalked him and caused him emotional distress
in 2010 with posts on Shirvell's blog and Facebook. Armstrong was the first openly gay student body president at U-M and had been accused by Shirvell of pushing a "radical homosexual agenda."
The court today denied Shirvell's request saying it found "no merit" in his argument that "alleged abuse, threats, and harassment by third parties" created a basis for issuing a protective order, the Detroit Free Press reported.
The judge also denied Shirvell's request to keep the deposition from being videotaped, The News reported.
Shirvell's deposition is scheduled for Thursday, The News said.
Shirvell was fired for using state resources for his campaign against University of Michigan student body President Chris Armstrong and for lying to investigators during his disciplinary hearing, Attorney General Mike Cox said at the time.
Shirvell kept a blog accusing Armstrong of pushing a "radical homosexual agenda" and appeared at several Michigan Student Assembly meetings to protest Armstrong, holding signs — including ones with a rainbow with a swatiska drawn over it. Shirvell was banned by university officials from stepping foot on campus.
Armstrong sought a personal protection order against Shirvell in September, which he later dropped before asking the state bar association to disbar Shirvell. Washtenaw County prosecutors also denied a request for stalking charges to be brought against Shirvell.
Shirvell has moved out of state, The News said.