Posted on
Wed, Aug 3, 2011 : 4:11 p.m.
Judge orders troubled Brandy's Liquor Shop in Ypsilanti shuttered for one year
By Tom Perkins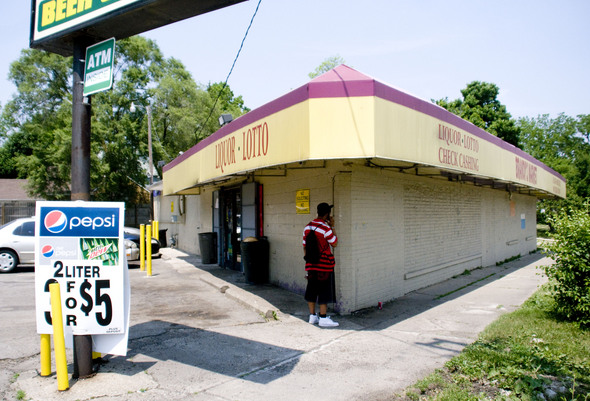 Tom Perkins | For AnnArbor.com
A Washtenaw County Circuit Court judge has ordered Brandy's Liquor Shop in Ypsilanti to be padlocked for one year starting Thursday.
In June, the city filed a motion asking Judge Timothy Connors to find Brandy's owner Sam Hanna in contempt of court for failing to meet several provisions of a March 2009 order to make improvements and clean up the troubled store at 902 W. Michigan Ave.
Most significantly, the city said Brandy's failed to follow a provision stating "defendants shall continue to take all necessary actions to conduct business in an orderly, lawful, peaceful and quiet manner and not allow or permit any action or behavior on or about the premises that would be a nuisance."
As part of an undercover raid by the Michigan State Police and Ypsilanti Police Department in August 2010, Brian Hanna, Sam Hanna's son, was arrested for receiving and selling stolen goods, including liquor, to undercover investigators on five separate occasions.
City Attorney John Barr said during the hearing on Wednesday that demonstrated the store was not lawfully conducting business.
The motion and neighbors living around the store alleged residents have endured regular and open drug dealing, fights, shootings and prostitution, among other issues.
Midtown neighborhood residents demanded swift action from the city and city council following a burst of semi-automatic gunfire outside the store on June 6.
The motion for contempt also charged the store continues selling loose cigarettes, failed to meet with the Midtown Neighborhood Association and failed to meet with police monthly to discuss compliance of the court's order.
Barr asked Connors to order Brandy's padlocked for one year, comply with all the court's orders and provide status updates to the court, extend the duration of the court's order through September 1, 2014, and pay $1,200 in attorney fees.
Connors declared the store a public nuisance, thereby allowing him to order the requested relief of shuttering the store for one year.
Brian Leder, Brandy's attorney, said after the hearing that the store shouldn't be declared a public nuisance and ordered padlocked because Hanna was only being held in contempt of court.
He said he believed Hanna should be allowed the opportunity to address the contempt or face a lesser penalty "within confines of the order."
Connors, however, disagreed. He also disagreed with the defense's contention that the Ypsilanti Police Department had not done enough to respond to calls or address crime around the store.
Connors also said he didn't believe the neighbors who testified against the store had any reason to make up anything they witnessed, as was alleged.
"It is very clear from (the neighbors') testimony that the conditions continue, and I don't find that the neighbors had some ax to grind such that they were fabricating what they saw, heard or witnessed over a continued period of time," Connors said.
Connors said there was ample evidence of public urination, prostitution, consumption of alcohol, drug dealing and other illegal activities on the store's property.
He said he was particularly disturbed by claims that Sam Hanna didn't know about the illegal activities in a "closely held family business," or that the incidents were isolated.
He said the store should have been especially careful given that they were ordered in March 2009 to make improvements.
"The most disturbing thing to me is that while given an opportunity under a consent order ... someone who has been in this business for 31 years claims he didn't know what was going on or made a poor error of judgment in selling loose tobacco products," Connors said. "It is almost unbelievable … that could be argued."
Mike Shecket is president of the Midtown Neighborhood Association. He said he hasn't lived in the neighborhood long enough to have experienced all of the issues with the store, but he was pleased with the order.
"I'm relatively new to the area, but based on what I've heard from my neighbors about the long-term experience, it seems like the right and just thing to do."
Following the hearing, Leder said he thought a minority of neighbors had done a disservice to the larger community.
"It's a shame that the opinions of a few will affect the lives of many," he said.
Sam Hanna had no comment after the hearing. Leder said Sam Hanna can appeal the decision, though he is uncertain if Hanna will.