Posted on
Wed, Oct 12, 2011 : 4:36 p.m.
Judge slams anti-gay former state attorney in court for suit filed by former U-M student
By AnnArbor.com Staff
A federal judge knocked former assistant attorney general Andrew Shirvell today for trying to find a shortcut way of wrapping up a lawsuit against him, the Detroit Free Press reported.
"You're basically at the beginning of the lawsuit trying to get to the end," U.S. District judge Arthur Tarnow said. "You're wasting a lot of energy."
Shirvell, who is representing himself, was in federal court trying get Tarnow to throw out the majority of a lawsuit filed against him by Christopher Armstrong, the former student body president of the University of Michigan.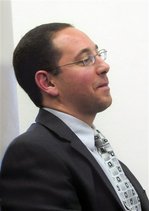 In his lawsuit, Armstrong claims Shirvell inflicted intentional emotional harm through his actions during Armstrong's senior year, when Shirvell wrote a blog highly critical of Armstrong's homosexual lifestyle, including accusing him of getting minors to drink alcohol and trying recruit others to become homosexuals, the newspaper reported.
Shirvell was fired for using state resources for his campaign against Armstrong and for lying to investigators during his disciplinary hearing, Attorney General Mike Cox said last November.
Shirvell countersued Armstrong, alleging that he's the victim and that the former U-M student is responsible for his professional troubles, the newspaper reported.
In court today, Shirvell argued that his comments about Armstrong were not over the line of acceptable criticism.