Posted on
Thu, Aug 19, 2010 : 4:34 p.m.
Judge's order allows utility company to cut trees in Pittsfield Township, but legal battle wages on
By Art Aisner
A Washtenaw County judge has dismissed a large portion of the lawsuit brought by Pittsfield Township residents who are trying to prevent a power company from chopping down large trees lining their properties.
Circuit Judge Melinda Morris reinforced ITC Holdings Corp.'s property rights over the easement where dozens of arborvitaes have grown for decades behind homes on Beech Drive.
The order, issued last week, grants the company permission to strip any trees within the easement, but Morris set a Sept. 24 trial date to hear arguments about whether they should.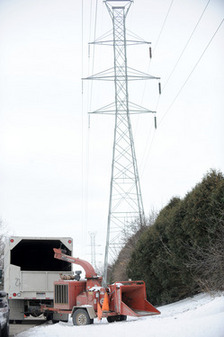 The company says it is following a federal mandate to protect the lines from vegetation, and the trees pose a potential hazard.
But a handful of neighbors believe the trees are vital to their property values and quality of life. They also intend to prove the trees can be trimmed and maintained to meet federal standards.
The residents filed suit in February after they, despite the help of township officials, couldn't convince the company to take a different approach.
Crews began removing trees that month until some residents climbed in the arborvitaes and urged Morris for a restraining order. Her moratorium on cutting remains in place through the trial.
Both sides agreed to postpone their original May trial date and met with a court-appointed mediator in June. A court order bars attorneys from discussing the mediation; however, court filings indicate no significant agreements were reached, other than the decision for a bench trial.
Walter Hamilton, an attorney for the residents, declined to comment to AnnArbor.com but called ITC's position to remove all the trees "indefensible" in court records.
"ITC has adopted an inflexible policy that all vegetation in the easement area must be removed without respect to whether it threatens to interfere with their operations," he wrote.
ITC attorneys claim it is within the company's right to cut, per the agreement it reached with DTE upon purchasing the easement in 2000.
"The court's order granting ITC partial summary disposition validates ITC's easement rights and will help ensure that we can continue to maintain the safety and reliability of the transmission system," company spokesman Robert J. Darmanin said in a written statement.
While the case is pending, township officials adopted changes to their tree removal ordinance to help residents with similar problems in the future. Last week, the township board unanimously approved measures to protect residents from injury and property damage caused or threatened by the improper or incomplete removal of trees in utility rights-of-ways.
The changes specifically call for any utility crew to grind all tree stumps to no less than 6 inches below the ground level and re-sod the area surrounding the removed tree to remain consistent with the grounds.
Violations are considered misdemeanor offenses and could be subject to legal fees and other costs incurred by the township.
Art Aisner is a freelance writer for AnnArbor.com. Reach the news desk at news@annarbor.com or 723-623-2530.