Posted on
Sat, Dec 8, 2012 : 5:58 a.m.
Jury: Humane Society did not improperly seize cocker spaniels
By John Counts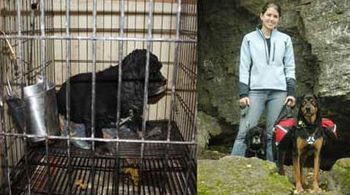 Courtesy of Humane Society of Huron Valley
A jury recently was found in favor of the Humane Society of Huron Valley in a lawsuit brought by a Superior Township couple who claimed the organization acted outside its legal authority to take 13 dogs into custody last year.
On Nov. 21, a jury in Judge Archie Brown's courtroom in the Washtenaw County Trial Court decided HSHV did not have ulterior motives to take the dogs away. The jury also decided the Harts did not suffer any harm or injury and that HSHV did not "exert control or authority over those dogs inconsistent with the Harts' ownership rights," court records said.
The Harts filed the lawsuit in June 2011, two months after animal cruelty investigator Matt Schaecher, who was also listed in the suit, executed a search warrant on their North Harris Road home and took 30 dogs into custody. The majority of the dogs were cocker spaniels.
Seventeen of the dogs were returned. The lawsuit sought the return of the other 13 dogs. According to HSHV, the Harts were also seeking $1 million in damages.
"In essence, a couple forced ... (the) dogs, used solely for breeding and showing, to live their entire lives in cruel confinement -- within a crowded garage in dirty wire-bottom cages," HSHV's website said. "The cocker spaniels had no form of comfort, minimal socialization, and a lifetime of veterinary care that never went beyond the preparation required for competition in the show ring."
The Harts' lawsuit claimed they have never abused dogs, but took care of neglected dogs as part of their involvement with the Detroit Cocker Spaniel Club.
John Counts covers cops and courts for AnnArbor.com. He can be reached at johncounts@annarbor.com or you can follow him on Twitter.