Posted on
Wed, May 22, 2013 : 5:59 a.m.
Kerrytown condo project headed to Ann Arbor City Council for approval
By Ryan J. Stanton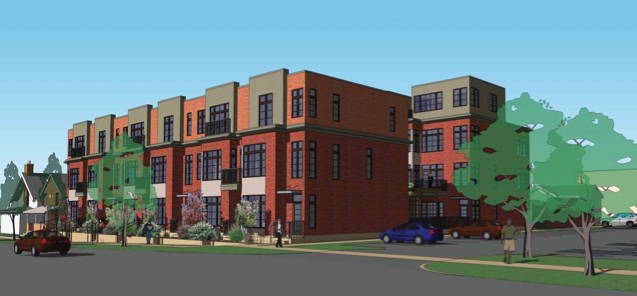 Huron Contracting LLC
Tom Fitzsimmons'
plans to build new upscale
condos in Kerrytown
received unanimous approval Tuesday night from the
Ann Arbor Planning Commission.
The project, which spans the block between North Main Street and Fourth Avenue at the former site of a Greek church that was demolished last year, now heads to City Council for approval.
Fitzsimmons had been calling the $11.8 million project Kerrytown Place, but the city required him to submit two separate site plans for approval.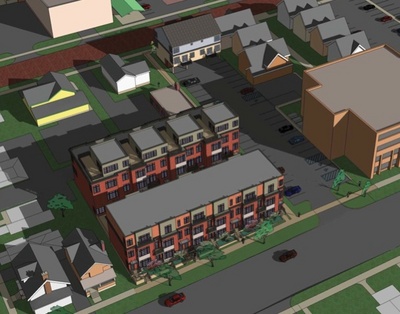 Rendering by Robert Latsko
Those are now separately identified as
414 N. Main and 401 N. Fourth Ave.
, though the commission considered them jointly Tuesday night.
The commission recommended approval of both the site plans and the rezoning of the property from a Planned Unit Development designation to D2 zoning.
Fitzsimmons, a lifelong Ann Arborite who has been building homes here for 24 years, said it's been extremely challenging coming up with a plan that works for the site.
He said he personally met with every single neighbor, as well as surrounding business owners, to solicit feedback and it's been universally positive. The feedback from the Planning Commission was mostly positive Tuesday night as well.
"It's really great to see a project like this being proposed for that site, which has been empty for quite a while," said Commissioner Tony Derezinski. "I think it is a very attractive project."
Derezinski said the project meets a growing need for empty nesters who want to move out of their homes and live downtown.
"Overall I think it's a great project," agreed Commissioner Eric Mahler.
City Planner Alexis DiLeo gave a staff report on the two different site plans at Tuesday's meeting and offered staff's recommendation for approval.
The plans for 414 N. Main call for a 16-unit townhouse building with an underground garage, 12 carport parking spaces and 24 surface parking spaces.
The proposed building is designed to have two short towers atop underground parking. A three-story tower is proposed on the west side, containing eight dwelling units, and a four-story tower is proposed on the east side, containing eight more units. The western units would front North Main directly, while the eastern units would front a central courtyard between the two towers.
The existing surface parking lot on the south part of the site would be reconstructed, and a public walkway connecting North Main and the alley would be added along the north edge of the lot. The site plan for 401 N. Fourth Ave. continues the walkway to Fourth Avenue.
Access to 12 carport spaces, located underneath the east tower, and the underground garage spaces for the townhouse units is provided from the mid-block alley.
The site contains two landmark trees — both 18-inch honey locusts — near the North Main sidewalk. One is proposed to be replaced with six smaller trees planted on the site.
Stormwater management for a 100-year storm volume would be provided in underground tanks for the entire development, including the townhouse building and the surface parking.
The plan for 401 N. Fourth Ave. includes a duplex building with a two-car garage for each unit and a 21-space surface parking lot. Each unit has its front door facing Fourth Avenue.
Overall — both site plans together — the project represents nearly 32,500 square feet of new development reaching four stories high on Main Street and three stories high on Fourth Avenue. A total of 80 parking spaces are included in the plans.
One of the challenges of the property is an easement with neighbor McKinley Inc. for 57 parking spaces, which was agreed upon when a previous development project known as The Gallery was proposed for the site. Fitzsimmons said fitting those spaces into the plans, along with adequate parking for future residents of the buildings, was a struggle.
Sabra Briere, who serves on both City Council and Planning Commission, said the city looked at the property last year when it entered tax foreclosure to see if it was something the city should be interested in and found the easement restrictions for 57 parking spaces "really daunting."
"That created a real challenge for development," she said, adding she's pleasantly surprised that a solution was found for the site "without making it ugly."
Commissioner Bonnie Bona said she understands it's a restriction on the property, but the surface parking is "really unfortunate" and not a good use of land downtown.
The PUD zoning for the property — with a 185-foot height limit — remains in place while Fitzsimmons asks the City Council to rezone it to D2, which caps building height at 60 feet and provides for more of a transition into downtown for residential areas to the north.
The site plans show the building height for what Fitzsimmons is proposing actually would top out at 49.45 feet along Main Street and 42 feet along Fourth Avenue.
Commissioner Wendy Woods thanked Fitzsimmons for not asking for D1 zoning, which allows up to 180 feet and would have been controversial for that area.
"I certainly hope the buildings look the way the (drawings) are looking, because it really is going to enhance that part of Main Street," Woods said. "It's obvious you've put a lot of thought into this, and I guess I want to say thank you so much for not asking for anything D1."
Fitzsimmons said the condo units would measure 1,400 to 2,400 square feet and would be a mid- to high-end product. He said there's huge demand right now for "single-floor living."
The Planning Commission considered another property owners' request Tuesday night to rezone 2.24 acres of land at 2271 S. State St. to allow for sale of automobiles. Following advice from city staff, the commission voted to recommend denial of the request.
Ryan J. Stanton covers government and politics for AnnArbor.com. Reach him at ryanstanton@annarbor.com or 734-623-2529. You also can follow him on Twitter or subscribe to AnnArbor.com's email newsletters.