Posted on
Thu, Jul 5, 2012 : 2:59 p.m.
Knock on bronze: Contractor hopeful sculpture in front of Ann Arbor city hall soon will work
By Ryan J. Stanton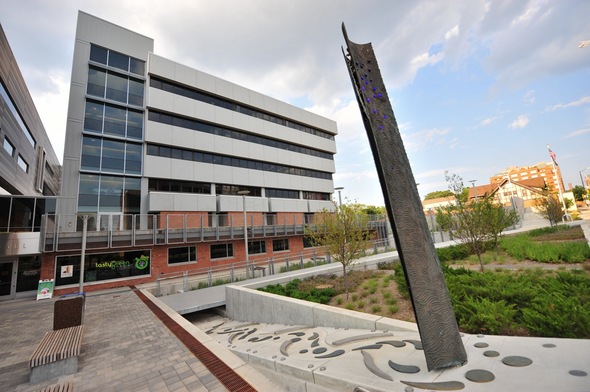 Ryan J. Stanton | AnnArbor.com
Jim Fackert
is somewhat of a fixture in front of
Ann Arbor's
city hall these days. He's the guy toiling away in the hot sun, trying to get the city's water sculpture in working order.
"I've been here a whole bunch of times. I haven't really counted them," said Fackert, a custom electronics and lighting control specialist with Hamburg-based CAE Inc.
The $750,000 public art piece, which the city commissioned German artist Herbert Dreiseitl to complete, has been controversial from the start. But the fact that it has been malfunctioning since it was installed last September has opened to the door to even more criticism.
Fackert was back again on Tuesday to install a new pump system in hopes of getting water running down the face of the bronze sculpture as originally intended.
He said cigarette butts and other trash littered in front of city hall had been clogging the old pump system, and that's why some people might have noticed a lack of flow. Beyond that, drought conditions are partly to blame since the system is designed to run off rainwater.
Of the $750,000 the city spent on the public art installation, less than $150,000 actually went to Dreiseitl, who farmed out much of the work locally. Fackert's company was subcontracted for $150,000 to do the lighting and water technology for the piece.
AnnArbor.com: As the expert on the ground who knows more about this sculpture than most people, what can you tell me is going on here?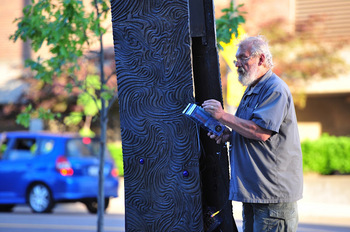 Ryan J. Stanton | AnnArbor.com
Fackert:
Hopefully more rain is going on. We're in the biggest drought in many years. The whole system — the rain garden, the green roofs and the sculpture — are all designed to be recharged by rainwater that falls on the city hall block and we haven't had any rain. It's been two weeks. We had a little rain this morning that refilled the main tank. Two weeks ago we had enough rain to fill the main and reserve tank for the sculpture, and neither one of them put much of a dent in the rain garden reservoir. So the other gentleman walking around here who is the rain garden guy, he's trying to figure out how to water his plants.
The plan was that the sculpture would use rainwater, and if we had a drought and there was no rain and the sculpture ran out of water, it would stop and then start again when rain started falling. There's some discussion about whether that should be changed. I know the arts council is discussing it and the City Council and the mayor are discussing it. If it hadn't been for this drought, the sculpture would have been functioning.
AnnArbor.com: But there have been other issues with the sculpture's electrical and plumbing components, correct?
Fackert: It's a complex piece of plumbing and electronics and our design for the main flow way, the part that slopes down and has a large volume of water flowing down, has been working whenever there's rain. But there's also water that's supposed to flow out around the pearls and down the face of the bronze sculpture itself, and that part we've had trouble with.
Our original design had six little miniature pumps to pump water up into the sculpture so we could control the flow, and it worked really well until the system accumulated cigarette filters and clay and all sorts of stuff — trash from the plaza. There's cigarette butts everywhere. They get in the sculpture, they get in the channels, they break up. And these little tiny fibers were plugging up the tiny pumps. So after struggling with that, and a few tries at addressing the fiber issue, we decided to change the system. We decided that last week. We just put in a single, more powerful pump in the reservoir to push water to the pearls, and today we're putting in a manifold with adjustment for each pearl's flow. And since our individual little pumps didn't work, couldn't handle the trash, we're putting in this manifold and we're getting the pumps in place and wired for the pearls. And the manifold, I'm just finishing up, so that should be working today, and I believe that's going to be a reliable system that will keep the face flow flowing.
We haven't had any trouble with the main flow except we had some electrical issues early on, but those were resolved pretty quickly.
AnnArbor.com: So you're confident you can get this thing working and we'll have a fully functioning sculpture in short order?
Fackert: Yeah, 100 percent. And then the question is whether it should flow when it's raining or not, because everybody wants to see it run and wonders what's wrong if it isn't running, and I'm sorry for that. I think we'll have it running reliably soon, and then the city will have to make the decision whether the sculpture should mirror the weather conditions and be dry when it hasn't rained for a couple of weeks or whether it should be recharged by city water.
AnnArbor.com: But it was by design originally that it would mirror the weather patterns and it would not be running when it's not raining?
Fackert: Yeah. Well, it's got a 3,000-gallon reservoir and it can run about two weeks without any rain, and the Friday before last we had a half inch of rain and that was adequate to fill the main and reserve tanks for the sculpture. It didn't put a dent in the rain garden, but it filled the sculpture, and then the sculpture ran for two weeks on that water. And now it's running because this morning we had maybe a quarter inch of rain or less and that put about 1,000 gallons in the sculpture tanks, which would get it through four or five days.
AnnArbor.com: How many times have you had to come out here and tinker with this sculpture since it's been installed?
Fackert: I've been here a whole bunch of times. I haven't really counted them. As I said, it's a complex piece and there's the face flow, the base flow, managing the water levels in the reservoirs, and it's taken some time to get it all tuned up and running right. But I'm pretty confident that the remaining issue, which is keeping the face flow running reliably, will be resolved — knock on bronze.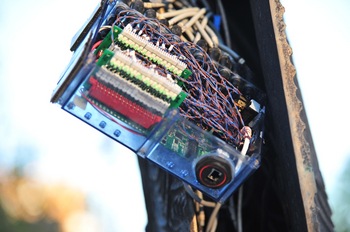 Ryan J. Stanton | AnnArbor.com
AnnArbor.com:
You're out here in a very public setting. I'm sure you get to interface with the public a lot while you're working. What do people say when they see you out here?
Fackert: Some of them say they're going to miss me when I'm gone because I'm a regular fixture. I say I'll miss them, too, and I hope it's soon. But I've gotten pretty much really positive views and comments about the sculpture. I've had a few people come by and just look at the whole thing and say, 'Why are we wasting our money on art? Why are we wasting our money on pretty gardens? Why are we wasting our money on fancy buildings when all this stuff needs to be done?' But for the most part, people really enjoy it — they really like the sculpture.
I've had several people come by who were in town and came to this site specifically because they knew the Dreiseitl sculpture was here and wanted to see it and were excited to see it. And I've had a number of artists come by and just talk about the concept of public art and funding and the nature of the piece. I've really enjoyed talking with people about the piece, because art is supposed to be controversial. Art is supposed to make people think, and I think this is a beautiful piece. And I think really when people are talking about it, it's doing its job.
It's making people think about this drought. What are we going to do about this drought? What are we going to do about no water? The sculpture is focusing the City Council and other political discussion and general conversation about the water issue.
AnnArbor.com: So it's serving its purpose then?
Fackert: Yeah, and it will continue to. I just really enjoy the piece and I'm happy to have been a part of making it function and I think it's something the city will be proud of for decades and decades to come. We can be proud of it now. It's still in the tune-up stage, but it's still beautiful. It's still standing tall. The bronze is incredible. The water flow down the slopes is really neat and fun. People enjoy just sitting at the benches and listening to the water flow.
AnnArbor.com: As a contractor for this project, when you're out here tuning this up, is that on your dime or the city's dime?
Fackert: I'm a subcontractor to the main contractor on the sculpture. I did the water and lighting, and I did it on a contract basis, so I'm here working on essentially my dime until it works. The city hasn't paid anything beyond contract at all for I don't think any phase of the sculpture or rain garden, so people shouldn't see dollar signs leaving the city coffers if they see me working here.
Ryan J. Stanton | AnnArbor.com
AnnArbor.com:
What percentage of the time has the sculpture been fully functional and what percentage of the time hasn't it worked?
Fackert: Since the beginning of spring, I don't know what the percentage would be. Over the month of June, the base flow worked as it was planned for probably 95 percent of the time. The pearl flow worked intermittently because we kept having these clogging issues, and we tried to figure out what was going on and figure out a solution. We tried a solution, it would work for a week, and then we'd have clogging issues again, so we've just been making revisions and modifications, trying to solve the problem. And in the end, the solution was to redesign the system. And it has stopped flowing for several days on occasion because of no water. If I hadn't been filling the tanks probably every week or two while I was working on it in May, it probably would have only worked for about a third of May with the available water. Even April showers didn't come in enough quantity to keep this sculpture going 100 percent of the time, but this is an anomaly. It's unfortunate that the sculpture is done and the rain stops.
AnnArbor.com: Based on a conversation you and I had before, I know you believe Ann Arbor residents should be very proud to have a work by Herbert Dreiseitl in their community. Remind me why you think that is and why we should feel that way.
Fackert: Herbert Dreiseitl is a world-renowned sculptor and planner. His larger company does major water management features in major cities all over Europe and all over the world. They're currently building 60 parks in Singapore, a multibillion-dollar project to manage water — and not send it down the river so they have drought later and flooding downstream.
When we were talking about the sculpture, he said early on he did some sculptures with water involved and he decided that was his mission — to build art that interfaced with water and brought people and water together, and he's built over 500 sculptures around the world. It brings people, the environment and art together, and it makes people aware of water and the issues, just as this sculpture is now making us aware of the drought.
Ryan J. Stanton covers government and politics for AnnArbor.com. Reach him at ryanstanton@annarbor.com or 734-623-2529. You also can follow him on Twitter or subscribe to AnnArbor.com's email newsletters.