Posted on
Wed, Sep 28, 2011 : 12:24 p.m.
Less than $150K of Ann Arbor city hall sculpture expenses will go to German artist
By Ryan J. Stanton
Less than $150,000 of the $750,000 being spent to install a new piece of public art in front of Ann Arbor's city hall is going to the German artist who designed the piece.
That's according to Aaron Seagraves, the city's public art administrator, who confirmed today Herbert Dreiseitl and his firm will receive less than 20 percent of the money budgeted.
Seagraves noted the project budget from December 2009 indicates Dreiseitl will receive an artist design fee of $148,370, minus payments previously paid.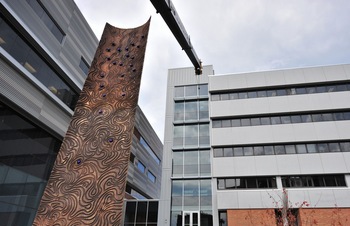 Ryan J. Stanton | AnnArbor.com
Payments to Dreiseitl so far include $2,000 in consulting fees paid in November 2008, $72,000 in design fees paid in August 2009 and nearly $5,000 in travel reimbursements in August 2009.
Debate has continued to surround the city's selection of a German artist — as opposed to a Michigan artist — for the city hall sculpture project, but records show most of the money has been spent on putting Michigan-based contractors to work.
Warren-based Future Group was responsible for about $460,000 worth of work to fabricate and install the sculpture that now stands in front of city hall as of Tuesday.
Included in that amount is about $150,000 for lighting and water technology that is subcontracted to CAE from Hamburg, Mich. Also included is about $110,000 for the bronze materials and casting. The bronze material came from Clarkston Fine Arts Centre in Clarkston, and the casting was subcontracted to Wolverine Bronze in Warren.
The rest of the work is contracted to Quinn Evans Architects, Conservation Design Forum (for the rain garden) and Peter Basso & Associates (engineering), all of which have offices in Ann Arbor.
Sue McCormick, the city's public services administrator, said the $750,000 project budget covers all change orders related to installing all supporting infrastructure for the public art piece, including plumbing, electrical and concrete work.
The installation of Dreiseitl's sculpture comes as an intense debate continues to surround the city's Percent For Art Program, which funds public art using a mix of mostly city millage and utility funds. Under an ordinance approved by the City Council in 2007, 1 percent of the budget for all city capital projects — up to $250,000 per project — is set aside for public art.
The Dreiseitl project is tapping into the city's pooled public art fund, including $30,000 from the stormwater utility fund, $210,000 from the water utility fund, and $510,000 from the sewer utility fund. The idea is that it serves a purpose related to the source funds.
No general fund dollars, which pay for police and fire services, have gone to the city's public art program, according to records reviewed by AnnArbor.com.
Ryan J. Stanton covers government and politics for AnnArbor.com. Reach him at ryanstanton@annarbor.com or 734-623-2529. You also can follow him on Twitter or subscribe to AnnArbor.com's e-mail newsletters.