Posted on
Fri, Jul 27, 2012 : 5:56 a.m.
Late busing for Ann Arbor middle school students restored thanks to $86K in outside funding
By Danielle Arndt
Editor's note: Misinformation supplied by the Ann Arbor Public Schools district about the late busing schedule has been corrected in this article.
Middle-schoolers in Ann Arbor once again will have transportation home following sports practices and after-school activities.
The Ann Arbor Public Schools Educational Foundation and Ann Arbor PTO Thrift Shop have pledged up to $43,000 each, for a total of $86,000, to provide buses that the district recently cut.
The AAPSEF board announced its decision to fund the late busing program in a news release Thursday. About 187 students used this service in the spring.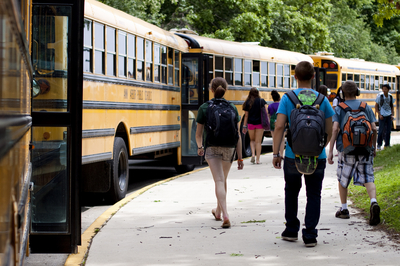 Jeffrey Smith | AnnArbor.com file photo
The busing to Ann Arbor's six middle schools was among the
$3.84 million in expenditures
the Ann Arbor
Board of Education
slashed in June to balance its budget for the upcoming school year. A portion of the foundation's contribution is through a gift from the late
James A. Norton, Jr.
's
family
and reflects Norton's commitment to social justice and equal opportunities in education. Norton was a mathematician, a researcher and a teacher in the community.
"We are gratified to be able to leverage our resources with those of the Ann Arbor PTO Thrift Shop to ensure all middle school students have the opportunity to take advantage of the many enriching after-school programs that are offered," Omari Rush, the newly appointed chairman of the AAPSEF board, said in a statement. "We view this collaboration as a model for other businesses and nonprofit organizations to support programs in our public schools."
District spokeswoman Liz Margolis said the late bus service, which picks up students at 4 p.m. from each middle school, primarily benefits students who stay after for clubs, tutoring and academic programs.
"Some sports for sixth-graders can use the late bus, since they start practice right after school," she said. However, "seventh- and eighth-graders don't start practice until 4:30 p.m., after the sixth-graders are done, so they would not use this bus service."
The number of clubs at each middle school are as follows: 19 at Ann Arbor Open, 30 at Clague, 29 at Forsythe, 28 at Scarlett, 29 at Slauson and 36 at Tappan. The activities range from chess to gardening to law club, Ultimate Frisbee, robotics and the Good Samaritan Club, Margolis said.
The number of students that use the after-school bus service varies from season to season, depending on the number of clubs and sports offered in the fall, winter and spring, Margolis said. The district adjusts the number of buses it sends accordingly, said Thomas Moore, transportation director for the Washtenaw Intermediate School District. Typically, one to three buses are deployed to each middle school.
School officials estimated more than 1,500 middle school students participate in after-school programs annually. About 187 students used the bus service in the spring, Margolis said, with an average of 37 students boarding buses per school. Scarlett had the greatest number of students at 55.
In the spring, two buses were sent to Scarlett, Slauson and Tappan; one to AAO; and three to Clague and Forsythe.
The buses ran three days per week last year: Mondays, Tuesdays and Thursdays. They picked up students at 4:40 p.m. at Tappan, 5:15 p.m. at Scarlett and 4:30 p.m. at the other schools.
Moore said during the past two years that the WISD has operated the transportation consortium for Ann Arbor, Ypsilanti and Willow Run schools, all three districts have offered a late bus service to help students get home.
"Activity busing is not unusual, but not every district in the county has it," he said. "It really just depends on the level of service the districts want to provide to their families."
Moore said late busing is a challenge for even the most experienced bus drivers.
"Not all students are riding every day. So it can be difficult if a child needs a ride home today but not tomorrow."
He said drivers have to know the area very well and often have to make dropoff adjustments on the fly.
"One (late) bus is often covering the same distance and routes that two or three buses would typically cover," Moore said. "How to get students home (on the late bus) falls totally on the driver. They will usually start from east to west or south to north, depending on the school they're servicing. So the challenge is knowing all the bus stops in that particular area."
Staff reporter Danielle Arndt covers K-12 education for AnnArbor.com. Follow her on Twitter @DanielleArndt or email her at daniellearndt@annarbor.com.