Posted on
Thu, Jun 14, 2012 : 5:58 a.m.
Ann Arbor school board OKs budget with $3.84M in cuts
By Danielle Arndt
The Ann Arbor school board passed a $188.5 million budget Wednesday for fiscal year 2013 that gives money back to district administrators for possibly not cutting counselors or for restoring professional development or school improvement funds.
Ann Arbor Public Schools Superintendent Patricia Green and Deputy Superintendent of Operations Robert Allen presented a budget for approval that called for $3.84 million in cuts and the use of $6.04 million from the district's $18.73 million fund balance, or main savings account.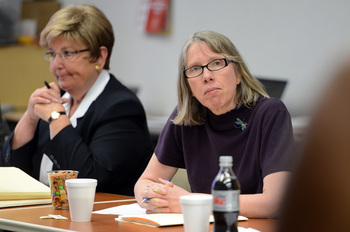 Melanie Maxwell I AnnArbor.com
In addition, they estimated $6 million in revenue to close the district's more than $17 million shortfall.
Allen said there was one change to the projections since the public hearing and first reading of the budget May 23. AAPS recently received a larger-than-anticipated credit from the self-insured portion of the district's health care costs. The difference between the estimated adjustment and the actual adjustment was slightly less than $1 million.
As a result, district administrators recommended using $6.04 million in fund equity, rather than the $7.05 million the board originally had targeted.
The elimination of four high school counselors — one from each Huron, Pioneer, Skyline and Ann Arbor Technological high schools — was approved as part of the budget cuts, as as were cuts to funds that pay for building improvement plans and professional development.
But because three weeks ago, at the last AAPS Board of Education meeting, the majority of board members were prepared to spend $7 million of their fund equity, Trustee Andy Thomas asked if his fellow leaders would like to revisit or take off the table any of the proposed spending cuts they previously had OKed.
He asked Green: "If you had a magic wand, which of the budget cuts would you resurrect?"
Green identified the high school counseling positions, valued at $400,000; the 10 percent reduction to the $5 million departmental discretionary fund; and the $200,000 allocated for school improvement plans. She said the elimination of these items, which in total would account for $1.1 million, would severely impact the work she and her team hope to do in the areas of social and emotional learning and the discipline and achievement gaps.
"I do feel very strongly about the role of counselors," Green said. "That was something hard to put on the table to begin with… Those counselors are critical to some of the work we have coming forward."
After further deliberation on the budget as presented, President Deb Mexicotte proposed "giving back" $500,000 of the nearly $1 million from the health care adjustment for district administrators to use at their discretion.
"With the idea being, we want support for the things Dr. Green has outlined," she said, adding the $500,000 could be divided among counselors, professional development, school improvement plans or "anything else Dr. Green feels will promote the strategic plan."
Mexicotte's amended version of the budget passed 5-1, with Vice President Christine Stead opposing and Trustee Susan Baskett absent, bringing the total amount AAPS will spend from its fund balance to $6.54 million, leaving $12.19 million in the savings account.
AAPS needs a minimum fund balance of $9 million in order to make payroll during the summer months, school officials have said.
Stead argued the budget passed Wednesday puts the district in a weak position for next year.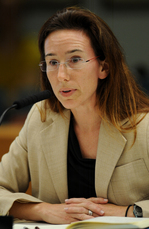 "This is not a one-year decision… Part of our role as trustees is exercising some fiscal responsibility," she said.
Stead added Gov. Rick Snyder indicated in FY 2014 he will reduce the amount of funding available to districts for meeting his "best practice" criteria as well as the state's contribution to offset retirement costs. Combined, these two components account for 73 percent or $4.4 million of the $6 million in revenue AAPS is projecting for 2012-13.
She said the district also is facing increases in the cost of special education services and decreases in its special education reimbursement.
"I also do want us to at least use our past year's experiences as a data point," she said.
After passing the FY 2012 budget, Ann Arbor Public Schools found it would be unable to hit its target for staff reductions, causing a "slippage" of about $1.8 million. This is because the district tries to reduce staff through attrition and retirements only, rather than through layoffs, Mexicotte said following Wednesday's meeting.
"We had approximately 14 positions or so (last year) that did not get reduced because we wanted to reduce them by the most humane means possible," Mexicotte said. "So those positions continued to exist and continued to cost us."
Stead said per the district's third- and fourth-quarter financial reports, AAPS could miss its 2012-13 revenue projections by about $500,000, bringing the district's total slippage to $2.3 million.
She said she would have liked AAPS to have budgeted for a 2013-14 slippage of at least $2 million.
However, Mexicotte said she does not believe the $500,000 will save or doom the district.
"But it may allow us to implement some of the things Dr. Green has been proposing. And we need some momentum around the discipline and achievement issues," she said, adding if momentum is obtained, the board will know it needs to protect and preserve some of these items in next year's cuts.
Mexicotte added there are slippage adjustments the school district has to make every year; it is the nature of school funding. She also said the district does not know what its retirement costs or employee pension contribution rate will be yet, as the state has not voted on the Michigan Public School Employee Retirement System (MPSERS) reform legislation. She said both of these pieces are critical to AAPS moving forward with the budget it passed.
The complete list of reductions and savings included in the budget passed Wednesday:
Eliminating three middle school athletic directors ($37,500)
Eliminating four high school counseling positions ($400,000)
Prohibiting the use of general fund money for voluntary, non-league sporting events ($58,000)
Changing high school lacrosse from a varsity sport to a club sport ($93,000)
Outsourcing the district's noon hour supervisors ($75,000)
Restructuring the information technologies department ($200,000)
Reducing the substitute teachers budget ($200,000)
Discontinuing early notification incentives for retirements ($40,000)
Combining bus runs for Bryant and Pattengill elementary schools ($16,560)
Eliminating mid-day shuttles between Community High and the comprehensive high schools ($230,184)
Returning salaries for the Community Education and Recreation executive director and office professionals to the department budget ($205,000)
Eliminating the district's contribution to summer music camps ($60,000)
Eliminating the police liaison officers at the high schools ($350,000)
Discontinuing 4 p.m. buses for the middle schools' after-school programs ($84,284)
Reducing the district-wide departmental discretionary fund ($500,000)
Eliminating funding for school improvement plans ($200,000)
Combining Roberto Clemente Student Development Center's summer schools with Pioneer High School's ($80,000)
Restructuring busing to Ann Arbor Open school ($98,800)
Hiring about 32 new staff to fill positions left open by retirements ($960,000)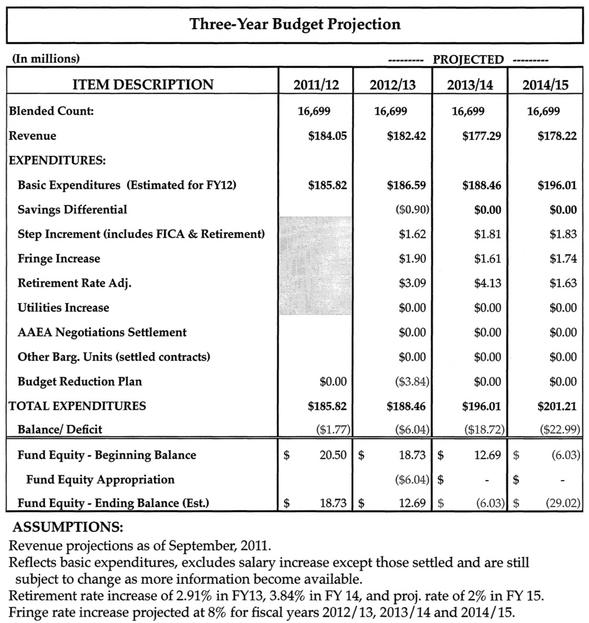 Source: Ann Arbor Public Schools
Staff reporter Danielle Arndt covers K-12 education for AnnArbor.com. Follow her on Twitter @DanielleArndt or email her at daniellearndt@annarbor.com.