Posted on
Fri, Jan 15, 2010 : 5:56 p.m.
Dexter teenager Laurence Carolin, who inspired many to give, died today
By Ann Dwyer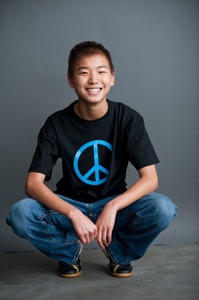 Laurence Carolin, the Dexter teenager who dedicated his life to helping others, died just before 1 p.m. today at the age of 15. 
He was in his home surrounded by family and close friends, according to his adoptive mother, Lisa Carolin. Laurence had been battling a malignant brain tumor for more than two years.
Although quite young, Laurence helped and inspired many. He was only 13 when he was diagnosed with glioblastoma multiforme, an aggressive tumor in which fewer than 25 percent of patients live two years past diagnosis.
Carolin's life took on new meaning after Make-a-Wish offered to grant him a wish. He had asked to meet his hero, U2 frontman Bono. 
But when Make-a-Wish was unable to arrange that, Carolin chose to have the $5,000 that was to be used on him donated instead to the United Nations Foundation. The foundation aims to fight extreme poverty and disease. 
That donation set in motion Carolin's dedication to help those in need.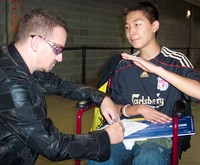 Photo by Lisa Carolin. Bono signs playlist for Laurence Carolin before a concert in Chicaago.
"He made it his priority to help others," said Lisa Carolin.
Eventually, Carolin was able to meet his hero backstage at U2 concert in Chicago. Bono was so moved by Carolin's selflessness, he gave a brief tribute to the teen during a concert this past fall.
Many have been moved by Carolin and have acted to help him in his goal.
"He has inspired over $20,000 in donations, mostly to United Nations Foundation," said his mother.
The Carolins have set up a memorial fund to continue their son's work. They ask that all donations be given to the United Nations Foundation.
Two memorial services have been planned. The first will be held at the the new St. Joseph Catholic Church in Dexter on Saturday, Jan. 23 at 11 a.m. The church is located at 6805 Mast Rd.
The second will be a secular service at the westside Nie funeral home in Ann Arbor on Sunday, Jan. 24 at 1 p.m. Nie is located at 3767 W. Liberty Rd.
Ann Dwyer can be reached at anndwyer@annarbor.com.