Posted on
Mon, Dec 5, 2011 : 6:25 p.m.
Lawsuit filed in fatal fire on South State Street in Ann Arbor
By Lee Higgins
The family of a man killed in a house fire in Ann Arbor last year has filed a lawsuit alleging that the property owner's negligence contributed to the man's death.
The estate of 22-year-old Renden LeMasters of Dexter is suing Vessels LLC, which the suit says owned the home at 928 S. State St., where a fire broke out April 3, 2010, killing LeMasters and injuring two other people.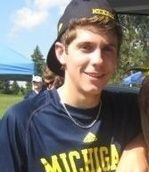 Ann Arbor fire officials said they never determined the cause of the blaze, but found no evidence it was anything but accidental. The 5:30 a.m. fire started in a trash container on the front porch, investigators said, spread to an upholstered sofa, and then to the house.
The lawsuit, filed Nov. 23 in Washtenaw County Circuit Court, alleges that Vessels LLC was negligent in one or more of the following ways, including failing to install and maintain operational smoke detectors, failing to have a proper fire escape plan or failing to have a working fire extinguisher. The suit seeks an unspecified amount of money.
Also named as defendants are The Greater Huron Valley Investment Corp and Metro Property Services, which the suit lists as property managers.
LeMasters was a student at Eastern Michigan University. The suit says LeMasters and his estate suffered damages including emotional pain, wrongful death and funeral expenses.
Dennis Vessels, who is listed in the lawsuit as being affiliated with Vessels LLC, could not be reached for comment.
As a result of the fire, the Ann Arbor City Council passed an ordinance later that year, banning upholstered couches on porches.
Lee Higgins covers crime and courts for AnnArbor.com. He can be reached by phone at (734) 623-2527 and email at leehiggins@annarbor.com.