Posted on
Fri, Sep 17, 2010 : 1:54 p.m.
Liberty Square owners fail to respond to notice of violations; 63 townhouses on the auction block
By Tom Perkins
Property owners at Liberty Square in Ypsilanti Township have failed to repair or demolish their townhouses as ordered, meaning the case is likely heading to court now.
A second 30-day notice of violation issued to owners in the 151-unit complex off Grove Road will expire on Sept. 20.
The township posted the recent round of violation notices — which were addendums to notices served to the complex homeowners association in June — on Aug. 20. No owners complied with either order, and the township expects to initiate legal action "in a short time period," officials say.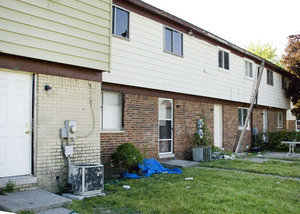 Tom Perkins | For AnnArbor.com
Township attorney Doug Winters declined to comment beyond saying the township is in the process of developing a legal strategy to sue several people who own townhouses.
"It cannot and will not stay in the condition it is in," Winters said. He added all owners have been made well aware that the buildings need to be brought up to code.
Each building in the complex has 10 to 12 townhouses. The exteriors on all 151 units have been condemned. The extensive list of problems includes rotting soffits, rotting trim, pavement in disrepair, siding falling off the units, collapsing gutters and a collapsing exterior wall where it was hit by a car in one unit.
Because of the complicated ownership situation, the issues surrounding the community have become even more complex.
Grove Park Homes LLC, which is owned by Glenda Ault, owned 81 units until the county treasurer's office foreclosed on 63 of them. Grove Park now has 18 townhouses in its possession. Ault's husband, Joe Koenig, is an employee of Grove Park Homes and also is the resident agent for the Grove Park Home Improvement Association, which owns 25 units.
Several of the townhouses are owner-occupied, and a small group who rented or left the others vacant, owns the rest.
Koenig has previously said he and his wife don't have the money to bring the properties up to code. He challenged the legality of the township's violation notices, which address entire buildings, not specific units. He said he can't be held responsible for his neighbors' properties, and that approach violates individual homeowners' constitutional rights.

"That's why we are anxiously awaiting our day in court," Koenig said.

He added he and his attorneys have tried to contact township officials to discuss the issue on numerous occasions but never received a response.

Mike Radzik, director of the township's Office of Community Standards, said he did not want to comment on legal questions or statements made by Koenig. He added he has spoken with Koenig on several occasions in recent months.

The Washtenaw County Treasurer's Office owns 63 townhouses it took possession of in April, and the township subsequently condemned the interiors of those properties.
County Treasurer Catherine McClary has bundled the 63 units together into one package to list on an online county foreclosure auction, which starts at 10 a.m. Tuesday and closes at 3 p.m. Wednesday.
McClary said the township ultimately wants the properties demolished, so she is tying with the sale an agreement and cash performance bond requiring a potential buyer to demolish them.
"I want to do whatever I can to prevent any further blight or to contribute to blight in that neighborhood. We want the new owner to follow through with demolition," she said. "We don't want property to be left in a blighted state once it's sold — that's the whole idea behind it."
Not all of the 63 units are connected, but McClary said an independent building inspector she hired found they can still be demolished, even if they are connected to another unit owned by someone else. The challenge and extra cost would be replacing the exterior wall of a neighboring unit, McClary said.
Radzik said he is aware of only six families remaining in Liberty Square.
The bulk of the 63 properties owned by the county were stripped of their appliances, water heaters and any valuable metal. McClary said Koenig admitted he did that in a meeting earlier this year.
The independent inspector estimated demolishing an individual unit at $10,000 to $12,000, and rehabilitation at $72,000.
According to the Ypsilanti Township assessor, the 63 properties have a market value of $822,000. The minimum bid for the properties starts at $299,926.
McClary said even though the 63 properties are spread throughout the property, she believes there could be an opportunity to buy more properties off other owners who don't have the money fix or demolish their units.
"For the right person, for the buyer, it will be the right deal," McClary said.
Tom Perkins is a freelance writer for AnnArbor.com. Reach the news desk at news@annarbor.com or 734-623-2530.