Posted on
Mon, Apr 16, 2012 : 12:20 p.m.
Lincoln Consolidated Schools to vote on elementary reconfiguration
By Danielle Arndt
UPDATE: Lincoln OKs moving 500-plus Redner Elementary pupils to make room for multi-age program
Lincoln Consolidated Schools' Board of Education will vote to reconfigure the district's elementaries tonight in an effort to find a permanent home for its multi-age program.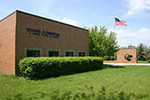 Although two options have been explored and discussed, Superintendent
Ellen Bonter
said the majority of board members have ranked a proposal involving
Redner Elementary School
as their first choice.
If passed, the the proposal would require Redner pupils to join the multi-age program or enroll at Brick Elementary School.
A letter Principal David Northrop sent home to Redner parents and staff Tuesday encouraging them to "seriously consider" the newly formed school, enraged a small group of parents. Several met outside the school Friday afternoon to pass out additional information to moms and dads picking up their children.
"They are taking away the right of the parents to decide how they want their kids to be educated and are shoving this program down our throats," said Kasandra Bastow, who has children at Redner.
"I like this school district but I don't like what it's becoming," she added, citing an emphasis on special programs rather than on core curriculum.
Northrop said the multi-age program includes many aspects of teaching and learning that already are happening at Redner.
Holly Washington, a Redner parent, said the decision is being made hastily.
"Our (Redner) kids are feeling like they don't matter," she said. "I understand LMA (Lincoln Multi-Age) wanting their own building, but at what cost?"
More than 500 Redner pupils will be displaced in favor of moving about 250 LMA students from Brick to Redner.
Lincoln Multi-Age was founded nearly 17 years ago, said Principal Carol McCoy. After starting as a K-2 program at the district's Model Elementary School, it was moved to the then-empty Bessie Hoffman building in 1997.
While at Bessie Hoffman, the program expanded to K-5 and grew to nearly 300 pupils. In 2010, Lincoln Multi-Age was moved again to 12 classrooms in the northeast wing of Brick Elementary.
Bonter said the purpose of moving LMA from Bessie Hoffman was to bring the program closer to the district's main campus. Bessie Hoffman is in Wayne County, while the remainder of Lincoln's schools are in Washtenaw County.
Bonter said Bessie Hoffman would be used instead for the district's career and technical education program.
All of Lincoln's schools are open to enrollment from outside the district through Schools of Choice, including LMA. However, LMA operates on a lottery system. It currently has a waiting list of about 40 students, Bonter said.
McCoy hopes that once the program has a permanent home it will be able to approach the size of Lincoln's other core elementary schools. She also said the district would like to launch a Spanish Immersion program and believes the LMA model would be the perfect fit.
There currently are not any Spanish Immersion programs on the east side of the state that Bonter is aware of. She said the closest programs are near Grand Rapids.
Model Elementary is being considered as the second option for housing the multi-age program. However, Bonter said there are some challenges with this option, including the size of the facilities.
Model is an early childhood center and contains preschool and kindergarten pupils. If the board voted in favor of using Model, some improvements would need to be made to the building to accommodate fourth- and fifth-grade students, Bonter said.
"Everything from the size of the counters to the size of the toilets was designed for small children."
Some parents are upset that Childs Elementary School was not considered for the LMA program.
Childs enrollment never reached its intended benchmark, Bonter said, explaining Childs was constructed as a neighborhood school.
"It was designed when the housing boom was coming this direction," she said. "They certainly projected there would be many new developments and then Childs would become a walking school, saving transportation dollars. … But since the developments never came, the board needs to come up with a way to increase enrollment."
Bonter said the details of how to do that are still being worked out.
Bastow said the district must stop thinking of the school as a neighborhood school. She said using Childs as a marketing strategy to get people to buy houses is "useless" in the current economy. Washington added class sizes are smaller at Childs and there would be plenty of room for the LMA program there.
Lincoln's Board of Education will meet at 6 p.m. in the Community Center in Brick Elementary School, 8970 Whittaker Road, Ypsilanti Township.
Staff reporter Danielle Arndt covers K-12 education for AnnArbor.com. Follow her on Twitter @DanielleArndt or email her at daniellearndt@annarbor.com.