Posted on
Tue, Apr 17, 2012 : 5:06 p.m.
Lincoln OKs moving 500-plus Redner Elementary pupils to make room for multi-age program
By Danielle Arndt
Previous coverage: Lincoln Consolidated Schools to vote on elementary reconfiguration
Redner Elementary parent Amanda Steele called it "an all-out turf war."
"They have pitted the schools against each other," she said. "The attitudes of 'save my school' and 'we're taking your school' have sifted into the neighborhoods. … It's hostile."
Lincoln Consolidated Schools' Board of Education voted 5-2 Monday in favor of making Redner Elementary School the new, permanent home of the Lincoln Multi-Age program (LMA). Secretary Jennifer LaBombarbe and Treasurer Greg Gurka opposed the action.
About 120 people attended the board of education meeting and 17 spoke during public comment, said Superintendent Ellen Bonter. She added some advocated for making a decision, some were against any decision and others wanted the decision postponed.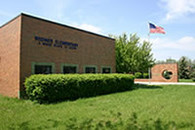 The board's vote essentially closes Redner school, leaving its 500-plus students to be disbursed throughout the remaining elementaries.
Most will be enrolled at Brick Elementary School, while the former Redner building will be given to the multi-age program to make good on a promise that district officials made to LMA parents seven years ago.
LMA currently has about 250 students.
The decision was not a financial one, Bonter said, unlike when many of today's school leaders are forced to close a building to cut costs or reduce deficits.
In fact, Lincoln Consolidated does not know what the move's price tag will be.
"Sure, we had whole teams within the reconfiguration committee that worked on these issues. But until we could bring someone in and bid it out, all I could give would be estimates in terms of what moving other programs in previous years has cost," she said. "Right now, we needed to know what the board believed was in the best interest of all students."
Bonter said the reconfiguration would allow the district to offer local parents more options for educating their children.
"Essentially, there are people today who are certainly feeling like they have lost something very important," she said, referring to Redner parents. "But we are sure hoping and planning for the day when we realize what we've gained in a long-term and very positive sense."
But for Steele, what Lincoln has gained is one less student — and she is certain she is not alone, she said.
"We will be leaving the district. I will not let my children be treated like they are unimportant," she said.
Steele, a former educator, said Redner Elementary has one of the largest populations of children in the district eligible for free and reduced lunches.
According to the Center for Educational Performance and Information, 59.8 percent of Redner's students qualify for free and reduced lunch, second only to Brick with 63.6 percent of its population qualifying. In the multi-age program, 27.3 percent qualify. And at Childs Elementary, that number is 37.9 percent.
Steele said the perception is that kids who go to Redner are the "no good kids, the poor kids, the one's who don't matter and the one's whose parents are uninvolved and economically disadvantaged."
"Well, I'm so tired of the impression that the parents are illiterate when so many of them are working two and three jobs and doing what they can ... and are at Lincoln as a School of Choice parent," she said. "And then we undervalue their presence and their children."
Fellow Redner parent Kasandra Bastow said she cannot afford to send her kids to another district so she is determined to keep fighting.
Bonter recognized there is healing that needs to take place now that the decision has been made. She encouraged parents to stay involved in the process and to help with the transition "so all of (Lincoln's) programs are whole and healthy and everybody has the same opportunities for success."
The Lincoln Multi-Age program was told it would have its own building near the district's main campus to grow in back in 2005, Bonter said. Since 2010, LMA has been housed in 12 classrooms in the northeast wing of Brick Elementary School and has had to turn down students.
Having its own space will allow the program to grow and compete with area charter schools, said Principal Carol McCoy. LMA operates on a lottery system, has dual grade-level classrooms and utilizes the High/Scope active approach to learning where students, in essence, help choose how their lessons are delivered.
The district passed a recent capital improvement bond that was intended to include building on four additional classrooms to Brick Elementary to accommodate growth for the LMA program.
However, Bonter said when it appeared bids for the project were coming in lower than expected, the district added a few things to the list that fell within the scope of the bond. But when costs for some mechanical and electrical components totaled higher than budgeted for, the district had to again scale back its bond projects, she said, adding there now is not enough money left in the bond for Brick.
Bonter said Monday's board meeting was very difficult. Steele added both parents and teachers openly shed tears.
"I believe we have demonstrated the capacity to deal with a tough issue and I am hopeful the community sees how we can move forward from this and face anything tough that comes our way," Bonter said.
Staff reporter Danielle Arndt covers K-12 education for AnnArbor.com. Follow her on Twitter @DanielleArndt or email her at daniellearndt@annarbor.com.