Posted on
Tue, Dec 25, 2012 : 5:58 a.m.
Santas enjoy helping Ann Arbor area children believe in Christmastime magic
By Kellie Woodhouse
If you saw Joe Eadie —a genial, grey-bearded 61-year-old— walking down the street, you might think to yourself: 'That guy looks like Santa.'
If you saw him in his Santa costume —replete with a pocket watch from North Pole, Alaska, a leather belt and boots— you'd probably do a double take.
But once you saw him interacting with children, you'd be convinced.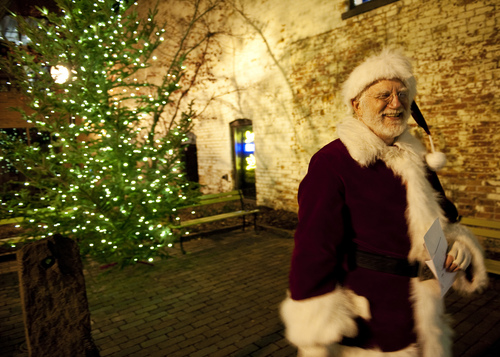 Daniel Brenner I AnnArbor.com
"I do things that probably most Santas would not do. If the children were a little bit afraid, I would get down on the floor with the toys and get them to come to me," says Eadie, or Santa Claus, as he is more commonly known throughout Kerrytown during the holidays. Eadie plays Santa for Kerrytown Shops on Saturdays during the holiday season. He's also been Santa in plays and for local community organizations.
"I enjoy the children, of course. I really honestly enjoy the feedback from parents, hearing that I've done a good job making their child feel comfortable.
"Quite often these last few years, I've heard the comment: 'Well, you're the first Santa they would ever go to," he said. "I enjoy the challenge of a child that is a little bit afraid of me initially. I enjoy trying to win their trust."
Santa Eadie, of Ann Arbor, is a sales representative for a local manufacturer. He began playing Santa several years ago after the request of a family member. Now, he plays Santa regularly, charging $100 an hour, and plans to attend the Charles W. Howard Santa Claus School in Midland, Mich.
Danny Maier, 49, also of Ann Arbor, is another local Santa Claus, playing Santa for organizations like the YMCA, the Notre Dame club of Ann Arbor and during Conor O'Neills Traditional Irish Pub and Restaurant's annual Santa event. For Santa Maier, playing Santa is a hobby.
"It's intoxicating, it is absolutely enthralling and to see how fervently they believe in you is amazing. You can see it in their eyes," he said.
Aileen Kennison brought her two children, Maggie and Sean, to Conor's. The children asked for Legos and Barbie dolls.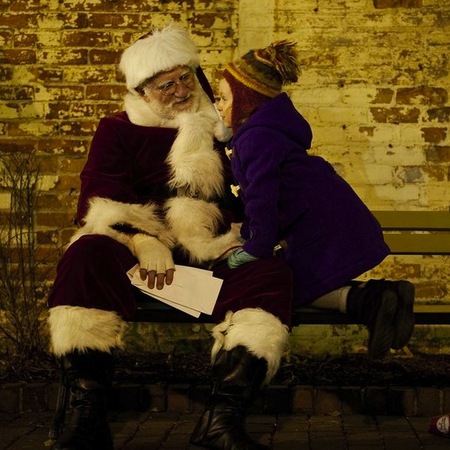 "It's the first time my kids have seen Santa and they're a little nervous," she said. "My son asked how Santa was able to come to Conor's when Christmas is two days away. I told him Santa needed a break."
For Santa Maier, breaking through a child's nervousness is part of the fun.
When five-year-old Noah Bailey told Santa he wanted walkie talkies for Christmas, Maier's enthusiasm was clear: Santa, too, loves walkie talkies.
"He really likes what I want," Bailey said afterward.
For Santas like Maier and Eadie, career satisfaction comes from getting children to believe in one of Christmas' most famous and magical characters.
"Even though your beard might not be perfect, or you shoes not exactly right, they don't notice any of that. They're just in the zone," said Santa Maier. "The innocence of the child just believes the moment."
Added Eadie:
"For me it's not just playing Santa, it's becoming Santa. For that period of time that the suit is on, it's nice to see smiles."
Kellie Woodhouse covers higher education for AnnArbor.com. As the North Pole correspondent, she occasionally reports on Santa sightings. Reach her at kelliewoodhouse@annarbor.com or 734-623-4602 and follow her on twitter.